Spend Your Free Spins at the Best Joo Casino Slots
The Joo Casino provides multiple fantastic bonuses that you can claim if you're keen to play online slots for free. With free spins and free bonus money ready for the taking, we thought we'd share our favorite ways in which to spend bonus cash at this fantastic online casino.
There are times where free spin bonuses can become a tad overwhelming simply because of how many games you have at your disposal – particularly when it comes to free spin bonuses for entire developers and not just for particular games.
The Joo Casino is home to many of the world's best online slots and, as such, we come here to tell you all about the must-try slot games to play based on RTP, slot features, and free spin gameplay.
3. Scarab Boost – Best Online Slot Bonus Features
Scarab Boost takes you to Ancient Egypt to teach you a lesson about why games with "Boost" in their name are to be respected. At first glance, this slot may look like a classic 5x3 video slot with the same bonus features that you've probably grown to expect by now.
However, the Scarab Boost slot takes multipliers to the next level.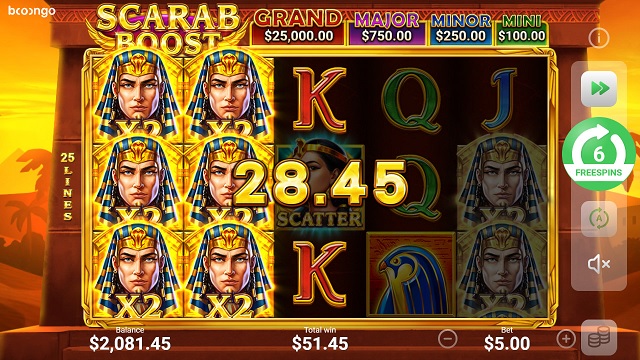 A winning round in this game could mean that you would multiply your original stake multiple times in the spin of a single reel. Boost symbols appear randomly on your screen, and every time that they show, you have the chance to get more.
If you're lucky enough to land Boost Symbols all over your screen, then you may get the ultimate jackpot worth 5,000 times your stake!
2. Sweet Bonanza – Best High RTP Slot Game
Sweet bonanza has gained a lot of popularity lately. With its amazing theme, a total reward worth up to 21,175 times your stake, and the chance to play with a 96.45 RTP, this game is surely one of the best online slots that you can play in the modern online slot industry. Check it out and win amazing prizes if you love high volatility slots!
1. Book of Dead – Best Slot to Play with Free Spins
Book of Dead still remains relevant, a decade after its release. This fantastic online casino slot has been around for what feels like ages, but the cult status that it has managed to cultivate has made it remain as one of the most played online slots of all time.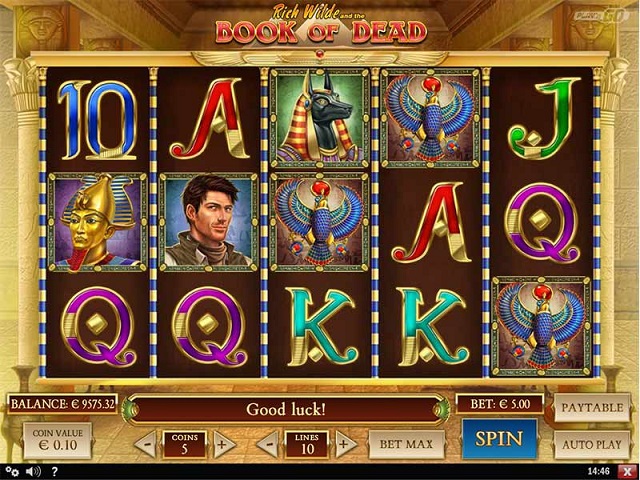 As far as online slots go, Book of Dead mixes up a bit of every game's feature to provide users with a unique experience. You'll also get to use your free spins at the Joo Casino playing Book of Dead, which is an even bigger plus.
Do you want to learn more about the best slot game found at Joo Casino? Check out our Book of Dead review!
Joo Casino Bonuses to Claim Free Spins – How to Play Free Casino Games?
Now that you know the three best games to play at the Joo Casino, it's time for you to choose a casino bonus with which to start off your journey. Thankfully, as far as bonus availability goes, the Joo Casino is sure not to disappoint.
We recommend you start your adventure with the Joo Casino welcome bonus, but be sure not to miss out on the rest of the Joo Casino rewards. There's a bonus for every day of the week
Enjoy the Joo Casino Welcome Bonus
It wouldn't be fair for us not to talk about the amazing Joo Casino welcome bonus, a promotion tailor-made for those who love to play online slots. This bonus awards players with up to €1,000 in free bonus cash and 100 free spins to be spent on the popular Book of Dead slot.
As the site's flagship offer, this can't-miss promotion stands out among the rest of the bonuses available at Joo.
Get 100 Book of Dead Free Spins Every Week!
Visit the Joo Casino and claim 100 free spins every week with the weekly free spins reload bonus. Depending on how much cash you deposit, you'll have access to earn a ton of world-class free spins to be spent on the best slots in the world!
Monday Reload Bonuses – Free Cash for Online Slots
As if that wasn't enough, you can deposit money on Monday and claim extra bonus cash to bolster your account balance. You won't need to do anything other than making a deposit and the cash will be instantly credited to your account.
Oh, and remember: the offer is available every week, even if you have already claimed it before. This is one of three ongoing bonuses that will pack your account with the best of rewards during your stay at the Joo Casino.
High Roller Reload Bonus – Play Slots for Free with Up to €1,000
The Joo Casino is home to a special high roller bonus that will have you spending more money on your match deposit rewards, but it'll allow you to claim up to €1,000 in free bonus money – and you will get to do that every single week.
As far as high roller bonuses go, the Joo Casino is proven to be the place that you can visit if you're keen to get properly rewarded for your time as a high roller.
Joo Casino Bonus Rules
The Joo Casino free spins and the free bonus cash that you can claim are subjected to wagering restrictions and rules. The most important ones are:
Minimum deposit of €20 to claim any bonus
A wagering requirement of 50 times your bonus before you can make any withdrawal
Enjoy the Joo Casino Slots for Free with the Best Casino Bonuses
You're now ready to claim the best bonuses at the Joo Casino and start off your adventure on this fantastic site. From daily free spin bonuses to a world-class welcome bonus with which you can start your journey, rewards are there for the taking at this fantastic website.
Pay the Joo Casino a visit and discover the magic of online slot gaming in style: don't spend a dime of your own money other than the cash you'll need to claim the deposit bonuses. Visit Joo now!
Enjoyed this article? Please help us by sharing: