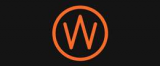 The Casino Winner has a hidden gem of a game mode that is sure going to please the lovers of football, tennis, and other major popular sports for betting. It's quite an odd type of game, though, and we know that it's not for everybody. However, in times where sports are simply not being shown on TV or you really feel the need to bet in sports, these are probably the best games that you can play. Virtual Sports, as they are called, are not found in many online casinos in the world. We have a selection of 15 fantastic casinos that rank among the best gambling websites in the planet, and not all of them offer Virtual Sports. In fact, they are exclusive to the Casino Winner in our selection of the best casino sites on the planet. If you're stuck at home or there are no sports to watch on TV, you're going to love these games. Are you curious to know why? Then check out this article and learn all about one of the most entertaining types of bets in which you can partake if you're a fan of sports and you don't wish to leave your home!
What are Virtual Sports? – The Next Level of Sports Betting
Virtual Sports are matches of different sports that are broadcasted live, or that's what they make you think. In fact, you are looking at games with different outcomes that get generated randomly, and you get to watch the matches unfold "live" thanks to the technology with which they're made. The sportsmen in these games look like they move quite realistically, and we know why that is: these are people that have been motion captured to record different moments inside the pitches of each sport, which make them move like real people when the motion is transferred to the game. All in all, it makes for quite a unique betting experience, since you'll feel that you're betting on real sportsmen playing. The games are often divided in clips, and the clips are organized differently depending on each match. The scoreboard is independent to each game, which does mean that the results are different every single time. As you can imagine, it's quite a complex thing to set up, but it's become very popular in the virtual halls of the Casino Winner, as it basically allows you to bet in your favorite sports regardless of whether they're on TV or not. The games don't need to be happening in real life, as they're always being generated by a machine. Don't worry, there are no tricks at all – all of the games are randomly generated. The computer won't cheat on you to make a result go differently for each player. It works as a live stream where everyone that bets on a game will see the same outcome – regardless of how much money is being bet. Virtual Sports are sports betting taken to the next level, using technology that makes many of the world's best videogames work. The online casino industry has truly come a long way since its early days in the 90s!
Are Virtual Sports Game Fair?
One of the main questions that we often see on the internet is from random users asking whether Virtual Sports are fair or rigged. We have made our thorough research on this topic, and we're thankful to say that the games that we've tried (all of them in the Casino Winner) are 100% legit. You don't have to worry about cheats or scams, as the results are indeed randomly generated and nothing shady happens behind the scenes. We can't guaranty that Virtual Sports are fair in other casinos, so if you wish to enjoy the best sports content without having to wait for your team to play, head straight to the Casino Winner and enjoy these fantastic games. Bear in mind that there are multiple types of games and, as you will notice, racing tends to be the one that feels the most random. This is because single animations are recorded, and the program makes the trajectories and paths of each character random. Hound Racing and Horse Racing are extremely popular Virtual Sports in the Casino Winner and they provide a sense of thrill close to the one provided by real races.
Virtual Sports Versus Real Sports – The Magic of Betting All the Time
Another really common question that we often see is from people asking why should they bet on virtual sports rather than in real sports. In short, Virtual Sports are always available and they have a much quicker pace than real sports. You won't have to watch an entire match of football in Virtual Sports. Instead, you will be shown a completely clipped game with the most important highlight being what makes the essence of your bets. It's a completely different type of betting when compared to traditional sports betting, and it isn't regulated as a sportsbook. They are traditional casino games that mimic sportsbook betting, but they're still controlled by computer instructions which determine the outcomes randomly.
These Are the Best Virtual Sports Games Available at the Casino Winner
One of the things we truly loved about Virtual Sports is that they really mean the "sports" part. There isn't a single game that you can place bets on; instead, you will be able to bet on up to six different games in five different sports, as two of them are related to the beautiful game that is football. If you're looking for the most thrilling and action-packed sports bets on the internet without having to play knock-offs like Soccer Studio or video slots related to sports, then these are the types of games that you'll want to check out. Keep in mind that matches work like real matches, and races work like real races. After a match or a race finishes, you'll have to wait for the next one to start if you want to bet again. Remember that real players get to enjoy betting on the games too, and they also have to wait alongside you. It's as if you were watching a real stream! These are all of the Virtual Sports available at the Casino Winner website:
Football – Learn How to Bet on Virtual Sports Football
Given that Football is the most popular sports on a global scale, it was to be expected to find it as one of the sports options to enjoy at the Virtual Sports section of Casino Winner. This is the most complex type of virtual game in the site, as it is often the one that confuses players the most as to how it works. We've already covered it, though, so you know that you can enjoy this game free of any irregularities. Football is not only the biggest sport worldwide, but it's also the most played online casino virtual sports game in the industry. As shown with games like Soccer Studio, many websites aim to reproduce one version of football into their online casinos to appeal to audiences from all over the world. With the Virtual Sport Football game, you will be able to see a "live" football match take place, and you will be able to bet on the result depending on what actions do you see happening on the pitch. The best way to represent this would be compared to the game of Football Manager. Basically, VS Football works the same way as the popular PC game when you choose the option to only watch the highlights.
The only difference is that you don't have any direct influence on what happens on the virtual pitch and, instead, you'll have access to a series of betting actions as if you were wagering on a live game. As the most popular game in the site, Virtual Football offers a platform for millions of players to enjoy the beautiful game in a digitized form!
Check Out the Football World Cup Too!
Something that many players might not like from the Football game is that the names of the teams are "fake", as names from real teams are copyrighted and cannot be used by online casinos. However, if you choose to bet on the Football World Cup game, you'll see how each country has its real name and the kits worn by the players are very similar to those worn by their real-life counterparts. Football World Cup also takes virtual football gambling to another level, as it allows you to bet on the entire tournament, from the group stages to the final.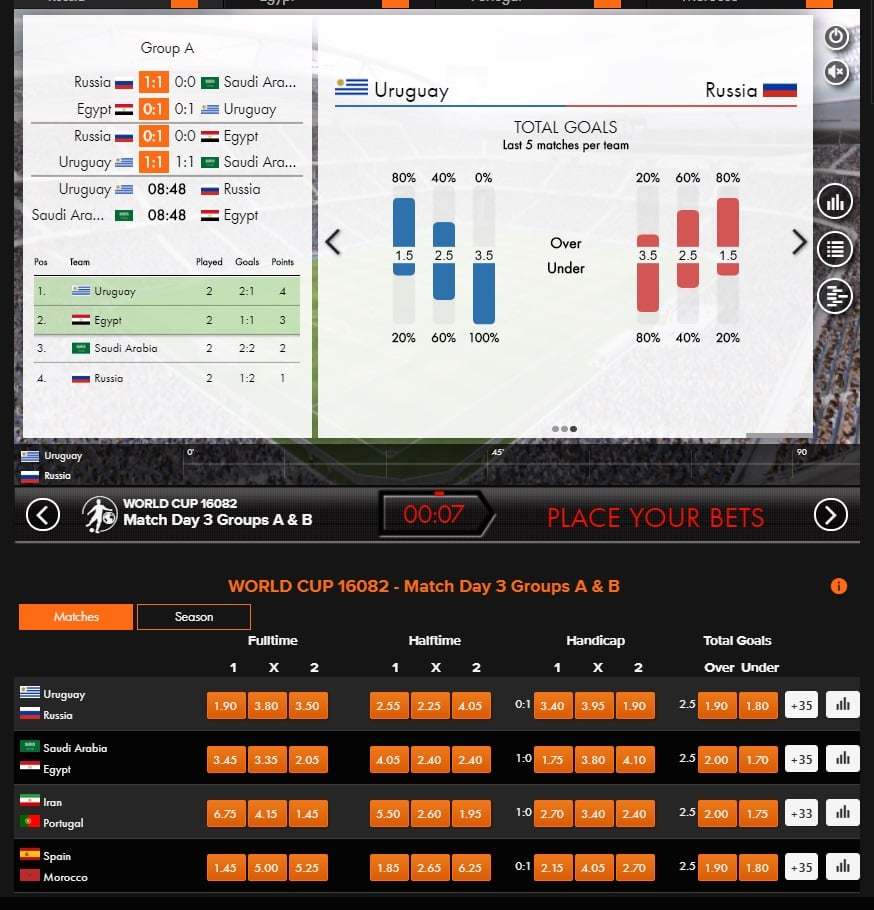 One of the best things about the World Cup is betting and rooting for teams that you wouldn't have been rooting for otherwise, but the most annoying thing is that you have to wait a few years for that to happen again. With the Football World Cup game, you won't have to wait anything but a few hours to wager between World Cups! Try out your luck in one of the best online sports games that exist and enjoy football in a whole different level.
Tennis – This is How to Play Virtual Tennis Online
We have to admit it: tennis looks extremely realistic when you join the Virtual Sports section for the first time. If we didn't know better, we'd think that we were watching a real tennis game! In any case, apart from the fantastic graphics that the Tennis game seems to have, you will also notice that the movement of both players is as realistic as possible, as they are also motion-captured to enhance the experience. Did you know? Virtual Sports Tennis collects information from tennis games that happen all over the world, in order to provide players with the most accurate results and the most realistic flow of the game possible. That's why the score lines never end up being anything too crazy, but still, anything can happen when betting on Virtual Sports Tennis!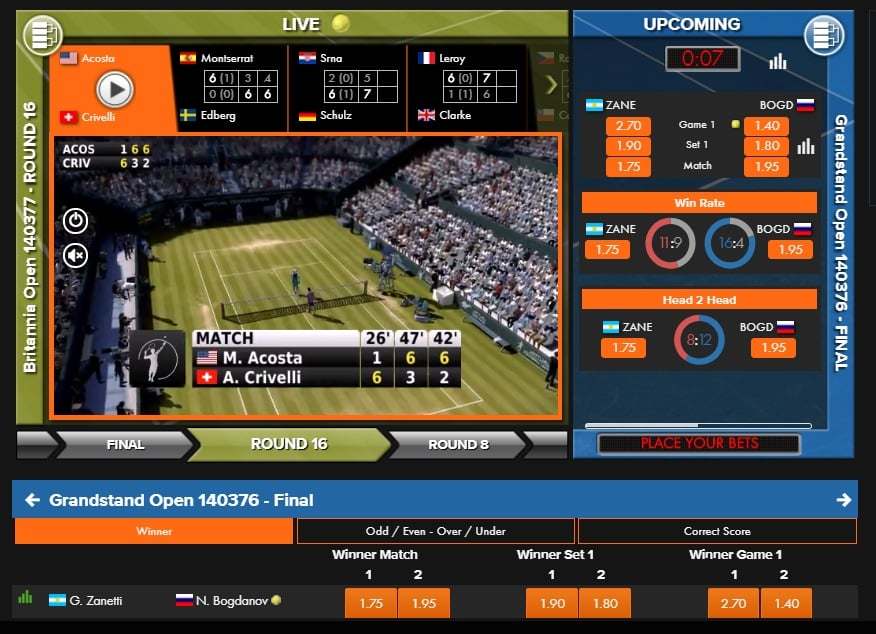 Tennis is often divided into tournaments, and each tournament is divided into various rounds within itself. You have the option to bet on whatever you want, though. The game allows you to place bets in individual games, but you will also be able to bet on players going through certain rounds, or on the outcome of overall rounds per se. Bet on the winners and use odd/over and odd/under bets to spice up your gameplay and feel like you're truly wagering your money on a real sports game. Not many casinos give you the option to experience something as close to tennis as the Casino Winner!
Basketball – How to Play Virtual Basketball at Casino Winner
Maybe you're a fan of sports where more people play on one pitch and not as much of a fan of tennis or other 1v1 sports. If that's the case, then you'll want to check out the Virtual Sports Basketball game, which takes your entire experience of wagering to a whole other level and puts it alongside the Virtual Sports Football betting in terms of quality and realism. The game aims to make Basketball feel as real as possible, as it has matches divided into quarters even though they only last for a few minutes each. The magic of Virtual Sports Basketball is that it also takes statistical data from real games to create virtual results that resemble what would happen in reality.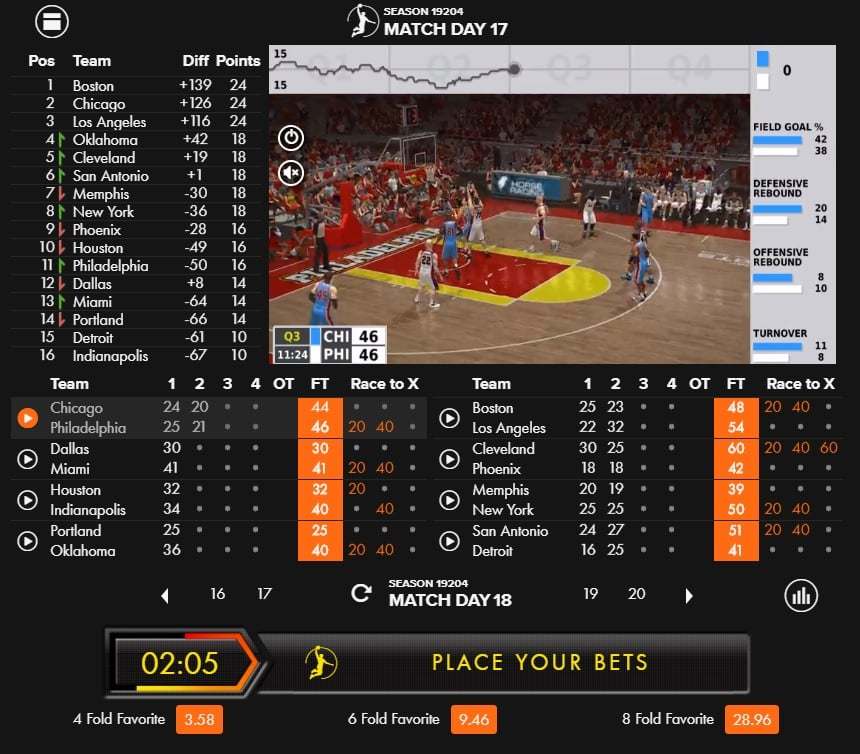 You will be betting on individual games or you could also bet on the outcome of the season, given that the game is divided int 30 matchdays as if the virtual teams were actually partaking in a real basketball season. The games are also divided in highlights, just like tennis and even more so like football. You can bet on the teams winning matches or also on teams winning quarters, or even on teams winning the entire tournament per se. It's up to you to decide what you want to do based on the outcomes of the games that you're seeing. Watch the games unfold and notice which team seems to be more dominant in the tournament, and adapt your bets accordingly.
Horse Racing – Learn How to Play Horse Racing
If you're a fan of horse racing, then you'll definitely want to check this game out. It will make you feel like you're truly betting on a real horse race, even though, in reality, you're only betting on a game that has a completely random outcome. That's the beauty of this game. It might be based off on real statistics like the other games on this list, but the outcome is as random as can be given that each horse gets assigned a different skill level with no predetermined modifiers. Every horse in the race can win, and the outcome of each race is completely random. This makes it so betting is even more thrilling than in real horse racing, as you can't really study each horse before the race happens, even though you can get a general idea of how things can go depending on the odds of each horse regarding what the game offers.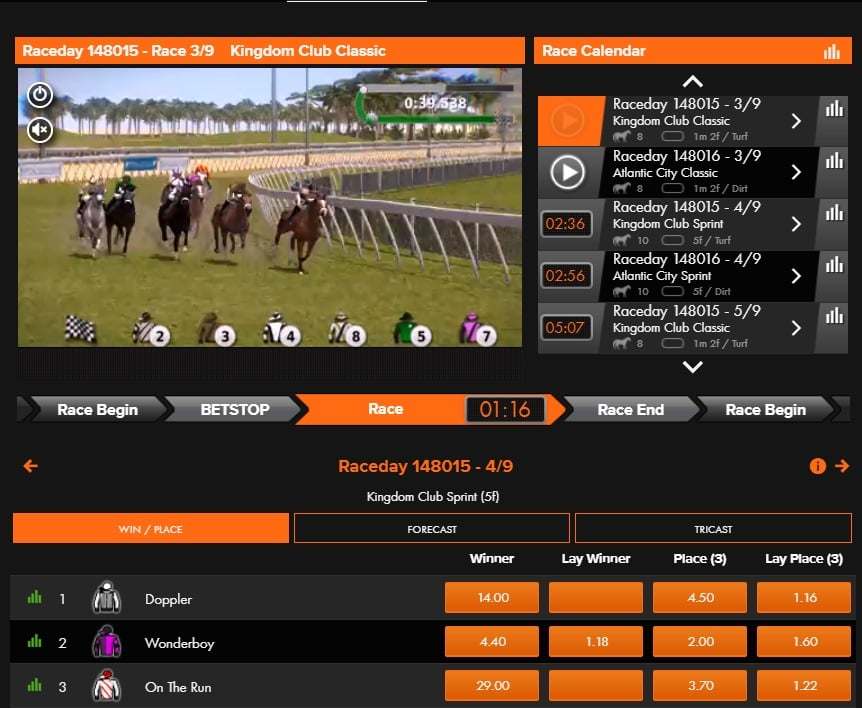 You can place traditional single bets, or forecast bets with one, two, and even three outcomes. That's right – tricast bets are a thing in Virtual Horse Racing, which means that you can put your faith in various horses at once to try out your luck with them! These races are not divided into tournaments, so you will only be betting on individual races and events. You don't get to place multiple wagers on various races, but you can place various wagers on a single race. Bet on the winner, on the top two, or on the top three – it's all up to you!
Hound Racing – How to Play Virtual Hound Racing?
Hound Racing is just as thrilling as real-life hound racing, but you don't get to feel bad because of how the dogs are being treated outside each race. You just get to place bets on the races and enjoy the results as you reap the rewards of your good predictions! Much like the Horse Racing game, this one works using random results taken from real races to simulate realism, but you can expect the hounds to run quite differently in every race. These races provide a great level if thrilling action thanks to the randomized factor that oversees the results, as it makes it difficult for people to get a result right just because a certain hound was studied before the races.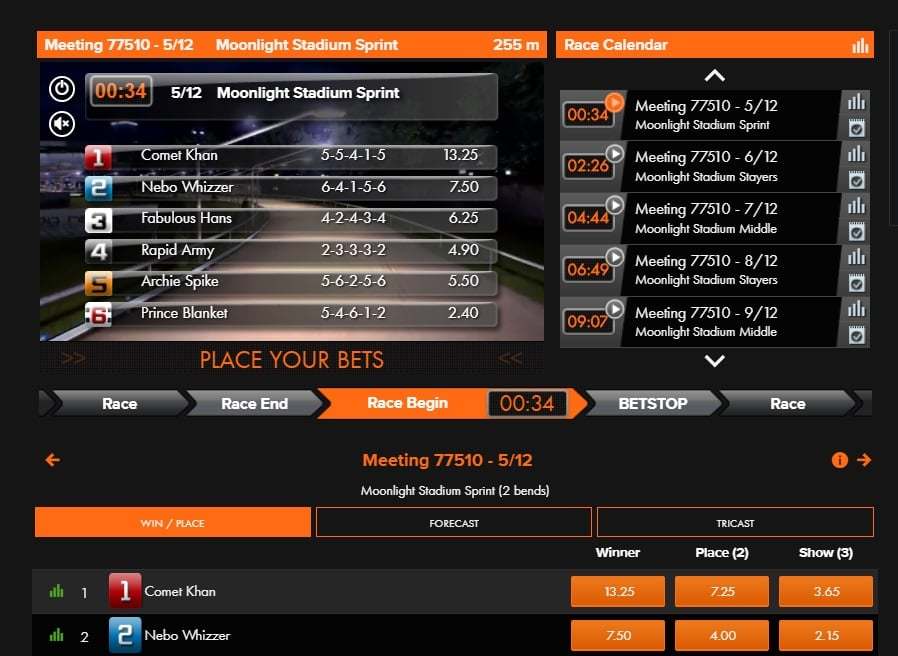 The simulation of the hounds running looks astonishingly smooth, which allows the player to get more immersed than ever into a casino game and experience something completely different from what you're used to seeing in most sites. Take your wagering to the next level with Virtual Hound Racing at the Casino Winner!
Visit the Casino Winner and Experience the Next Level of Sports Betting Today!
Now that you know everything there is to know about the beauty of Virtual Sports betting, it's time for you to head straight to the Casino Winner and enjoy the fantastic set of games that they have available for you. If there's one going on right now, be sure to place a live bet on the game or wait for it to finish if you'd rather place your bets on a game that hasn't started. You'll get to experience the magic of sports betting in an environment that is much more stress-free, so be sure to take full advantage of it! Register on the Casino Winner and claim the best promotions that the casino has to offer to you upon registering. Then, head straight to the amazing Virtual Sports section, on the upper tab of the casino, to enjoy sports taken to the next level!
Last updated
May 24, 2022