Quick Takeaways from The Casino Wizard (Updated 2023)
Mini Baccarat is the world's most played version of the game.
Statistically, no-commission baccarat tables are usually worse for players.
Casinos in Nevada earn over $1 billion in baccarat revenue during a regular year.
4% Commission Baccarat offers one of the best ways to play the game.
Baccarat is the most played casino game in Macau, one of the world's biggest markets.
An In-Depth Look at Casino Baccarat Statistics
In Baccarat, statistics show that the Player's hand wins 44.6% of the time, the Banker's hand wins 45.8% of the time, and ties occur 9.6% of the time. Player and banker bets are returned if they tie. Banker bets give players a 51% chance of winning, so the house takes a 5% commission on these bets.
Baccarat is an extremely fun casino game that is rated as one of the easiest ones to play, which means that everyone can pick it up quickly, which also explains why so many people around the world play it. It's also one of the oldest card games that you'll find still active in today's gambling world, remaining as one of the most played games on the planet.
A game with such a rich history is bound to have a ton of facts and important information that you might want to know as you head into the world of Baccarat.
Even if you're only looking to learn more about the game, you've come to the right place.
We've selected and curated the best facts, statistics, fun bits of information, and global stats for your reading pleasure. We also have a guide on how to play Baccarat, which is fully beginner-friendly, which you can check out as well if you're looking to get into the game but you're not too sure how it works.
Looking for Baccarat Casinos? We Know Where You Should Go!
There are some fantasitc online casinos where you can play baccarat. In fact, as you'll learn in this article, Baccarat is one of the most profitable casino games. Here are some sites where you can play now!
| | | |
| --- | --- | --- |
| 1 | | Claim bonus |
| 2 | | Claim bonus |
| 3 | | Claim bonus |
| 4 | | Claim bonus |
| 5 | | Claim bonus |
Important Baccarat Statistics & Facts - Online and Land-Based Baccarat
These must-know facts about baccarat will help you get a stronger grasp of the game and set a precedent for you to see why it's such a popular casino title.
There are Only 3 Bets in Baccarat
One of the main reasons why this game is played so much is because the game only has three different hands for players to decide in which to bet. You either bet on the house, on the player, or on the draw, unlike other games where you need to strategize much more to decide which bets to place and how much money to wager. The simplistic nature of baccarat makes it a far more popular game, amongst newcomers, than blackjack and it's thought to be much simpler than roulette, too.
Winning in Baccarat is Highly Likely
Winning in Baccarat is a difficult thing to break down, but the easiest way to know what you can expect from a hand is to take a look at the grander scheme of things and see the odds that the house and the player have of winning a round. When betting on the banker, you should have a 45.87% percentage of winning and a 44.62% of losing, with the remaining percentage being on it landing on the draw (which is very unlikely and we really recommend you not betting on it).
If you bet on the player, the bets are slightly lower. This explains why casinos take a commission when you bet on the banker, as your odds of winning are significantly higher. The player has a 44.62% of winning and a 45.87% of losing, which is basically the same odds of the banker.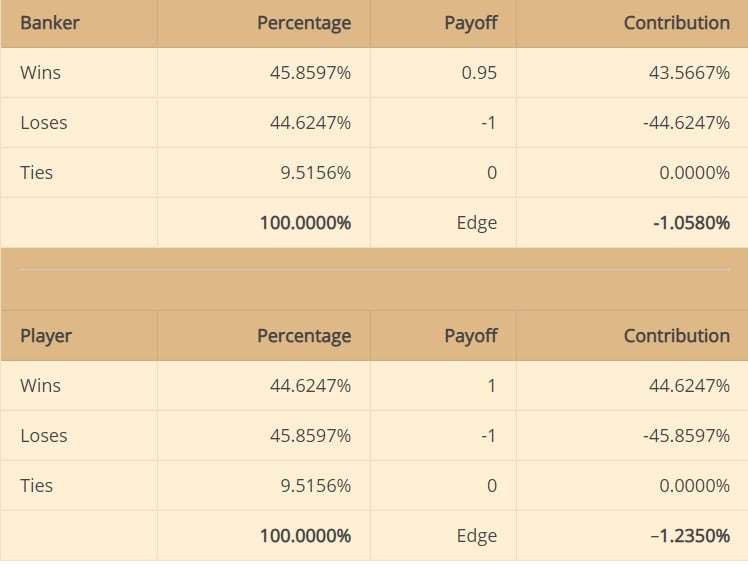 Most Card Combinations are Equally Likely in Baccarat
When it comes to the types of cards that you can get and the most common hands, Baccarat around the world follows a similar pattern. One of the best things about baccarat is that almost all combinations that you can get are equally likely, which makes the game extremely varied and truly makes every hand feel completely different, which adds to the fact that almost anyone can play it.
We have incorporated a table that defines the odds of getting each combination when playing baccarat so you can get a better idea of what to expect from each hand. Notice how the difference of the cards that you get is also influencing the probabilities that you have of winning a single hand. According to the cards that you'll be drawing, the odds of the player or the banker winning are different and are directly affected by these odds.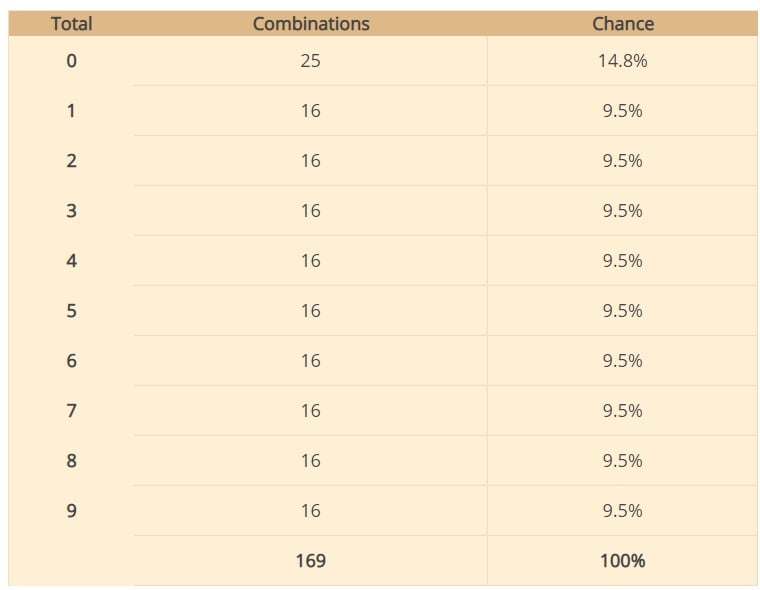 Side-Betting in Baccarat Exists but it Depends on the Casino
You might come across some baccarat tables that offer you the chance to place side bets on certain outcomes, such as the value of the cards that show up in the table or the total combined value of all cards that you get between the banker and the player. Side bets in Baccarat tend to have a house edge of anything ranging from 1.5% to 5%, but they're fun variants to the game that will help you stay hooked to it even if the payouts are not as probable as they would be if you sticked to playing traditional baccarat.
Global Baccarat Statistics - Must-Know Stats
Baccarat is the Most Played Game in Macau
Accounting for a staggering 88% of all casino action in Macau, Baccarat is the most popular game in the region by a landslide. Macau is also one of the largest gambling markets in the world, and out of all the gambling markets out there, Macau is the biggest one where Baccarat is the most played game out of them all.
The Most Popular Baccarat Game is Actually Mini Baccarat
You'd think that regular Baccarat is the game that people play the most, but in reality, most online casinos hold a variant of regular Baccarat that is better suited to be enjoyed in casino tables. The rules are the same, but the game is actually called Mini Baccarat. Mini Baccarat is just regular baccarat but the tables host 8 people instead of 14. Have you ever seen a land-based casino with tables of that size? It's highly likely that you haven't!
The Elusive 4% Baccarat Tables Exist
We've mentioned how baccarat tables have a 5% commission when betting on the banker and winning, but there are some exceptions to the rule that you might find in some land-based casinos and, with some luck, in certain online casinos as well. You will still pay a commission if betting on the house, of course, but the commission is lower than average at just 4% per bet. These tables are not entirely common, though, so be sure to take advantage of them if you happen to find them.
No-Commission Baccarat Tables are a Sham
If you ever happen to come across a baccarat table where the banker doesn't take a commission after winning a bet, the best thing you can do is completely avoid the table. Read the rules carefully and you'll find out that they take a massive chunk of your money if the house happens to win with 6 points or less (up to 50% in most Las Vegas casinos!). If you ever encounter one of these tables, you'll be better off not playing in them.
Baccarat Game Statistics – Hands, Probabilities, and Odds
Now that we've covered facts and curiosities about the game, it's time to get more into the numbers that rule Baccarat and why so many people prefer to play this game over other fantastic table games in the industry.
Gross Revenue from Baccarat – A 10-Year Look
Baccarat is one of the most profitable games in the world; not only for the players but also for the casinos themselves. As one of the largest Baccarat markets in the world, we can look at what Macau has been earning in revenue from the game over the course of a decade to further emphasize our point.
Since the year 2009, the revenue of Baccarat in Macau has been increasing so much that it has now surpassed $15 million per year, without accounting for the consequences of 2019's pandemic, of course. In any case, the large gambling revenue generated in Macau, as the following graphic shows, demonstrates how it was a mere $3.19 in 2009 to have grown almost three times in size, turning into a massive $15.15 in 2019.
Baccarat might be the biggest game in Macau casinos, but the example can be extrapolated to show similar results in other casinos around the world. It's a profitable game that permits players to walk away with a profit, but it's a game where the casino often walks away with more cash than in other popular table games.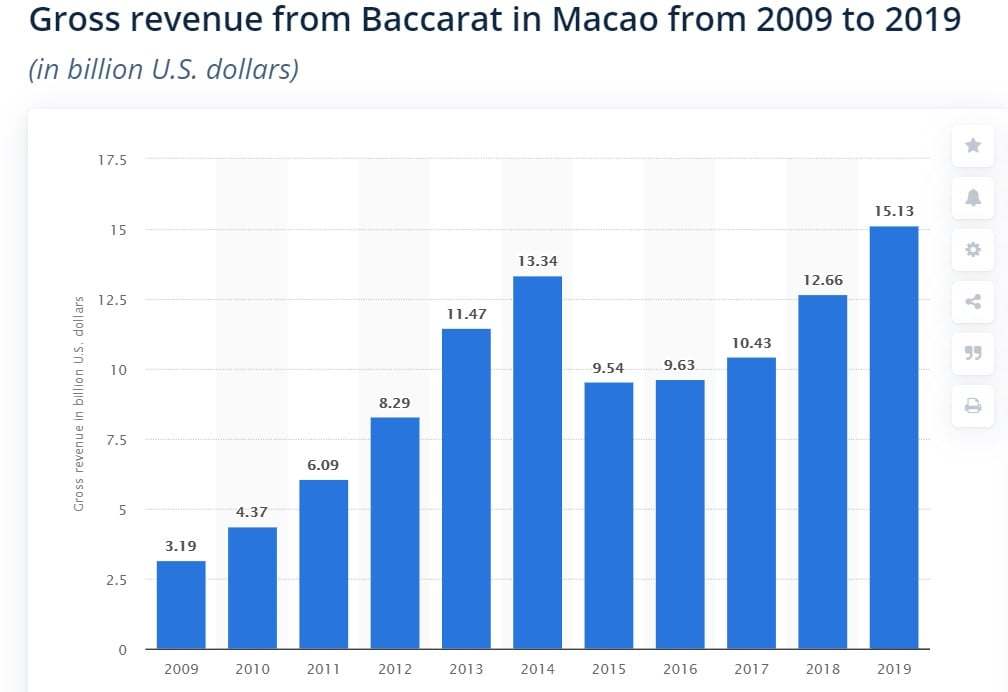 How the US Recession Affected Baccarat Revenues
There's another interesting fact about the world of gambling that often goes overlooked, even though it affected the industry quite massively: the US recession of the late 2000s. The gambling revenue of Baccarat had a massive drop in revenue after the recession, which causes some casinos in Nevada to drop their winnings in Baccarat from millions of dollars to just about $65,000 a year.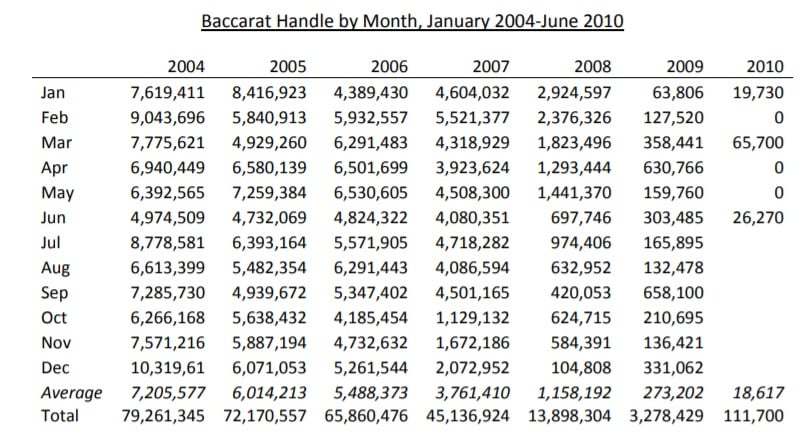 As this Baccarat handle shows, the total amount of money that was moved by Baccarat from 2004 to 2009, albeit it was on a decrease before the recession, happened to completely collapse once the US economic crisis came to its apogee.
As you can see from the graphic on the previous section, this majorly affected US casinos but it didn't hit as hard in other parts of the world, albeit the recession was indeed global.
It's a small interesting fact about casino gambling and the influence of Baccarat, but it's one that demonstrates just how easily the gambling industry can be affected by factors that mess with the economy, such as a recession or, most recently, a global pandemic per se.
House Edge in Baccarat is Fairer than You Think
In a regular game of Baccarat, the house edge is rather low and gives the player a good chance of overcoming the odds on the short term. Since there are only 3 types of bets, these are the different house edges for each one:
Banker Bet: 1.06% House Edge
Player Bet: 1.24% House Edge
Betting on the Draw: 14.36% House Edge (but the payout is 9:1!)
As you can see, betting on the draw can pay a lot of money, but the chances of it happening are actually very low. That's why, in our baccarat guide, we suggest you never place bets on the draw. In total, you can expect an average house edge of around 1% when playing baccarat. That's one of the smallest house edges that you'll get when playing in any online casino!
Baccarat Win Percentages are Actually Pretty Good
The global win percentages of baccarat area bit more complicated to find, as one would need to collect statistics from all over the planet and see what the average is. However, we have studies that show the total amount of money that is usually won in US Casinos and, in fact, we can go as far as to see the percentage of wins that an average Baccarat player has when gambling in US land-based establishments.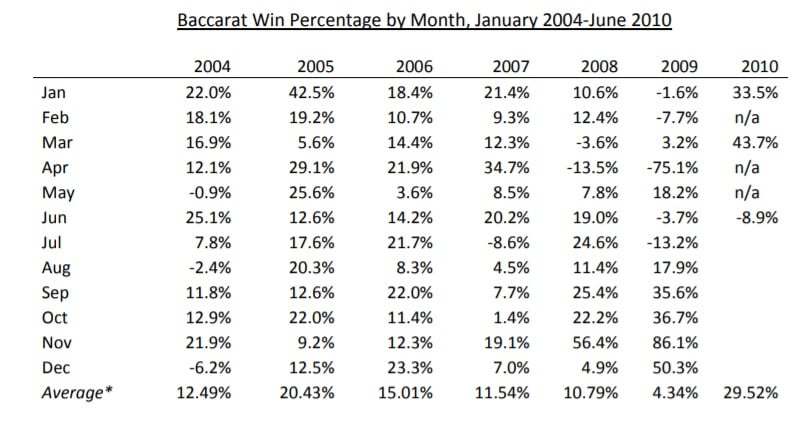 As you can see, the average number of times that a player wins with baccarat fluctuates between 10% to 20%, although this is all very subjective and dependent on other external factors that could be influencing the amount of money they win.
This could be affected by the way they change their bets, how they increase their bets after losing, or even the payouts of each casino. In general, Baccarat is a game but loved and feared by casinos – and this graphic shows just why. Players can get lucky and win some cash, which is why the win percentage fluctuates so much when you go from one year to another in the statistics table.
It does make sense, though, as it's the one game that is the easiest to play and also one that offers the fairest house edge out of all table games.
Commission for Banker Bets is a Must
Every single baccarat table in the world has a rule: whenever you bet on the banker (aka the house bet), should you win the bet, the house will keep 5% of your winnings as a commission for having won while betting on it. That is meant to decrease your earnings and make the house edge feel even bigger for the house itself, but even when taking that into account, banker bets are much more worth it than betting on the draw.
Baccarat Gives You the Worst Odds Out of All Popular Table Games - But It's Still Worth It!
When it comes to the house edge of some games, you won't find one that gives you a worse house edge than Baccarat besides casino slots. Baccarat is the second most profitable game in the Nevada casino industry, with online slots being the first at $3.3 billion per annum, and Punto Banco being just behind with a profit of $1.2 billion per annum.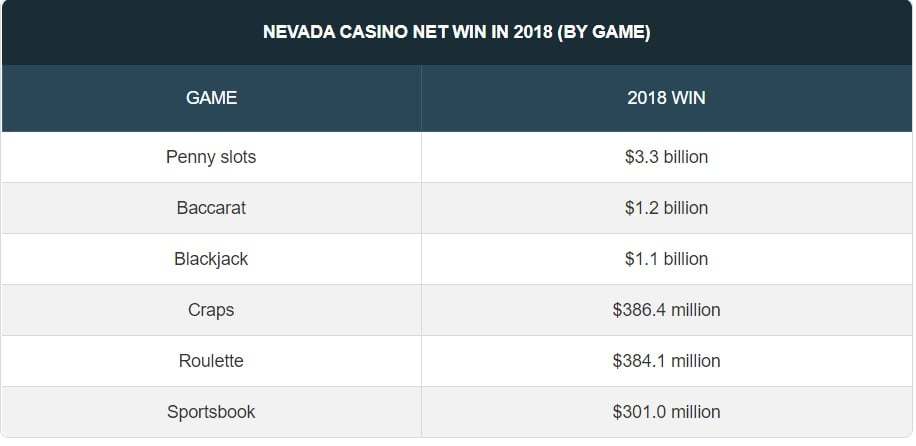 Baccarat Fun Facts
The Word "Baccarat" Isn't Something Good, in Principle!
The origin of the word "Baccarat" can be traced back a few hundred years ago, but curiously enough, the name comes from the worst hand in the game. The meaning of the word is Etruscan for "zero", which was the value that most cards in the game used to have back in the day.
When baccarat started as a card game, cards that are now worth 10 used to be worth 0! Basically, this is the one game where you don't want to be getting "its name" on your hand, contrary to other games like poker and blackjack where they're named after the game's best hands!
Baccarat is Known by Another Name in America
If you've ever visited a land-based casino and wondered why you don't see any baccarat tables, then the answer is simple: in American, this game is usually known as Punto Banco instead of Baccarat. Traditional Baccarat is called Punto Banco while other variants of the game also use the "Punto Banco" name to make it more appealing to American audiences. The rules are the same, though. The only thing that changes is the name of the game itself but it keeps everything else intact.
Baccarat is James Bond's Favorite Game
This fact might be a tad confusing for you if you're a younger James Bond fan because the newer movies had him playing poker – especially in Casino Royale. However, historically, James Bond has always been much more of a Baccarat player than a poker master or even than a roulette enthusiast. In fact, in the original Casino Royale movie, James Bond used to play baccarat as well! In total, Baccarat appears in 7 different James Bond Movies, with the latest one being Golden Eye in 1995.
Top 10 Casino to Play Baccarat
You're probably eager to try out the best baccarat games in the world. Thankfully, the world of online casinos has made it easy for players to try out baccarat games of all sorts. Here, we've included a list of the top 10 best baccarat casinos so you can dive straight into the world of Punto Banco and start playing the game now.
Last updated
January 17, 2023