Play Games with Up to 99% RTP
Every in-the-know fan of online slots knows that NetEnt is the world's most famous provider of reel-spinning games that you'll find. The best NetEnt slots can be easily categorized and you'll know which ones to play when you take a look at the individual RTP of each game. That way, you'll always know which titles payout the most!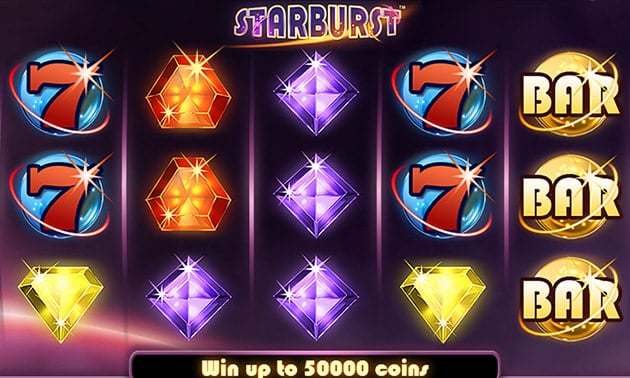 We have made the internet's most complete and accurate list of NetEnt slots based on their RTP. We made our decision to create a reliable NetEnt slot guide to provide new players, as well as industry veterans, with the chance to pick the best online slots to play and properly spend their money as they see fit. Use our guide and ensure the best payment in every slot game that you love!
The Best NetEnt Slot Games for Real Money in 2021
The best online slots that NetEnt has ever made, based on their RTP, are here for you to pick the one you like the most. Choose using our list of volatility, themes, and RTP rates:
| | | | |
| --- | --- | --- | --- |
| Slot Name | Variance/Volatility | RTP | Theme |
| Demolition Squad | Medium | 97.10% | Cartoon |
| Jack Hammer 2 | Low | 97.10% | Superheroes |
| Zombies | Medium | 97.20% | Apocalyptic |
| Simsalabim | Low | 97.50% | Magic |
| Devil's Delight | Medium/High | 97.60% | Hellish |
| Kings of Chicago | High | 97.80% | Mobsters |
| Bob: The Epic Viking Quest | Medium | 98.00% | Vikings |
| Blood Suckers | Low | 98.00% | Vampires |
| Jackpot 6000 | Medium | 98.90% | Classic |
| Mega Joker | High | 99.00% | Classic |
You can play these NetEnt slot games at all our recommended NetEnt Casinos. Choose the site that packs the best bonuses and dive straight to the action right now!
10. Demolition Squad – 97.10% RTP
It is pretty clear where this game gets its name from: the demolition potential of its reels is something out of this world. With Demolition Squad, you'll have the chance to experience the magic of a 5x3 reel where your main goal will be to chase wilds for as much as you can. Manage to get a wild in the second and fourth rows and you'll manage to activate the middle row demolition madness, a feature that basically guarantees insane wins when combined with the two other wilds on the board.
The game also comes with free spin symbols and even a multiplier symbol that can be triggered on bonus free spin rounds, which guarantees even more rewards. Combine multipliers with wilds and obtain rewards with a potential max win worth 120,000 credits. It's a bonus madness when it comes to Demolition Squad, and with medium volatility and a very high RTP, it's only logical to see a game like this one packing as many amazing wins and features like none other on the planet. Be sure to give it a try and see what the fuzz is all about with Demolition Squad!
9. Jack Hammer 2 – 97.10% RTP
Jack Hammer 2 is a fantastic game with a predecessor that was already massively popular. Now, with the introduction of Jack Hammer 2, NetEnt aims to direct users into new ways of earning rewards. The classic symbols of the first game are still here and they're looking better than ever; themed like an old superhero cartoon, you'll be following the steps of Jack Hammer (the highest paying symbol on the board) and aiming to keep the city safe whilst you collect rewards that fill your pockets with riches.
Scatters play a huge part in the rewards that you can earn with this game. Landing scatter symbols will unlock free spins, but you do need 5 scatters in order to activate the best rewards that the game has to offer. The best thing about all of this is that the game comes with Sticky Reels as one of its main features, so you can keep the free spin symbols on the board whilst you work your way towards even more scatter rewards. This game was also designed to work fantastically well with mobile devices, so be sure to give it a try on mobile if you're keen to play on your phone or tablet.
8. Zombies – 97.20% RTP
Zombies is a 5 reel, 20 payline game that combines all the classic aspects of slot gameplay to create a new and innovative title with bonus rounds and multipliers all around. It might not be the most well-known NetEnt game, but it's one of their games with the highest payout rates. The game was actually released back in 2012, but even a decade after its release, the title stands the test of time and still remains as one of NetEnt's highest paying casino games.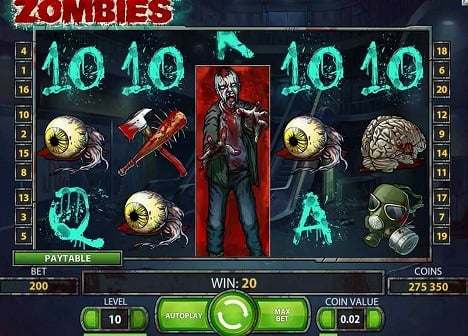 Zombies will have you trying to shoot hordes of undead foes and collecting free spins. Every time that you land a free spin, you'll have your wins multiplied by larger and larger amounts. The maximum win multiplier is 10, and with a maximum win of 1,600 times your stake, you will need a lot of luck to max the profits made with Zombies. We know that games like Mega Joker and Starburst are often the talks of the town, but if you're looking for another world-class NetEnt slot that you can give a try to, then Zombies is the one that you'll want to check out. A fantastic game all around, packed with insanely high wins. Break the mold and give Zombies a try!
7. Simsalabim – 97.20% RTP
As you may be able to guess given the very peculiar name of this slot, Simsalabim will have you taking a trip to a very weird realm of magic where every combination might turn into a winning combination with a little bit of help from the magical world. With Simsalabim, you'll be able to win a ton of money, albeit the game is designed to be played both by low rollers and high rollers alike. It has a potential maximum profit of 225,000 coins, which puts it right up there with the highest paying slots on this list.
The magic hat symbol has the highest potential payout available, but with 25 paylines (including some pretty unique ones that we've quickly grown to love), this is one of the most incredible and entertaining slots that have made their way to our list of best casino games. Give this title a go and find yourself begging for the power of magic to fill your account with free spins and scatters. You'll have the chance to earn new rewards with a ton of profit potential. Free spin rounds and your search for scatters will always e extremely fun thanks to the unlikely placement of this game's paylines. Simsalabim might not have the highest RTP on this list, but if you're looking for a game that provides you with a unique experience and truly breaks the classic slot mold, you'll want to give this one a go.
6. Devil's Delight – 97.60% RTP
Take a virtual trip to hell but don't expect to be tortured while in there. Instead, you will find yourself chasing after the best rewards in the iGaming world with a potential win of up to 1,000 times your stake in this amazing cartoon but hellish online casino slot.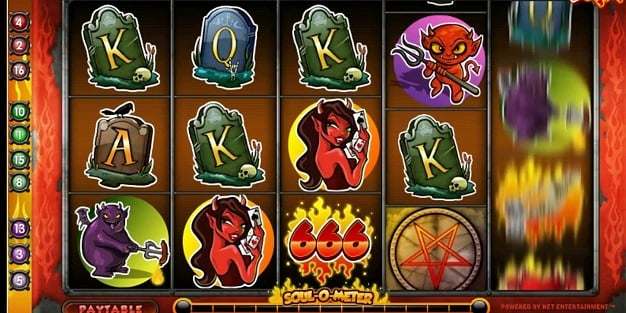 The game's theme might be the main reason why so many online casinos aren't promoting one of NetEnt's finest slots, but worry not: we're here to bring it to the spotlight. Give Devil's Delight a go and place large bets or low roller bets, depending on your own personal preferences. This is one of those high RTP games that truly adapts to the needs of all, so make sure you make the best of it and place those high roller bets as you see fit!
5. Kings of Chicago – 97.80% RTP
Kings of Chicago will have you take the role of a Prohibition-era gangster, as you aim to earn some absolutely massive rewards in a game that doesn't admit many high roller bets. You'll find yourself with a betting range of €0.05 to €50 per spin when playing Kings of Chicago, but with a 97.80% RTP, the game still remains as one of NetEnt's best online slots regardless of your betting preferences. The game combines a crazy gangster aura with poker card combinations to create one of the most emblematic gangster slot games of all time. The theme makes it so the joker symbol is the wild, which makes total sense and keeps the game fun.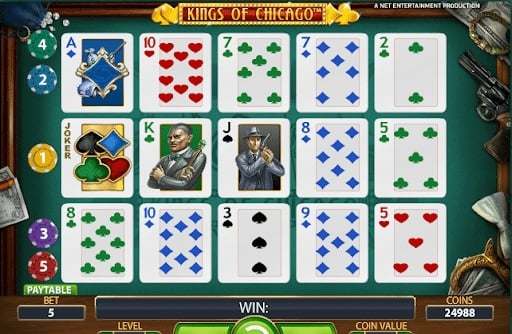 This is one of those online slots that we truly recommend any poker player to give a try. It's really fun and the gangster theme keeps you looking out for rewards with an eye over your shoulder. You shouldn't expect many large-scale multipliers, but many rounds will have you playing with an x2 multiplier that will let you get your hands on a fair bit of free cash more than once!
4. Bob: The Epic Viking Quest – 98.00% RTP
With a potential payout of 101,500 coins and a very large RTP, you'll have to join Bob in his quest for riches. Granted, Bob might not be the most iconic name that NetEnt could've chosen to name their emblematic Viking character, but it's safe to say that the game does live up to the expectations of an epic Viking quest. The game comes with a 5x3 setup, a Viking theme (as expected), and 25 paylines that aren't as random as the ones you get in Simsalabim, but they're still very fun and they'll have you chasing wins in unusual ways all the same.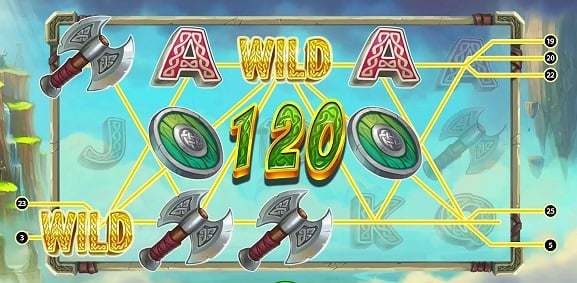 What makes this game better than some other high RTP slots on this list, though, is that it comes with a staggering reward that could have you win a jackpot of 7,500 times the amount of money that you bet on your stake. That may not be a lot given that the game is made for a maximum bet of €50 per wager, but it's still a potential profit of 325,000 coins in a single spin. That's more than any other non-progressive jackpot game on this list, and one of NetEnt's highest in-game jackpots that you can win. It's the sole reason why the title is well worth playing even if you don't take into consideration its insanely high RTP.
3. Blood Suckers – 98.00% RTP
As you may have noticed by now, many of these high RTP NetEnt slots are based around the "free spins + win multiplier" concept. You'll find yourself on the verge of high wins almost every single round, which is what makes this game one of the most popular high RTP slots that NetEnt has ever managed to produce. You can expect to get at least one 30x win in a 20-minute session of Blood Suckers gameplay. It has a bonus minigame that many other games lack, though, and that's what makes it an even better high-paying slot than some of its counterparts. The minigame is based around the "click and win" concept, but we do have to admit that it's a little too repetitive for our liking. Regardless, with the number of rewards that you'll be earning when playing Blood Suckers, tedious is the last word that we'd use to describe this world-class slot. It's clear that NetEnt has aimed as high as they could with the creation of such a fantastic slot, so give it a go and see how easy it is to earn a massive sum of cash in an online slot game! Blood Suckers is NetEnt's most well-known high-paying slot. Even though the game has even around for well over a decade, it's still one of those titles that we recommend any of our readers to play.
2. Jackpot 6000 – 98.90% RTP
If you're into slots that keep things as close to classic as possible and provide players with a massive potential for rewards at the same time, you'll want to give Jackpot 6000 a try.
You'll notice that both this game and Mega Joker, the two main NetEnt high-payers, are very similar in terms of graphics and gameplay. This one is for the old-schoolers out there. You'll be chasing wins with only 6 different symbols on the board, a selection of very simple, easy-to-grasp rules, but dynamic and fun gameplay to top off an already wild experience that you'll grow to appreciate quite quickly. Given that the game comes with no overly complex graphics or over-the-top features, it loads quite quickly. That makes it an ideal game to play on mobile devices or older computers, appealing to all sorts of audiences and providing you with potentially massive wins with the click of a button. Earn 3 Joker symbols in the same spin and multiply your money by 6,000, turning a common spin into something that will take you closer to Nirvana than anything that you've ever played in your iGaming life before. That's where the game gets its name, but trust us: unlocking that massive x6000 win is not as easy as it looks. You'll have to work hard for it!
1. Mega Joker – 99.00% RTP
Much like Jackpot 6000, Mega Joker is a fantastic "classic air" game. It doesn't break the classic slot mold, as it aims to keep fruits as the game's main symbol and you'll even be able to enjoy the classic graphics that we've grown so accustomed to seeing in slot games for the past couple of decades. Why is the game so popular, then? For starters, it comes with the highest RTP of any NetEnt slot. In order to have the gameplay at 99% RTP, you'll need to place the max wager, so that's a catch that not many casino experts like to tell you about. You now know, though.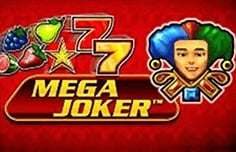 Mega Joker is also a progressive slot game with a potential payout that's as much as 2,000 coins. The game has no multipliers or free spin rounds, though. NetEnt has really kept as close to classic games as possible with Mega Joker. We still feel that Mega Joker is NetEnt's flagship high roller slot, and one that you will definitely want to try out if you're keen to place the highest of bets. There's no better NetEnt slot for you to spend the big bucks on!
Where can you Play NetEnt Slots?
If there's one thing that we can be truly thankful for, it is that NetEnt casinos are plentiful, and quality NetEnt casinos are easy to find. Use our list of top online NetEnt casinos if you want to make sure that you'll find the best prizes hidden in these sites, and avoid the time and trouble of looking for sites on your own time when we provide you with such a powerful and simple tool!
Play the Most Popular NetEnt Slot with No Deposit Free Spins
Even though Starburst didn't make its way to this list, it's still a very popular NetEnt game that we have to tell you to try out. As such, this fantastic slot stands out as one of the most popular games in the industry - and we'll tell you how you play it for free. You can use any of these fantastic Starburst no deposit free spin bonuses and enjoy over 100 free spins in one of the online casino industry's most popular games!
Top 3 Recommended NetEnt Slots Casinos for 2021
We're going to give you a quick summary of our top picks for the best NetEnt casinos in which you can spend your money. All of these casinos come packed with the best NetEnt slots and bonuses that will let you play them for free. It's up to you to decide which one to visit!
mBitCasino
The mBitCasino stands as one of the leading gambling websites for those who love to wager with cryptos. It provides users with quick registration options, multiple cryptos as payment options, and a selection of world-class games and tournaments that other casinos can't offer. The best NetEnt slots are there to be played as well!
Casumo Casino
Casumo is one of the best casinos to play NetEnt slots if you're after a minimalistic, simple experience that aims to provide users with all the basic tools that you need in order to have a rewarding time. You will be able to play the finest NetEnt slots in the industry without having to browse an overly complex website!
Lapalingo Casino
The Lapalingo Casino is a complete site with a world-class welcome bonus and a packed game gallery filled with the best NetEnt slots that the industry has to offer. Make sure you create your account on the site as soon as you can and get yourself on the way to claim the best rewards in the iGaming world!
NetEnt Slots FAQ
No matter what question you have in relation to NetEnt slots; we have the answer.
What is the most played NetEnt game?
Starburst is the best game created by NetEnt in terms of how popular it is. The game might not have the highest RTP, but it is very easy to understand, fun to play, it comes with amazing sounds and graphics, and most online casinos with a license have this game in their stores.
What are the best NetEnt slots?
Given that the main parameter that many people use to rank a game is their RTP, we can tell you that these are the best NetEnt slots in terms of payouts and pay rates.
What are the best NetEnt casinos?
There are thousands of NetEnt casinos in the iGaming world. The ones that we have listed here have the most games and offer the finest casino bonuses for you to play and enjoy.
Can you play NetEnt slots for free?
Most NetEnt slots can be played for free as long as the casino in which you play them comes with the free play option. Some casinos don't allow this. You can also play for free on the official NetEnt website, where they host all of their games.
Are there bonuses for NetEnt slots?
All of the casinos that we have listed in this article are home to a selection of world-class bonuses, many of which can be used on NetEnt slots. In particular, you will be able to spend free spins and free cash in Starburst.
Are NetEnt slots fair?
NetEnt is known to be one of the main providers of fair online slots. That's why the RTP rates of all games listed in this article are equal to or higher than 97%
Is NetEnt the best slot developer?
In terms of popularity, game quality, and company size, we can safely say that NetEnt is the world's best provider of slots. That doesn't mean that you shouldn't give a try to games from other companies, though.
What other games do NetEnt offer?
NetEnt is mainly known to be one of the largest providers of slot games in the industry. However, they also provide gamers with table games, some variants of classic titles, and even a live casino game selection.
What is RTP?
The RTP, also known as the "Return to Player" rate, is the amount of cash that you're expected to keep in the long run when playing any casino game. The house edge is the opposite percentage, which represents the amount of your money that the house is expected to keep.
What is Variance and Volatility in slots?
Variance and volatility represent the frequency with which you can expect to win in a casino game. Games with high volatility have fewer winning rounds but higher percentages of winnings, whilst the opposite is true for low volatility games. Both terms, variance and volatility, mean the same.
About NetEnt Slots
There is a good reason why all NetEnt slots fall into the category of "Premium" games. They are made by a team of experts that the company has managed to create after recruiting the finest developers from other casino giants. The result is clear: all NetEnt games are deemed to be among the most played titles in the industry, sitting atop of many of their games and making an impact that one never thought it could be possible when the company started creating slots in the late 90s.
The Most Popular NetEnt Slots in the Industry Await!
You now have access to the most complete and relevant list of NetEnt games on the planet. Using it, you will be able to enjoy a selection of high-paying slots that will make you drop your jaw in awe at the amount of cash that you can expect to receive from them. It's time for you to head to the best NetEnt casinos and start claiming the bonuses that will shape your iGaming destiny and take your chances to win to the next level. Get moving and win amazing prizes now!
Enjoyed this article? Please help us by sharing: