Win €50,000 with Book of Starz at BitStarz
The BitStarz Book of Starz level up adventure is the latest tournament-like promotion sponsored by the BitStarz Casino. With it, you will be able to earn quite a lot of money for yourself, an and ultimate prize of €10,000, with thousands more guaranteed along your way to the end of the journey.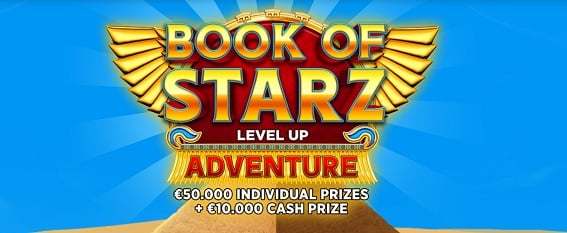 If you're looking for an online casino that gives you the chance to earn free money to play the best casino games or simply to withdraw to your account, you've come to the right place. You can play at the BitStarz Casino basically in the same way that you would if the promotion didn't exist, but you'll be collecting points to level up and advance in a digital adventure that could end up with you earning thousands of euros (or their bitcoin equivalent) in rewards!
Oh, and with the welcome freeroll, you'll be earning even more money from the start!
What is the BitStarz Book of Starz Promotion?
The BitStarz Casino Book of Starz is a promotion that has an adventure theme. You will be collecting points as you play in the casino. Once you reach a certain point threshold, you will move onto the next level of the promotion and obtain rewards fitting that level. It gets progressively harder to advance in levels, but rewards get progressively better as well.
The point of the promotion is to get to level 40, where a €10,000 prize awaits the first player to get there (someone has already claimed it, though – you will need to claim the rest of the prizes along the way).
Book of Starz Prizes as You Level Up
Even though the BitStarz casino doesn't specifically state how much money you will be earning with each level that you go up in the promotion, we know that leveling up tends to be well rewarded. You will be earning cash prizes and free spin bonuses as you make your way to the top of the BitStarz casino Book of Starz tournament.
It's going to be difficult to make it to the end with such little time left, but that doesn't mean that it's impossible. In fact, if you start right now, you will be able to claim some fantastic prizes even if the final jackpot is already gone!
Why You Need to Play Book of Starz – Is It Worth Starting Now?
This incredible promotion is a great way to get rewarded for the time and money that you would spend in the casino anyway. It's a fantastic promotion that will allow you to level up and receive rewards with very low wagering requirements, which would ensure you walk away with a profit no matter how little money you can earn.
It's worth starting your journey now even if the last prize has been won. The prizes that you can earn along the way will make your journey worth it. The fun that you will have and the low wagering bonuses will make it even better.
How to Sign Up at BitStarz Casino
All you really need to do to start playing with this promotion and using the bonus cash as you see fit is to create an account at the BitStarz Casino. We will be guiding you through the steps you need to follow in order to create an account, but notice one thing: you need to claim the BitStarz welcome bonus first!
The bonus money will be able to be spent and help you level up within the casino itself, so it all becomes an even bigger win/win scenario for you if you happen to unlock those rewards first. To open an account at BitStarz, all you have to do is:
Visit the BitStarz casino and select the respective country from which you're visiting if not done automatically
Choose the option to register
Enter your personal data and get your personal wallet assigned
Verify your account via email or phone
Book of Starz Promotion Terms and Conditions
The promotions might seem like a very lucrative one, but that doesn't mean that you shouldn't take into account all of the terms and conditions of the bonus. There are two main features that will allow you to make full use of this offer, namely:
Promotion Timeframe
The promo ends on March 12th, so you better get going and start playing now. Remember that the tournament is sure to provide you with the chance to win, but you will need to start collecting points as soon as possible to make sure that you'll be able to collect enough to win some cash.
Also, considering that the winner of the €10,000 prize at the end of the road is already earned, you may be better off focusing on the rest of the rewards that you can earn along the way to the top. It's still worth your time and money, though – don't miss out!
Wagering Requirements
All prizes that you earn in the promotion come attached to a simple wagering requirement of just 10 times the amount of bonus money that you receive. It's one of the better wagering requirements that you will find at the BitStarz casino and it truly shows how much the owners of the site care about their players being properly rewarded.
You will struggle not to fulfill these wagering requirements given how easy they are to get by – even the most basic of casino games with low RTP can be played with the money and you're almost guaranteed to walk away with a decent profit!
Play Book of Starz Now, Progress, and Win Big!
Get ready to dive deep into the catacombs of ancient Egypt and feel like a true adventurer would feel when you unearth those amazing rewards. You know that the promotion is there, but you also know that there is no time to waste. Get yourself moving to the BitStarz casino and claim the ultimate of prizes as soon as you can. Time is of the essence!
Enjoyed this article? Please help us by sharing: