The Web's Most Complete Book of Dead Slot Review
Book of Dead has quickly become one of the best online slots on the planet. Almost every reputable casino has it available to its customers and, what's even more important, most online casinos offer free spin bonuses on the popular Book of Dead slot. Players from all over the world have quickly fallen in love with this game, making it one of the most played online slots on the planet.
Watch Book of Dead Video Demo - €1207,50 WIN.
Where to play Book of Dead?
The only close competitor to Book of Dead, in terms of popularity, is Starburst. There are other good slot games that some people love to play, but nothing comes as close in terms of bonuses and playability to these two giants of the industry. Unsurprisingly, they are developed by two of the best game developers of casino games in the world: NetEnt and Play N Go. If you want to find out just what exactly is it that makes Book of Dead one of the most played games in the world, then stay with us and see if this is the best game for you or if you would have more fun moving on to other online slots.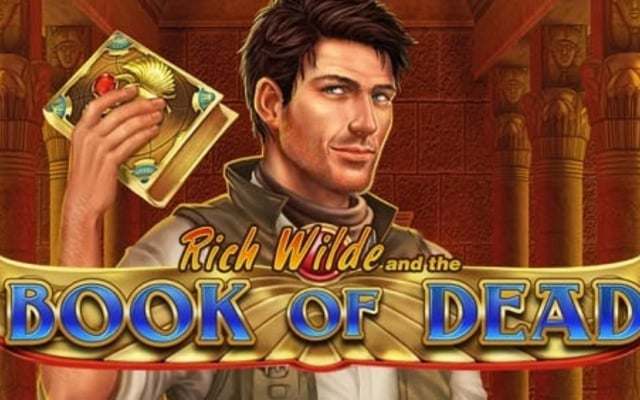 Resembling a Giant – The Book of Ra Comparison
Whenever we talk about Book of Dead, it's impossible not to mention the uncanny resembles that it has with Book of Ra, a popular classic that has been around for ages. In fact, Book of Ra is one of the most popular slots in Las Vegas, so that might give you a clear idea of why Book of Dead was designed to replicate what Book of Ra offers to players.
The game even has a very similar art style, and even though Book of Dead is an adaptation of the classic Book of Ra slots, we dare say that the graphics on this spinoff are far better and the sounds, as well as the animations, make the game feel much more complete than its original counterpart. In any case, it would not be fair to judge Book of Dead solely because of how similar it is to another popular slot game.
It lives up to the hype that it has created, but it doesn't just do it because it feels like you're playing Book of Ra – it legitimately is a good game.
The Book of Dead Theme
What truly makes Book of Dead such a popular game is its theme. It certainly attracts players of all ages, including young adults with a knack for winning and having fun and veterans that have seen everything that the casino industry has to offer. It's inspired on an adventurer who's currently on a treasure hunt in Egypt, looking to find the secrets that lie in the ancient tombs.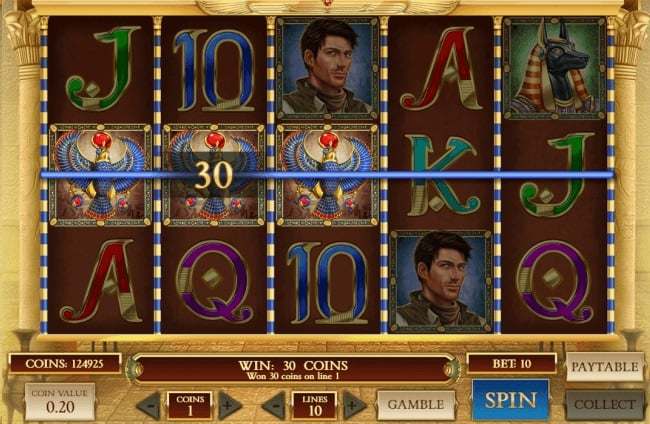 Resembling a young Indiana Jones, the Book of Dead main character appeals all generations alike. This is considered to be the most popular Egypt-themed game in the online casino industry, and that says a lot on its own – there are dozens of games based on Egyptian adventures! The main objective of the game, according to the story, is to find the book that keeps the secrets of the Dead.
You can do so by wagering cash and hoping to find the secrets that lie on the lines of the game, which can be found with just a little bit of luck.
The Book of Dead RTP & Expected Returns
Ever wondered how so many people walk away with earnings after playing Book of Dead? That's because this traditional slot game, which has actually been around for a little over 5 years, has a strong RTP of over 96%. That's your expected return per play. For example, let's say that you invest €100 into the game.
You can expect to walk away with at least €96, which with a little bit of luck might end up being double -or even triple- that amount! This is actually great RTP and shows how not every popular game which is advertised by the casino industry has a massive house edge.
You can expect to make some decent money with Book of Dead, and even if the long-term odds of the game are firmly stacked against you, there are still many opportunities for you to make a decent amount of money with this game. This is not surprising, though.
Book of Dead is developed by Play N Go, a company that is known to offer very good rates for players to enjoy the games. That's why many Play N Go games end up with so many fans, and that's how the company has earned a very positive reputation amongst the online casino connoisseurs of the world.
How Much Can You Bet in Book of Dead?
Another great aspect of Book of Dead is how much money you're allowed to bet. You can go for as little as €0.10 per bet, or you can go as high as €100. This level of versatility also shows why Book of Dead is so popular as a free spin game in welcome bonuses.
You get to choose how much money you want to bet, and you can get lured to play the game regardless of the fact of you being a high roller or a low roller. The game has 5 reels and 10 paylines, with the chances of landing a decent bonus being quite high thanks to the many special symbols available on the board.
Your adventures are just about to begin when you first open up Book of Dead, and you're hardly going to regret doing so. The game has a lot to offer, and you can wager as much money on it as you want! Besides, with 10 active paylines at all times, there are many more ways to win than in any other traditional slot game which usually has at least 3-5 paylines less than this one.
That fact alone makes Book of Dead one of the world's best online slots, and certainly shows why it's one of everyone's favorite games!
Book of Dead Features and Bonuses – What Else Does It Have?
Other than everything we've told you (which should be enough to make you interested in the game), we also found other things that we loved in Book of Dead in the shape of additional features added to the game. We think that additional features are what truly makes an online slot game stand out from the rest, as otherwise it would remain similar to other titles with changed graphics alone.
In any case, Book of Dead has a ton of features which resemble what you get in Book of Ra, but with a unique twist created by Play N Go.
Book of Dead In-Game Free Spins
Your luck in Book of Dead might also net you some awesome free spins to enjoy in the game. So many people love to earn free spins as bonuses that you can sometimes forget that some slot games actually give them away for free, and Book of Dead is exactly one of those that do it.
As such, depending on your luck when spinning, you might earn a special book which reads a predetermined number of free spins that you earned. These free spins can be stacked, which means that if you happen to earn more free spins while using your already-earned spins, you will stack them and you'll be able to earn an even bigger amount of money.
Sounds good, right? It gives you the chance to earn a ton of cash without spending a dime and just with a little bit of luck!
Autoplay Feature - Use It, But Take Care of Your Budget
If you already know how much money you want to put into the game, Book of Dead comes with an autoplay feature which allows you to set a given number of spins and have the game play it over and over again until you make it stop (or until your money runs out).
This allows you to set any given amount of money to be wagered, and you can sit back, relax, and enjoy the awesome graphics and see how your bankroll increases!
Wild Symbol and Scatters
The Wild Symbol feature is present in the reels of this slot, which makes your chances of winning much higher than they would be in any other game. Wild slots substitute and complement your paylines as needed, which means that they act as a sort of Joker card in no-rules poker where you can win what you would've won had you been luckier in your draw.
You can see wild symbols as bonuses that the game is freely giving away. If you happen to land a Book of Dead symbol, that will represent the effect of a wild symbol as well as a scatter, which means that you could potentially earn up to €5,000 IN A SINGLE ROLL. That's an insane amount of money for a potentially small investment.
Now you can see why so many people love Book of Dead. It's just too good in terms of money-making potential.
Last updated
May 24, 2022