Virtual Sports started off as a relatively small addition to the online casino industry a few years ago, even though they were ambitious and provided the impact that online casinos were having back in the day. However, as the industry has grown, so has the number of online casinos that offer these virtual sports as well as the games' popularity.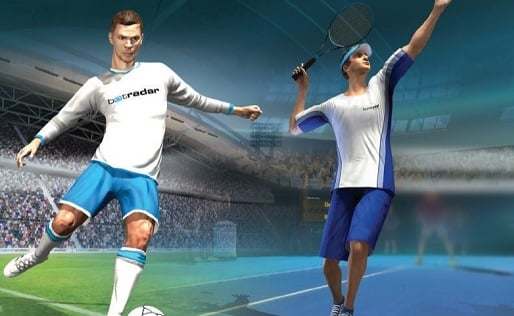 As things stand, virtual sports are some of the most played iGaming sports games in the world. They still don't come close to the numbers that sportsbooks are producing, but they do allow casinos to make a killing in profit whilst also seeing some players pocket large sums of cash themselves. However, virtual sports are different from traditional sports and they offer many different features when compared to real sports betting. Some people are in love with virtual sports while others don't find them immersive enough. This guide will explore the world of Virtual Sports to show you what these games are and how they've become so popular over the years.
What are Virtual Sports?
Virtual Sports are simulated sporting activitiesthat make it possible for you to placebets on matches and races regardless of whether there's an event going live or not. They are simulated events that you can actually see thanks to computer simulations and motion capture technologies that make it possible for the events to be recreated on your screen. In modern online casinos, Virtual Sports sections present you with different sports, with each of them having different events and matches going on at the same time. You can choose whichever sport you like the most and place bets on these digital matches, all of which have different outcomes every time that you play them. The beauty of virtual sports is that they have the ability to simulate the real sport – including the unpredictability factor that makes real sports so good. The RNG of modern virtual sports is amazing and provides people with a unique gambling experience that no other sports game in the casino industry is able to provide.
Digging Deeper into Virtual Sports
Virtual Sports came to prominence in the 2000s, even though they have been around since the 1960s. It was back in 1961 when Virtual Sports were born, as a computer used an RNG to create a virtual baseball league that actually simulated different results and made it possible to create different standings on the tables with each season that got simulated. The nature of Virtual Sports is the same as that of regular sports, but the difference is that games and races happen much more frequently when it's their digital form that you're talking about, as they aren't limited to the physical capabilities of sportsmen and athletes.
How Often Can You Play Virtual Sports?
Since Virtual Sports are computer simulations, you can usually see new events popping up every 3 to 4 minutes, depending on the sport that you're looking to put your bets on. Virtual tennis matches often start every 4 minutes, but hound races and horse races can come as quickly as every 3 minutes or less, depending on the online casino's policies. The main thing about virtual sports is that you don't need to wait for real athletes to compete – you can always place your bets on any sport that you want as long as you have the money to do it.
Every Type of Virtual Sports Game Explained
There might not be as many virtual sports as sports in the real world, but the industry keeps growing by the day and new types of games are expected to be added in the coming years. It's difficult to add new games to the Virtual Sports industry for the sheer fact that many require a lot of programming, tweaking the RNG, and, most importantly, getting the motion capture right. The reason why these games look so realistic is that the virtual athletes that you see in the games are created with motion capture technology, which allows you to see real-life movements in a digital presentation. As fantastic as this is, it takes time for it to be produced. There are some games that are already created and fill the virtual halls of all sports-themed casinos, such as:
Soccer
Arguably the most popular virtual sports game, soccer comes in different presentations that mimic real competitions that exist in the real world. You won't see any competition called "The Champions League" because of name rights issues, but games like "Champions Cup" will have you watch Paris playing Munich in an attempt to mimic what happens in the real world. When it comes to this sport, footballvariety is as good as it gets in the world of virtual sports. You'll be able to bet in a variety of competitions and see different matches unfold, which turns soccer virtual sports into the best types of virtual sports on the planet.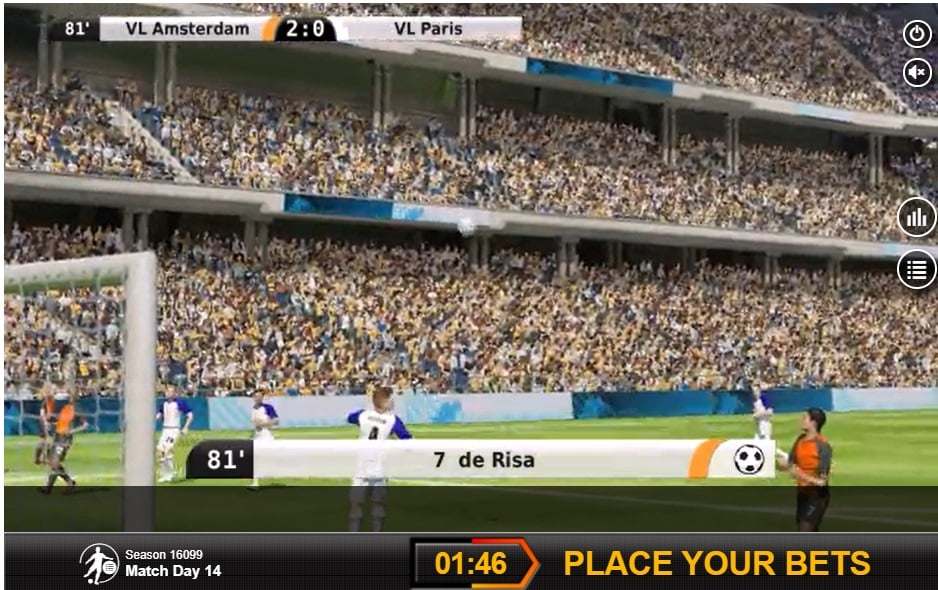 Tennis
Tennis works very similarly to soccer when it comes to virtual sports, but there aren't a ton of competitions, unlike its soccer counterpart. You will be able to bet on individual matches and try your luck to see whether you get the bets right or not, which makes it very similar to regular tennis. Picture this: you sit in front of your TV, turn it on, and you see a match of tennis going on. Then, you head to your computer or phone to place a bet on the game. Now, with virtual sports, you will be able to do this all the time – regardless of whether there's a game going on TV or not!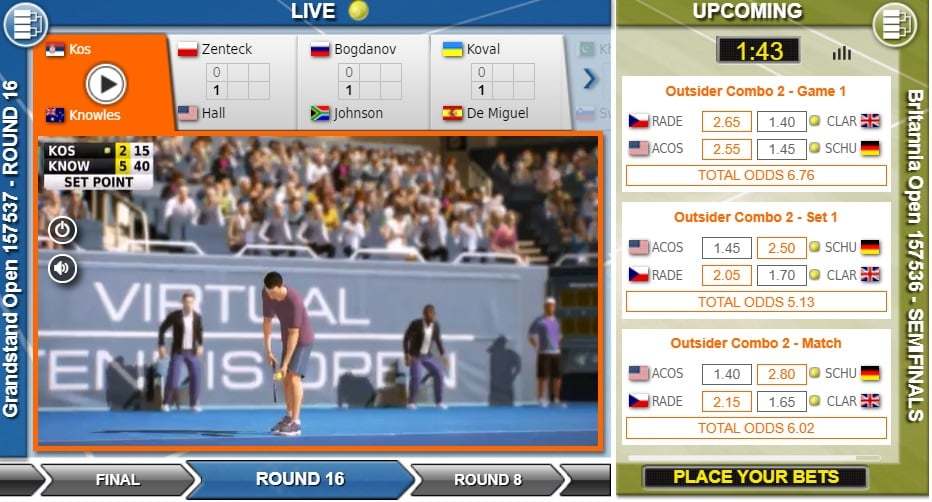 Basketball
Basketball is also extremely popular and it resembles the soccer league very much. However, virtual basketball feels more complete when it comes to betting on the competition as a whole. With basketball, you will be able to place more bets that make it possible for players to enjoy a thrilling experience but that are more influenced by the outcome of a season. Basketball seasons are always going on and you can even bet on the playoffs if you feel confident enough. It makes the game far more entertaining when you can bet on seasons that end in a matter of hours – and virtual basketball provides you with that.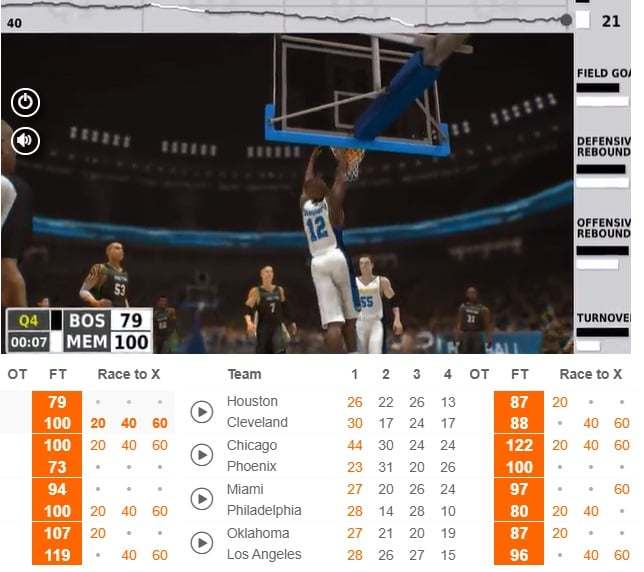 Horse Racing
The popularity of horse racing in the world of online casinos is unquestionable, with dozens of casinos focusing on horse racing as part of their sportsbook offers. Some have even managed to combine other games with horse racing and produced fantastic results, such as the Bingo Jockey by the One Casino. It is because of things like this that it comes as surprise to no one that horse racing is so popular in the world of virtual sports. There's always a horse race going on, with some horses being clear favorites and others giving you better odds and returns. The world of horse racing is massive and you can get to experience it from the comfort of your home, while watching live races, thanks to Virtual Sports!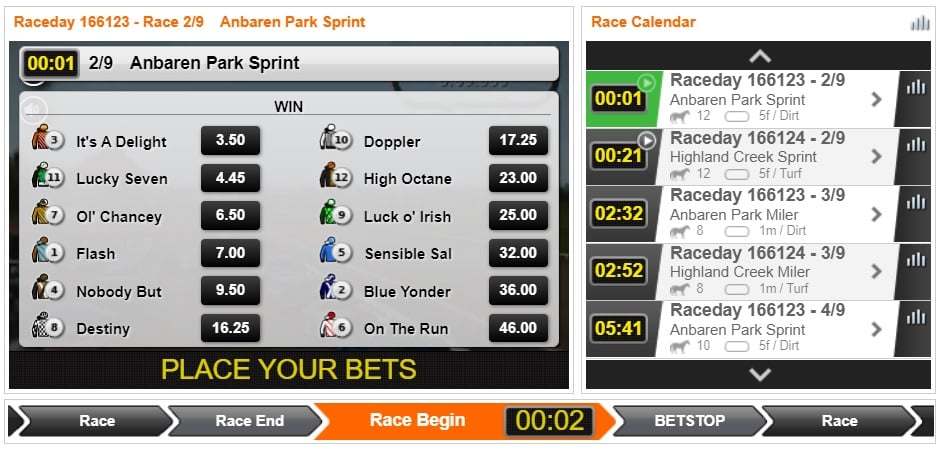 Hound Racing
Hound racing works just like horse racing, but with hounds. It isn't anything too complicated and even though this sport is not as popular in the real world as it once was, hound racing in virtual casinos is seen in a much better light for the sheer fact that the dogs are not put under any strain. They're just virtual and can race as much as you want, which takes the inhumane factor out of the equation. The virtual environments in which the hounds race will take you back to the good old days before regulations existed in the real world, allowing you to create massive betting environments for all people to enjoy like in the days of yore.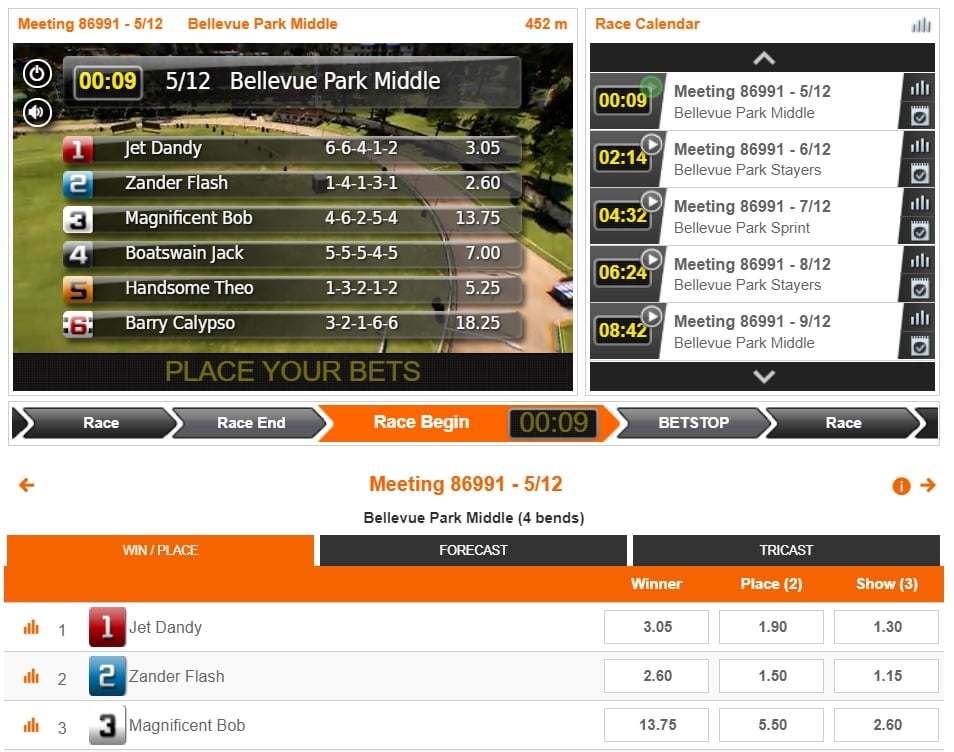 Baseball
Here are 7 tips to increase your chances of winning in (virtual) baseball betting, remember that luck and knowledge of the game are also important factors.
Underdog Betting: Betting on underdogs in baseball can be more profitable compared to other sports, but it's important to analyze lineups and current form before placing bets.
Bankroll Management: Set a limit on how much money you're willing to bet per wager, typically no more than 5% of your bankroll, to ensure you don't lose large sums of money quickly.
Consider Umpires: Umpires can have an impact on the outcome of baseball games, so research their tendencies and how they officiate games to gain insights into teams' performances.
Bet on Teams that Play Each Other Often: Teams that frequently face each other develop familiarity and patterns, making it easier to analyze odds and make more informed bets.
Use Betting Systems: Employ betting systems that suit your strategy and adapt them accordingly. Consistency is key, and volume bets can be effective in baseball.
Focus on Pitchers and Bullpen: Pay attention to the starting pitchers as well as the bullpen, as they can greatly influence the outcome of a game. Understand the value and performance of pitchers on both teams.
Profit from Struggling Good Teams: When good teams go through a losing streak, bookmakers may offer higher odds for them to win. Analyze the reasons behind their struggles and assess if they are likely to bounce back before placing a bet.
Types of Bets to Put on Virtual Sports
Much like real sports betting, virtual sports allow you to play a large variety of bets, which enables you to create your own unique experiences that resemble the ones that you can get in real-world betting. Thankfully, this also means that there are dozens of outcomes and types of winnings that come from the world of virtual sports. Basic bets are also present here, though. You don't need to overcomplicate yourself if you don't' want to. You can place regular straight bets as you would place them when betting on your favorite soccer teams, for example, or you could go for more complex outcomes that pay out much more cash than usual but are also far less likely to happen.
Win
"Win" bets are the most popular types of bets and the ones that you see the most in the world of sports gambling. They are what they sound like: you place a bet on whoever wins, with any other outcome resulting in a loss for the gambler. These are the simplest bets, which makes them far less appealing for the invested gambler, but much more appealing to newcomers and people who wager casually. Virtual sports have them available, so these sports also appeal to those who aren't committed to investing large sums of cash towards their online casino experiences. Naturally, these bets are often placed on games like tennis, basketball, soccer, and other sports where only one team can be the winner. You can also place these sorts of bets on sports like hound racing and horse racing, but in these sports where many people competitors participate in each race, you will also get better payouts because the winners are harder to predict.
Forecast
Forecast bets often pay a lot of money, but getting them right is much more difficult than a straight-up win bet. There are various types of forecast bates that you can place as well, making them ideal to be placed by gamblers who are more aware of how things work or have a wider knowledge of odds. The straight forecast bet, for example, which is the most common one, consists of betting on the 1st and 2nd places in race events. You need to accurately predict both in order to win the bet, which gives you a much larger payout than what you often find in a regular sporting event. You need to have a race in which three or more contestants participate if you want to place these sorts of bets. That's why traditional sports simply don't work well with forecast betting. The larger the number of contestants is, the larger the payout will be if you happen to get your forecast bets right. This also applies to reverse forecast betting.
Tricast
Tricast betting works very similarly to how forecast bets are placed, but they involve predicting the positions of three contestants instead of two. As you can imagine, tricast bets payout a lot of money but are much more difficult to predict than regular forecast bets. Much like the forecast bets, they can only be placed in competitions where there's one more contestant than the ones you're going to bet on. For example, you could place a tricast bet on a race with 4 competitors, but you couldn't place one in a race with three. Some virtual sports only allow you to place tricast bets on events with 5 or more competitors, even.
Each Way
Each Way bets are the types of bets that you often love to place when you're unsure of a certain outcome and you want to cover more ground. Basically, each way bets are two bets in one. You bet on a certain horse or hound to finish in the first place, but you also bet on the hound to finish on another position in the race. That way, you can win with more than one outcome, but you'll find that the payouts are much lower than they are for regular straight bets. In any case, Each Way bets are very popular and they are offered both in greyhound racing as well as horse racing in most online casinos that provide you with a virtual sports section.
Virtual Sports Versus Real-Life Sports – The Differences
One of the main questions that we often see floating around, when the Virtual Sports argument pops up, is whether it's better to play virtual sports and place bets in them or if it's better for players to simply hold out for real sports. Are virtual sports fixed to have a certain outcome from the get-go? Do casinos cheat with Virtual Sports? To answer those questions first: no, to both of them. Virtual Sports work with an RNG, so they are not tricking you into thinking that something will happen only for it to not happen later. If something changes within the game, it wasn't predetermined. It happens and things are decided by the RNG based on the factors that influence the game as the game itself advances. Online casinos that host virtual sports are fully regulated, and the games are checked to ensure that they provide players with what they're being promised. The casino gives you fair odds based on the probabilities of outcomes happening, much like they happen in real sports, but with even more accuracy because the data is all entered into a computer.
You Can Bet Much More Consistently
One of the main advantages of Virtual Sports is that you can place bets in them much more consistently than in real sports, for the sole fact that the games are always going on. There are no athletes involved in virtual sports apart from those that are used to record the movements what the motion capture devices, so it's unlikely that you'll see the biggest sports betting odds in these events. However, when it comes to the actual games that you're watching, there are no real people there. That means that the games can go on forever without the limitations of the body being in the way. You can hop into your computer or phone at 3 am, if you wish, and place bets of virtual sports. This might not be possible with real sports for the sheer fact that games might not be broadcasted or even played at that hour – depending on where you live.
They're Easy to Play and Always Available
The learning curve for virtual sports betting is much less steep than the one that is imposed upon real-life sports. The betting systems and the way for you to watch the matches is also much easier to grasp than it is in real sports, as everything is presented on the same screen. You won't find yourself looking at your computer and then your TV – all you need to do is access a quality virtual sports casino and you'll have access to the game and the betting options at the same time.
There's Always a Virtual Game Going On – No Matter the Time
If you're one of those sports fans who simply cannot get enough of gambling on random games at any time of the day, you're going to love what virtual sports have to offer. These games all happen at all times, every time. Tennis matches begin every 4 minutes, for example, whilst races might start as shortly as every 3 minutes. The number of Virtual Sports available also makes it easy for you to pick a sport that you like. There will always be a match that makes it interesting for you to play. You can be awake at 3 in the morning and feel the sudden urge to bet on any sport and you know that, with virtual sports, it's completely possible to do it. You don't have to wait until the next morning for the games to start – they'll always be there for you to bet!
No Knowledge Needed!
If you want to be successful at online sports betting (when it comes to regular sports, at least), you need to have a lot. For Virtual Sports, you don't need anything but to read the ratings of the teams and the players that you're going to bet on. You don't need studying or any previous knowledge of what you're going to be on – simply read the stuff before you begin and you'll be good to go. For real-life sports, you need to do your homework before you place your bets. Not doing it will result in catastrophic losses for the sole fact that you don't know anything about injuries, suspensions, players, and more. When it comes to virtual sports, you will be presented with all of the options before the game begins. There are no external factors that come into play – you won't have to deal with injuries, weather, psychological factors of players, or anything like that.
The Games are Always Affected by the Same Factors
Emphasizing on the last point that we talked about, these online games are not really influenced by things that are out of your control. The RNG always works the same in all of the games – you won't have any issues with weather or anything that might be wrong with the pitch. Everything is always the same for all players. This also gives the games a feeling of consistency that real sports truly lack. You will be able to always know what is going to happen with the exception of being able to predict the outcome.
All Players Watch the Same Games
You might think that virtual sports are different for everyone, but that's not it. Part of the reason why these games give so much confidence to players is exactly that everyone sees the same. It doesn't matter how much money you wish to bet on stuff – it won't influence the outcome of the games. That ability for you to watch the game on any device and see the same outcome is what gives you the confidence to know that you're not being scammed out of your cash by shady gambling schemes.
Games are More Complex Than You Think
Even though virtual sports might appear simple in principle, they come packed with a lot of features that make them far more complex than you initially think. Players, horses, and participants in general have stats that define how well they will perform in the game. Even though stuff is all pre-recorded in motion suits, the actions of how players perform are defined by the stats and the RNG altogether. There's a reason why these games are so popular! They resemble real sports as much as possible without being affected by negative factors, regardless of whether these are psychological or physical.
The Best Casinos to Play Virtual Sports
Virtual Sports can now be found in more places than ever, but that doesn't mean that you should just pick any random casino with virtual sports and spend your money on it. On the contrary, as huge as the sport offers are, you should know how to pick a world-class online casino before you commit your money to a site in which you'll regret doing so. To save you the time and trouble of going through all of the sites with virtual sports, we've made a list of three online casinos that rank in our list of the best online casino sites on the planet. All of these sites come packed with fantastic bonuses and free cash that you can spend on the casino or use it to play the best virtual sports games. Bear in mind that all of these casinos hold the most reputable casino licenses, so security is far from an issue when gambling in any of them.
Play Virtual Sports and Win Big While You Can!
Virtual sports are fantastic and now you know why. Which online casino will you choose to visit to play them? We've given you the best options out there, so now it's up to you to decide which one you like the most. The world of Virtual Sports is set to continue its path of growth as time keeps going by and gamers get more acquainted with these amazing sports games. Be sure to claim any of the bonuses that we've told you about so you can play the best virtual sports games completely for free!
Last updated
October 2, 2023