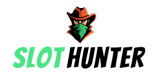 Embark on the Slot Hunter Treasure Hunt
Any casino that aims to take you on an adventure is sure to be one to pay a visit to, and one that makes your casino stay into a trip is one that you'll want to commit your time towards. As such, the Slot Hunter Casino is one of those websites that have caught our attention and become one of the finest casinos that we've visited.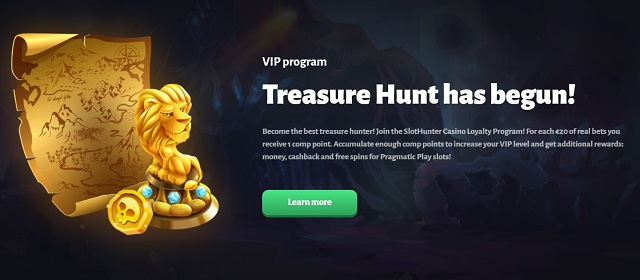 We want to talk a bit more about the Slot Hunter Treasure Hunt, which is a rather particular VIP program that commands player attention as much as it demands dedication. Those who want to participate in the Slot Hunter Treasure Hunt and earn some of the finest casino rewards that this site has to offer to its players!
What is the Slot Hunter Casino Treasure Hunt?
The Slot Hunter Treasure Hunt is a timed promotion that expands on the site's loyalty program to provide loyal casino members with different ways in which they can earn extra rewards. This promotion needs you to be consistent if you are to claim all of its prizes, as the rewards are all there for the taking for those that spend time at the casino.
The Treasure Hunt is not meant for everyone, though.
This promotion is specially created for slot fans, as the best way to collect CP and earn your way through the different prizes that the Treasure Hunt has for you is by playing online slots at the Slot Hunter Casino.
This site is home to some of the best casino slots of all time, so variety is not an issue that you'll have to be worried about. Games are aplenty, and half the fun of this treasure hunt is to try out the different slot games available at the casino!
How to Collect Slot Hunter Comp Points?
The Slot Hunter Casino makes it really easy for players to collect bonus points during the tournament. We've seen various online casinos that require players to wager over €70 to collect a single comp point, where rewards start being worth it from 100 points and onwards.
Slot Hunter takes a different approach with the Treasure Hunt loyalty promotion. Here, you only need to €20 per point, which means that you'll be packing your account with bonus points before you know it. As far as bonus promotions go, this is one of the best that we've seen in terms of how quickly you get to collect points.
One short streak of good luck could bolster your CP balance through the roof, and move you upwards in your search to find the best prizes that the Treasure Hunt has to offer.
The Best Games to Play to Collect Comp Points
There are many ways in which you can collect slot rewards at the Slot Hunter Casino. The site is packed with tons of amazing games to play, but if you truly want to make the best of your time and maximize your point collection, you may want to follow our advice on which games to play when joining the Treasure Hunt:
The Site's Recommended Slot Games
Even though the site's recommended slot games don't tend to be the most lucrative out there, they are some of the most played and entertaining that Slot Hunter has to offer. Check out which slots are trending and play them all if you wish – that'll help you grow your CP balance rather quickly!
Games with High RTP
Now, if you don't mind playing some older classics or games that may not be as fun as some trending titles, you can also opt to focus on slot RTP. Games with higher RTP have a chance to provide you with more money back with each bet, which also makes it easier for you to collect bonus points.
Games that You Enjoy Playing
At the end of the day, the Slot Hunter Treasure Hunt has one clear goal in mind: to make you have fun. Forgetting about what's trending or what's lucrative and focusing on the slot games that you like the most is our favorite way to play casino tournaments!
Is this Loyalty Program Worth It?
When it comes to fairness, loyalty point collection rate, and the quality of rewards that this loyalty Treasure Hunt is one of the best loyalty programs on the internet. You'll be collecting rewards shortly after starting your Slot Hunter journey – even if you intend to wager less than €100.
We all love to collect rewards on top of the prizes that we're already earning at online casinos, which is probably why we loved this Treasure Hunt so much. The theme is very appealing, the rewards are very lucrative, and your prizes are there for the taking.
Should you be a fan of slots and not that into online table games or live casino games, then we fully recommend you check out this promotion. Not only will you collect points by playing slots, but slot gameplay is encouraged with the rewards that you'll unlock!
The Slot Hunter Journey Awaits – Get Your Prizes Now!
Even though this tournament will require you to spent quite a lot of time at the Slot Hunter Casino and possibly show your commitment to the site by spending time and cash playing Slot Hunter slots, the journey will surely end with plenty of rewards that you'll enjoy.
From free spins to free bonus cash and even secret prizes, the Slot Hunter Treasure Hunt is packed with fantastic bonuses that you'll happily unearth as you journey through the casino's adventure.
Choose how much cash you spend and calculate the prizes that you'll be able to win. Reach the latter stages of the tournament and get ready to receive some of the most lucrative rewards that the casino gives away. Visit Slot Hunter and win the best casino bonuses now!
Last updated
February 10, 2022