Test Your Luck with the BitStarz Welcome Freeroll
Casino tournaments are always clutch, but the BitStarz welcome freeroll takes it to the next level. This incredible offer works as a tournament that is reserved to be enjoyed by new players only, which makes it a fantastic bonus to claim if you're new to the casino and you don't know where to begin your reward-filled journey.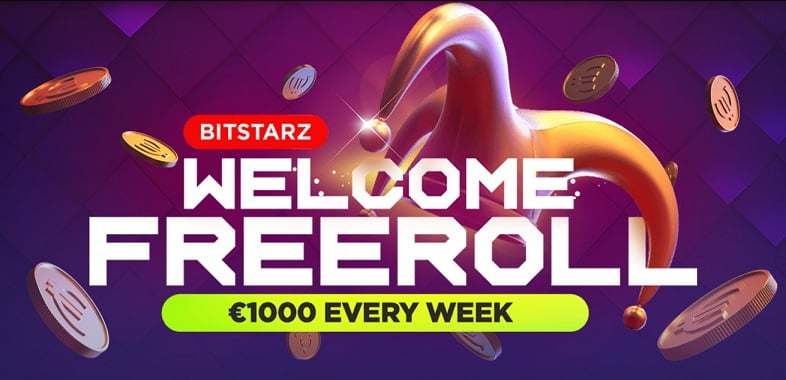 BitStarz is known to be one of the best online casinos for bitcoin gambling on the planet, but regular gambling is not only what the site is all about. Here, you'll also be able to claim some of the best casino bonuses and participate in promotions that will make your account balance skyrocket with little to no luck required. Check out this entire piece and see why we love the welcome freeroll and BitStarz – and why it's one of the best bonuses to claim if you've never been on the site!
What the Welcome Freeroll at BitStarz is all About
The BitStarz welcome freeroll is a tournament meant to be played by newcomers to the site. Your account needs to have been created recently if you want to participate, as you will only be eligible to enter the first two available tournaments after the creation of your account.
For example, if you register on the casino on any given year, on July 5, and there are tournaments scheduled for July 3rd, July 10th, July 17th, and July 24th, you will be eligible to participate in the tournaments scheduled for July 10th and July 17th only. If you miss out on the tournaments that you're eligible to form a part of, you won't be eligible to participate in any other tournaments further down the line.
That's just how the rules of the casino work.
How to Participate in the BitStarz Welcome Freeroll and Earn €200
All of your bets count towards the leaderboards of the Welcome Freeroll tournament – that's part of the magic of this amazing competition. You don't need to place any specific bets if you want to win nor do you have to play games with low RTP to qualify and climb on the leaderboards. All you must do is play slots or table games within the first couple of weeks or having created your account.
You will be able to keep track of your progress in the welcome freeroll tournament section and see how you fare against the points of other players in the casino!
Up to €200 in Rewards on Top of your BitStarz Welcome Bonus
The BitStarz Freeroll Tournament is clearly one of the most lucrative promotions that a newcomer can claim in any online casino that they visit. However, that's far from the only reward that you will be obtaining if you deem yourself worthy of the rest of the BitStarz bonuses. You can claim your BitStarz welcome bonus with your first, second, third, and fourth deposits on the site.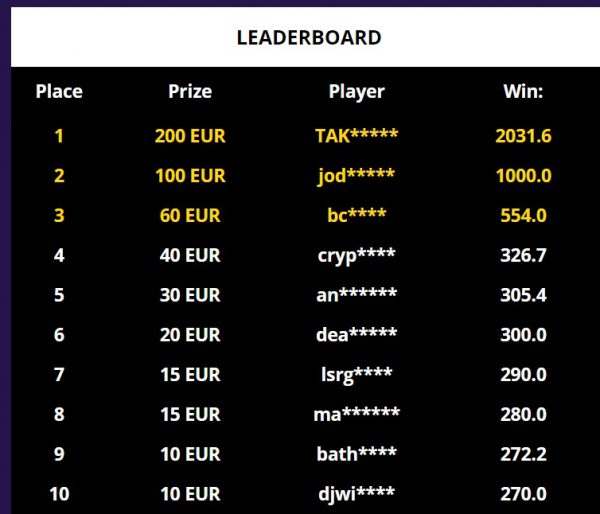 Wager to unlock those hefty rewards as you also progress through the ranks of the Freeroll Leaderboards in an adventure that could end up with your receiving thousands of euros or bitcoins as rewards!
BitStarz Welcome Freeroll Terms and Conditions
All you need to know before participating in the BitStarz welcome freeroll tournament is that the offer has a few terms and conditions that you need to abide by, apart from the rules that we have already mentioned throughout the article. We have made a list of the three most important rules of the freeroll bonuses to ensure that you'll truly make the best of your bonus cash from the moment you receive it:
Bet Participation
All bets count toward your progress in the leaderboards – including those you make with bonus money. There are no exceptions to this, which means that you can even use your bonus money earned with the first deposit and obtain points that will allow you to climb the leaderboards. You can play any game in the casino too. You can play slots, table games, and even live casino games with real money or with bitcoin. All bets will count towards your casino bonus progress!
Wagering Requirement
The money earned with the Welcome Freeroll is subjected to a wagering requirement of 40 times the amount received. That is one of the reasons why all bets are allowed to participate in the tournament: you will still have to comply with wagering requirements after having earned the bonus.
As such, you should see this promotion and all of its prizes as an extension to the casino's welcome bonus package, particularly made for those who are looking to win money by playing against other players in a virtual environment.
Participation Restrictions
You may only participate in the first two Freeroll Tournaments after registering your account. Once you have participated in both tournaments, or if both tournaments pass you by without participating, you won't be eligible to collect leaderboard points for any other freeroll tournament on the site. Be sure to make the best of your time as a newcomer to the BitStarz casino and take full advantage of your first deposit bonus to claim as many points as possible in the first couple of weeks after registering!
Register and Earn Prizes with the Welcome Freeroll at BitStarz
A tournament for newcomers is a fantastic chance for you to try out a new casino. If you're here, then you've been blessed by Lady Luck – it's time for you to go and claim the chance to play in one of the best iGaming tournaments in the world. Not many sites will offer newcomers the chance to earn as much bonus cash as the BitStarz casino, so be sure to make the best of this opportunity. Head to the site and claim the best prizes that the industry has to offer right now!
Enjoyed this article? Please help us by sharing: