The Bitcoin Promotion That We All Wanted is Finally Here
As one of the world's leading cryptocurrency casinos, the mBitCasino has put together one of the best casino promotions that we have ever seen. Raffles and lotteries may be rather common in many online casinos, but the chance to win 1 BTC with no wagering requirements is truly one of a kind.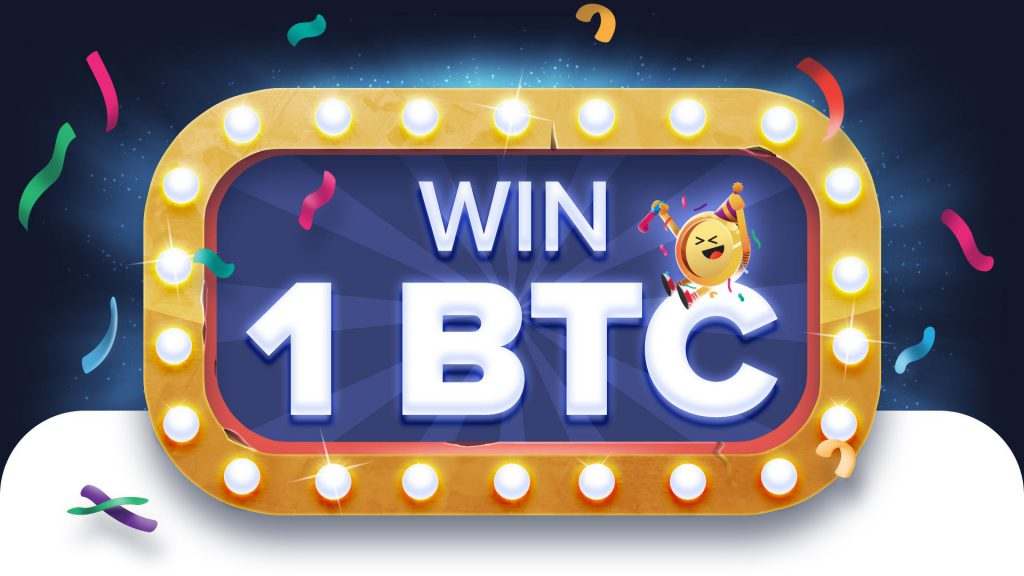 Most of the prizes that you find in most online casinos come with hefty wagering requirements, which means that you'll have to work for the prize even after you've seemingly won it. Now, with this incredible mBitCasino promotion, you'll be able to walk away with one full BTC without having to wager anything other than the amount of cash with which you'll participate in the offer.
We'll tell you all about this fantastic promotion, how to participate in it, and how not to get disqualified from the mBitCasino 1BTC raffle!
How to Win 1 BTC at the mBitCasino
One of the best things about the mBitCasino raffle is that everyone can qualify for it. You don't need to be a high roller and you don't even need to be a permanent member of the casino. All you really need to do is make a deposit, which means that anyone with a bitcoin wallet will be eligible to qualify.
Here are the steps that you'll need to follow in order to participate in the offer.
Create an account at mBitCasino if you don't have one
Make a deposit in the casino worth any amount equal to or over 2 mBTC (that would be 0.00100000 BTC, or roughly $60). Make sure that you make the deposit between April 16th and April 19th, 2021
You will be instantly drawn into the pool of gamblers with a chance to win 1 BTC
The winner will be picked at random on Monday the 19th from the pool of gamblers who made the deposit within the qualifying timeframe!
One Free BTC with No Wagering Requirements – You've Read it Right!
If you're here, then you're probably wondering about the hidden rules and conditions that probably come with this prize, right? Well, we're happy to tell you that there are none. If you win this raffle, you get 1 BTC for free. There are no hidden rules that will allow the casino to stop you from withdrawing the money!
This is arguably the best bitcoin casino promotion that we've ever seen, and probably the best one that you'll come across this year. All you need to do is make a deposit of 2 mBTC and get the chance to claim 1 BTC for free!
Remember: you don't need to spend the money used to make the 2 mBTC deposit. You just need to make the deposit and wait for the raffle results on Monday 16th!
mBitCasino Raffle Terms and Conditions
Even though the money itself has no wagering requirements, there are other terms and conditions that you'll need to pay attention to if you want to obtain the money.
Crypto Usage
The deposit that you make to participate in the raffle doesn't necessarily need to be made with bitcoin. You can also participate in the offer by depositing Ethereum, Bitcoin Cash, Tether, Doge, or even Lite Coin.
The important thing about the deposit is for it to be an equally equivalent amount to 2 mBTC. If you want to really be careful, we recommend you make a deposit of at least 65 USDT to make sure that you qualify for the promo. Use the mBitCasino cashier to convert the cash and truly ensure that you qualify for the promo!
Timeframe
The deposit needs to be made between April 16th and April 19th or you will not qualify for the promo. The raffle winner will be drawn on Monday, April 19th, but those that make deposits early in the morning will still be able to qualify. If you're reading this by then, hurry up and make the deposit before it's too late!
Minimum Deposit
You would need to make a deposit of 2 mBTC to participate in the offer. That roughly converts to $60, in case you're looking to turn your traditional cash into BTC to participate in this fantastic promotion.
Gamblers who have made the deposit before the 16th or within the timeframe but in lower amounts will not be able to qualify for the promo.
Wagering Rules
You don't need to wager with the money that you use to qualify for the offer, nor do you need to wager with the 1 BTC if you happen to win it. The 1 BTC earned with the raffle will be available to be withdrawn to your crypto wallet the moment that you receive it and onwards.
Visit mBitCasino and Win 1 BTC with the Best Casino Raffle!
As you can see, this is one of the easiest promotions that you can claim in the mBitCasino, and it's also the most lucrative of the bunch by far. If you have a couple of mBTC laying around (or even $60), there's nothing to lose. Just create a new account at mBitCasino if you don't have one – remember that you don't need to spend the cash to participate!
If you're ready to go and you're keen to win 1 BTC for free, then go and pay a visit to the mBitCasino now. Use your money to participate in this promotion and win the most generous raffle prize in the history of this bitcoin casino. Jump straight into the action here!
Enjoyed this article? Please help us by sharing: