The Videoslots Casino is home to the best slot competitions on the internet – that much is clear. This online casino has already delighted us with the amazing Battle of the Slots and other world-class tournaments where online slots take the spotlight, and now it's time for us to tell you all about the Clash of Spins and why it's the best promotions for slots fans in the iGaming industry.

Unlike other promotions, the Clash of Spins offers unique rewards.
You won't be playing to win straight-up cash. Instead, this promotion allows you to play even more slots for free, which is absolutely fantastic if you love to watch those reels spin but you are not too keen on spending your money to see them do it. Worry not, though – everything that you win with Clash of Spins can be directlyconvertedintospendablecash, so you can rest assured that your bonuses will all but give you what you're ultimately looking for.
What is the Videoslots Clash of Spins?
The Clash of Spins is a part of the Videoslots Casino where you will be able to see a bunch of different competition and choose which one to participate on, based on the entry fee, the amount of money that you want to spend, the online slot that you will have to play to participate in said competition, and the reward that you can claim after winning it.
You will need to factor in all of these things before deciding which Clash of Spins you would rather participate on. One thing is for sure, though: the Videoslots Casino makes it easy for players to choose whatever they want to choose thanks to the large number of competitions that are always available.
That's not all, though: this online casino also has a search bar for you to look for upcoming competitionsavailable every week. That way, you can plan ahead and make up space on your schedule to play any competition that you prefer!
Clash of Spins - How to Participate and How it Works
All you really need to have in order to participate in a Clash of Spins competition is a basic Videoslots Casino account. Preferably, though, you might want to have already claimed the Videoslots welcome bonus to make sure that you have some spare cash available to be spent in one of the site's most prominent competitions.
Click on the uppermost menu of the casino, where it reads "Clash of Spins", and you will be taken to a section of the site that shows you all of the upcoming and ongoing Clashes of the Spins available to play. Each Clash works as an individual tournament, so you actually get to choose which one you like the most depending on how much cash you're willing to spend as well as the rewards that they come with.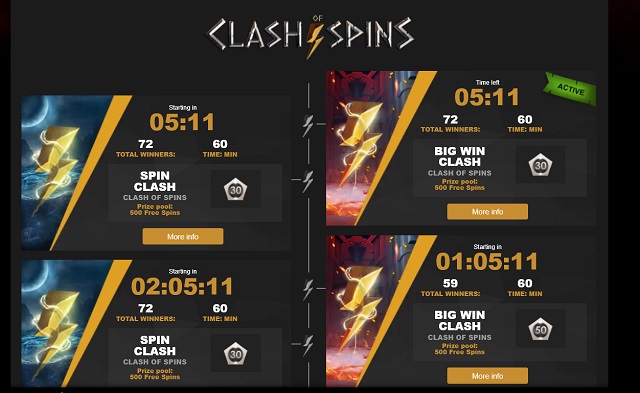 The Clashes put each player in a competitive environment in which they will have to collect points depending on how they do in each game. The difference between Clash of Spins and Battle of the Slots is that the Clashes are all free for players to choose how much money they want to spend in each competition, which means that Clash of Spins is a much better competition for high rollers than the Battle of the Slots.
Try to claim the best rewards out there by collecting as much points as possible for the duration of the tournament. Big wins give you more points than normal wins, and the amount of cash that you bet on each game also allows you to collect different sums of points. It's all up to you to decide how much cash to bet, but the more you bet, the better chance you win you'll have!
Clash of Spins Prizes
The magic of Clash of Spins is that it allows you to get different prizes based on the tournaments that you wish to participate in. Every competition is subjected to different rules (albeit similar) and they allow you to get different numbers of spins as a reward. That's the beauty of the tournaments: they all give you free spins when you win, which means that true fans of online slots will be playing online slots to unlock even more playing time in the best slot games on the planet.
It's a healthy vicious cycle where the winners get to spend free spins in some of the best games ever created by the iGaming providers.
All free spins that you win in Clash of Spins are not subjected to any crazy wagering requirements. You cannot win the full prize pool of each Clash tournament, though. Here, the leaderboards are designed to divide the total number of free spins among all participants, with the higher-ranked players being able to claim more free spins than the rest. However, in a Clash of Spins battle, you will be able to claim amazing bonuses even if you're not in the top 10. In some cases, tournaments reward as much as the top 100 players!
Clash of Spins Terms and Conditions
Clash of Spins is one of the best competitions on the site, btu that doesn't mean that the Videoslots Casino hasn't still put some basic guidelines and rules to oversee the fair use of their amazing offer. As such, with rules being so aplenty, we've decided to narrow down the most important ones so you can get a good grasp of the offer before you get to enjoy it.
Wagering Requirements
All of the winnings that you get in the Clash of Spins (most of them, at least) are given to you in the form of free spins, which means that you get the chance to play even more slot games for free. The best thing about these rewards, though, is that you don't need to make any wagers with the spins if you don't like.
All of the winnings obtained with the free spins given to you as a reward in the Clash of Spins are fully free of any wagering requirements.
Payouts and Tiebreaks
The Clash of Spins official schedule starts every Monday and finishes every Sunday, which means that the rewards will be paid out to every player as soon as the week starts. Every Monday, when the tournament begins, the previous week's rewards will be paid out to everyone that has participated on the competition.
If you happen to have had the same score as another player, which ties you with them on the leaderboard, the Videoslots Casino will see who got their current score first and give them the higher spot on the leaderboard. Whoever reaches the score first is the winner of the tiebreak.
Usage and Playtime
The Videoslots Clash of Spins must be played when no other bonuses are active. You will not be able to receive the rewards of the competition if you have other bonuses active at the time of deliverance of the offer, either, which could cause you to miss out on some fantastic rewards. We suggest you only register for the Clash of Spins after you've fully used all of your bonus cash from the Videoslots welcome bonus and ensured that you won't be missing out on any fantastic bonuses or rewards.
Clash and Win at the Videoslots Casino!
WE know that you're more than eager to jump into the Clash of Spins world. We would be too if we had just learned how awesome it is! Now, it's up to you to decide which battle you'd rather play and start spending that bonus cash in the best games that the site has to offer. Just remember: your bonus free spins will be available to be sued in certain games only, but the bonus cash generated by your rewards will be wager-free.
We encourage you to read the individual terms and conditions of each tournament, located at the bottom of their respective pages, to make sure that all rules are the same. They generally are, but some tournaments tend to make the prizes work a bit differently and you should do everything in your power to avoid any unpleasant surprises.