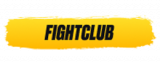 Play Games with Free Cash at FightClub Casino
The FightClub Casino, previously known as the Lady Hammer Casino, is your go-to website to claim the best prizes and free money bonuses in a very competitive player environment. Should you be a fan of online casino slots and should you be looking to play the best of the bunch for free, then you've come to the right place.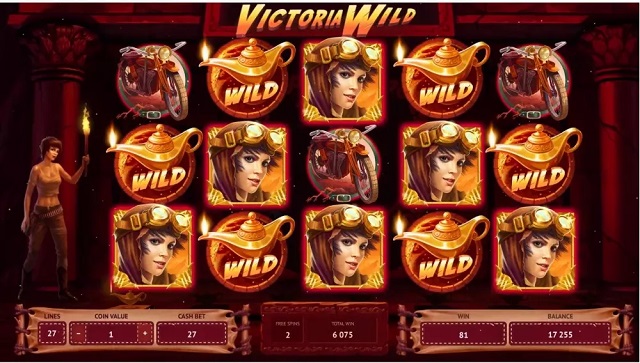 Don't worry, we'll also tell you how to claim your free bonus cash at this fantastic online casino. It's not all about the best games, but also about the best bonuses.
The best online casino slots in the iGaming industry are here to be played and enjoyed with free bonus cash. These are the top games that the FightClub Casino has in store for you, so be sure to check them out and play the ones you like the most!
3. The Dog House
The Dog House may not be the most renowned online slot on this list, but the ability for this game to provide you with high-paying winning rounds was enough for it to secure this game a spot on our list.
You'll find yourself chasing for Wilds when playing The Dog House slot, which is rather predictable considering the game's name. However, the rewards are far from predictable themselves: you'll have the chance to claim a staggering set of winning rewards that range from x2 multipliers to prizes worth up to 9 times the value of your bets.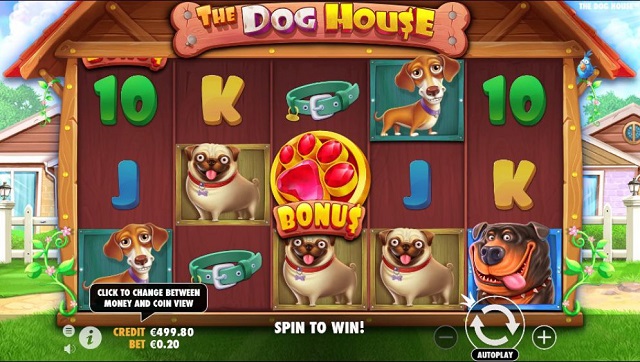 The Dog House slot revolves around this concept. The idea of the game is to provide users with thrilling high-paying rounds that are fueled by obtaining multiple Wild symbols on a single spin. Should you be able to achieve this, you'll have the chance to win a ton of cash in this online slot.
With the sticky wild multipliers and the chance to win up to 27 in-game free spins, this is the best online slot to play with free spins at the FightClub Casino – especially if you want to earn even more free spins within the game!
2. Jammin' Jars 2
The first installment of Jammin' Jars was one of the best casino slots that we've played. It's fun, engaging, packed with amazing features, and really easy to play.
Jammin' Jars 2 takes it all to the next level, though. If you thought the first game was good, wait until you take a peek at this one.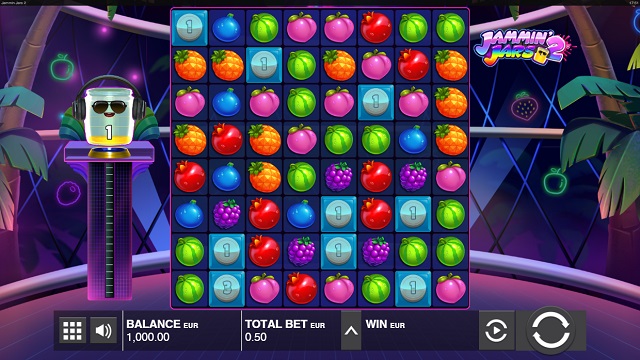 First of all, this game's graphics have taken the sequel to the next level. You're now going to see a full-blown Jammin' disco where rewards are as aplenty as the ear-pleasing sounds. The 8x8 grid allows you to claim tons of amazing prizes as you spin your way through this fantastic game and look to fill the bonus bar to obtain the best rewards that are available to every player.
Made for low rollers and high rollers alike, this game allows bets from as little as €0.10 per spin to as much as €100 per spin.
The game's RTP stands at 96.4%, which isn't too high, but the dynamic gameplay features and the innovative way to win (collecting symbols in clusters of 5) are going to keep you hooked to this music-packed casino game.
1. Victoria Wild
We feel like the Victoria Wild slot was the industry's response to the ever-growing popularity of games featuring Rich Wilde. You'd argue that this one is even better, as it takes the theme to somewhere in the southern USA to provide players with the thrill of accompanying Victoria in her adventure.
You will have the main goal of crossing the desert and avoiding peril as you aim to collect the full bonus bar to unlock the game's ultimate prize: the Oasis Free Spins, where you may be able to win a staggering number of free spins that could give you the chance to win up to 25,000 times the amount of your stake.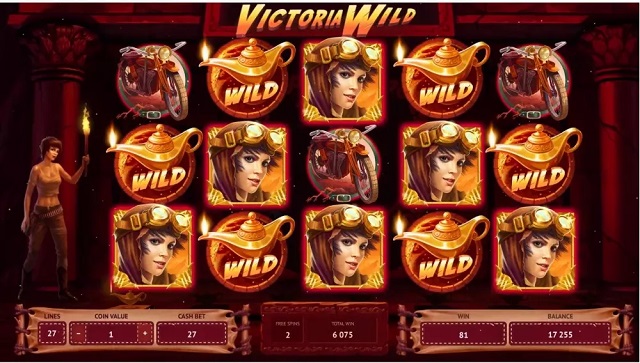 Let us take some time to talk about the game's graphics, though. The Oasis Wild minigame has some of the most astonishing graphics in the iGaming world. It's much needed as well, seeing as how the Oasis is there to keep you refreshed across your journey through the desert.
This action-packed slot comes with a 96.83% RTP and the chance for you to earn a ton of cash in just a few spins. Make the best of your time on your adventure with Victoria and claim the prizes that are within your reach!
Claim Free FightClub Casino Money with these Bonuses
Looking to earn the best prizes at the FightClub Casino? You've come to the right place! There's no need to play all of those fantastic games with your own cash when you can use bonus money instead.
The FightClub Casino is home to various bonuses, but we recommend you check out the world-class FightClub Casino welcome bonus first. If you miss out on claiming this bonus on your first couple of deposits, then you may find yourself unable to claim it at any other point down the line.
We want you to take a look at these bonuses and discover the magic of playing at the FightClub Casino in true style!
FightClub Casino 3-Part Welcome Bonus
This site's welcome bonus stands as the main offer that you'll claim at the FightClub Casino. It's the most lucrative bonus on the site by a long stretch, and it'll allow you to obtain incredible prizes on a single deposit. This is how you can claim it all:
First Deposit Bonus – 100% Match Deposit €100 + 150 Free Spins
Second Deposit Bonus – 50% Match Deposit Up to €100
Third Deposit Bonus – 50% Match Deposit Up to €200
You just need to remember that every deposit bonus acts as an individual bonus in front of the casino's eyes. You will have to fulfill the wagering requirements of each bonus individually as you proceed to obtain the prizes of each deposit.
You also need to claim these deposit bonuses on each of your first three deposits. If you miss out on them, you won't be able to claim them!
Rank-Based Tuesday Reload
The first rank-based promotion of the FightClub Casino is the Tuesday Reload bonus. Unlike the free spin bonus, you only get to claim this promotion once a week. It's worth checking out and it's one of those promotions that looks even better than the site's loyalty bonuses, so here's how it works:
If you're an Amateur (casino rank), you will have the chance to claim up to €100 in a 25% match deposit bonus
If you're a Pro (casino rank), you will have the chance to claim up to €200 in a 40% match deposit bonus
If you're a Heavyweight (casino rank), you will have the chance to claim up to €1,000 in a 50% match deposit bonus
The amount of cash and the match deposit bonus cash that you receive differs depending on your rank. Climb up the ranks at the FightClub website and earn the best prizes out there!
Rank-Based Daily Free Spins
You're also entitled to claim different numbers of free spins depending on which loyalty rank you're part of at the FightClub Casino. Higher ranked players will obtain the benefits of the best prizes at the casino, and here's how it all works so you can get a better idea:
Make a deposit and get up to 100 free spins based on how much cash you're committing:
20 EUR = 20 FS;
50 EUR = 50 FS;
100 EUR or more = 100 FS;
There is a catch, though. Depending on your rank at the FightClub Casino, the free spins will be worth a different amount of money. There are three ranks at the casino, which are Amateur, Pro, and Heavyweight (the same ranks that oversee the bonus value of the Reload bonuses).
As such, your free spins will be worth different sums of cash according to how much these spins are worth. This is how it works:
Amateur free spins are worth €0.10 per spin
Pro free spins are worth €0.25 per spin
Heavyweight free spins are worth €0.50 per spin
Technically, every rank allows you to claim the same number of free spins, but their value changes as you become more active at the site.
FightClub Casino Wagering Requirements & Rules
The FightClub Casino bonuses will need you to spend your bonus a total of 50 times before you can withdraw the cash. Furthermore, any bonus that you get without making a deposit is limited to winnings of €150 in total, but offers tied to deposits are free of any max cashouts.
Claim Your FightClub Bonus Now and Join the Fight!
The FightClub Casino has definitely earned a good reputation among casino fans across the globe. You may think that this site is new, but the FightClub Casino is the rebranded version of the Lady Hammer website, another popular online casino that changed its tone to appeal to broader audiences.
At the end of the day, this site is still the same than its predecessor. However, the bonuses that you'll find at the FightClub Casino are far more lucrative than those that you could claim at its older version.
Here, you will be able to claim bonuses based on your VIP rank. You'll be able to get free spins and reload bonuses every single week, but the amount of cash that you'll be earning is far bigger than what you'd get at other casinos. It also grows as your rank continues to grow in the casino.
Check out this fantastic website now and play the games that we've told you if you're keen to earn bonus cash and play the best games in a top online casino!
Last updated
February 10, 2022