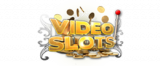 The Best VideoSlots Bonuses
The Videoslots Casino stands as one of the best places on the internet for fans of online slot games. The site has a collection of over 3,000 slot games to enjoy from home or your mobile device, but that's not even the main forte of this casino. Videoslots is home to a selection of bonuses and promotions that truly turn a regular casino experience into something completely out of the ordinary.

The site has many bonuses to choose from, so we've decided to compile a list of our top 5 picks for the best Videoslots Casino bonuses to help you get a better idea, and a stronger grasp, of the promotions that this website has to offer. We do like to remind you that the first two bonuses are only meant to be claimed once per player.
Make sure not to make multiple accounts and stick to the bonus rules of each of these casinos to make sure that you won't be rid of your money. Videoslots does not take lightly to bonus abuse.
Videoslots Welcome Bonus
The Videoslots Casino welcomes you to its premises with a massive welcome bonus worth up to €200 in free cash, depending on how much money you decide to deposit to begin your adventure on the site. Regardless, it's a very strong welcome bonus that can be spent in the best online slots of the website to bolster your account balance whilst enjoying games for free!
The Videoslots Casino welcome bonus might not be as lucrative as the offers that we've seen on other websites, but there are two reasons why we think this online casino is one of the best welcome bonuses out there:
You get to play the best slots in order to get the money into your bank account
The site doesn't impose any ridiculous rules to control the bonus and keep players off the money
It also comes with a very lenient wagering requirement of just 35 times the amount of bonus money that you receive. We have some tips for you that could help you fulfill them!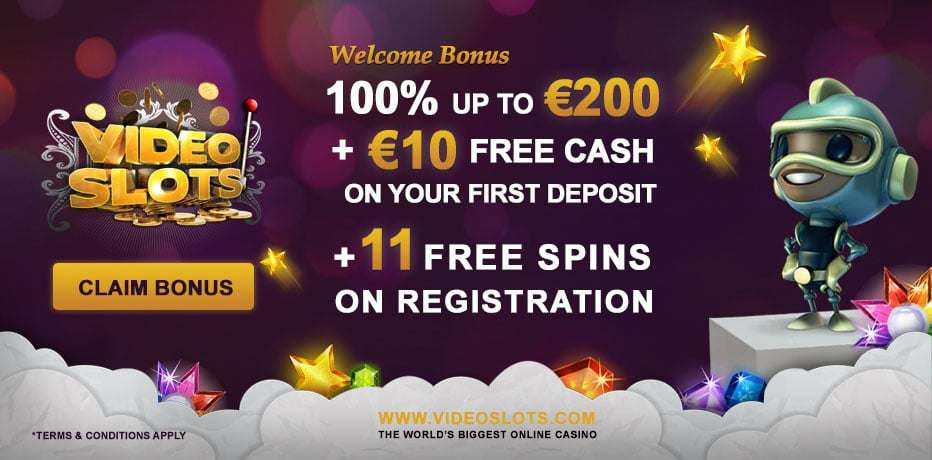 Videoslots 11 Wager-Free Spins
Registering at the Videoslots Casino is all you need in order to qualify for one of the best free spin bonuses that we've ever tried out. This fantastic offer fills your account with up to 11 free spins to spend in the best games of the site, but what truly makes it different than others is that the free spins are completely free of any wagering requirements. The spins are not worth too much money, but you don't need to make a deposit in order to claim them.
In fact, you might even get lucky enough and unlock some great in-game bonuses with the spins, which could lead you to have more than €20 in your bank balance without even making a deposit on the Videoslots Casino.
Battle of Slots
The Battle of Slots puts players in a competition where the winner receives a substantial sum of cash that will put other casino prizes to shame. Winning a Battle of the Slots is not an easy feat, though, and there are battles going on to suit every type of player. From bonuses that let you get 100 free spins to rewards worth €1,000 and upwards, every battle is its own little world.
You can easily register in the Battle of the Slots by clicking the tab that shows at the right-hand side of your screen when you're on the Videoslots Casino homepage.

Clash of Spins
The Clash of Spins is one of the best competitions when it comes to online slot tournaments. With it, you will be able to participate in diverse small rounds where the winner of each round is often decided within an hour or two, but with the hopes of receiving hundreds of free spins and thousands of euros worth of rewards in the end.
Every Clash of Spins competition comes packed with a prize pool that is meant to be divided among the top players of the leaderboards. Participate, overcome the odds, and win more than your fellow iGamers!

The Wheel of Jackpots
There is a section of the Videoslots Casino, when you visit your profile, that reads "My Achievements". Pay it a visit and you'll notice that you can complete certain challenges in order to unlock rewards. Some of these rewards allow you to spin the Wheel of Jackpots for free, giving you access to one of many fantastic casino prizes that could be worth thousands of euros with some luck. Players, on average, should expect to spin the Wheel of Jackpots twice a month, provided that they're consistent enough in the casino.
Unique Promos and Bonuses Await Reel Fans at Videoslots
Fans of slot games are probably as happy as can be after reading our complete guide to the Videoslots Casino – and they should be. This fantastic website really emphasizes the idea that players should be put above anything else and that bonuses are one of the most important things that you can claim in an online casino.
Special bonuses are incredible and we love them. We've been very outspoken about the idea that online casinos should all have special bonuses to attract new players and to keep their current player-base as entertained as can be. As such, finding the Videoslots Casino to be so packed with bonuses that differ from the norm just made us love the website even more than we originally did after looking at their large selection of online slots.
If you're looking to try out the best casino games on the planet, you might want to pay a visit to the Videoslots Casino and try out one of the bonuses and special tournaments that we've listed here!
Last updated
August 22, 2022