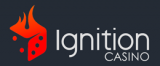 Learn All About the Ignition Casino App
The Ignition Casino App will help you try out a fantastic crypto and FIAT-currency casino, available in the United States, on any mobile device that you prefer to play from. As one of the best online casinos in America, Ignition provides users with hourly and daily jackpots, a fantastic slot platform, fun poker tables, and virtual sports.

The only thing that this amazing casino seems to lack is a sportsbook, but little does that matter when you have access to such a complete library of games that spans every popular category of the online gambling industry.
Let's take a look at the Ignition Casino app, so you can learn how to take the best games with you regardless of where in the world you seem to be!
What is the Ignition Casino App?
The Ignition Casino app is a browser-built casino app that allows you to play Ignition Casino games from your tablet or mobile phone. It's a non-downloadable app, which means that you won't need to enable any features on your phone to get it active. All you need to do is visit the casino and you'll have access to its mobile version, as long as you visit the site through a mobile browser.
So, instead of the Ignition Casino app being something that take space on your device, it works as a modified version of the classic casino, which enables you to visit the site from wherever you are. It puts you in a win/win scenario, no matter how you look at it.
Where to Download Ignition Casino App
Worry not, there's no need to download any app to play at Ignition mobile casino. You just need to visit the site from a mobile browser, log into your account (or create one, if you still don't have one) and play. It really is that easy.
You'll have access to the site's games and poker tables, as well as access to the many slot games that the casino has available for you, by simply playing using your web browser.
Ignition Casino Mobile Games
This casino provides users with a wide array of titles that they can choose from when playing on its mobile platform. There always seems to be something to do at Ignition, no matter what you want to do. Among the many game categories that you'll be able to play in this mobile crypto casino, you'll find:
Poker – Play in poker tables against other members of the casino in high-stakes or low-stakes games, with the option of playing incognito to avoid sharks!
Virtual Sports – The casino offers a mobile virtual sports platform that covers a wide array of games. Bet in soccer or racing events to participate for the chance to win amazing rewards!
Slots and Table Games – The relatively limited selection of Ignition Casino games provides a fantastic gaming alternative to those looking to wager in classic games and diversify their experience on the site.
Claim Ignition Casino Bonuses on Mobile with the App!
Modern online gambling platforms have learned to make it easy for players to collect rewards on any device of their choosing. The Ignition Casino app stays true to such a statement, making it far too easy for players to claim bonuses without the need to ever turning on their computers.
At the Ignition Casino, you will have access to a wide array of bonuses, such as:
The Ignition Casino welcome bonus, which could yield thousands in free rewards.
Many of the site's poker bonuses, as well as the ability to participate in the site's tournaments.
The Ignition Weekly Rewards, which are bonuses that provide you with constant rewards within the site.
A collection of loyalty rewards tied to how much money and time you choose to spend at the casino.
Every other reward on the site, including the fantastic refer-a-friend bonuses and other miscellaneous prizes available at Ignition.
Don't Miss Out on the Site's Jackpots with Ignition Mobile
Ignition has become a must-visit casino for fans of massive jackpots. The casino hosts 3 jackpots that drop multiple times per month, including hourly jackpots and daily jackpots that are guaranteed to drop at least once per day.
Strategically choosing a time to play to collect the jackpots as they near their must-drop timeframe is what makes this online casino's experience so special, and the Ignition mobile app allows you to plan your jackpot hunting schedule even when you know that you're going to be away from home.
Hourly jackpot: Drops every hour, usually between $300 and $1,500.
Daily jackpot: Usually drops between $5k and $25k.
Super Jackpot: Always drops before it reaches $250k.
Is the Ignition Casino App Any Good?
The Ignition Casino app has many benefits that put it above other casino apps on the market, making it an even better gambling option for players that hold their favorite casinos to high standards. We think that the Ignition Casino app stands out and provides a solid mobile gaming option to its users for many reasons, but the most important ones among them are as follows:
The loading times of Ignition mobile are much better than those of an average online casino. You will not struggle to load any section of the site when playing on the go.
You will have access to all areas of the site. Virtual sports, slots, poker, or live casino games – all of them are there for you to try out.
Ignition is truly optimized to look like a downloadable app but without the need for you to take space on your mobile phone. It's as close as you can get to an actual app without having to download casino software.
Play at Ignition Casino on Mobile with the Ignition App
Ready to get started at Ignition? The casino's amazing welcome bonus is fully claimable through the app, and so are most of the other bonuses that the casino has in store for you. You can play at the casino without even needing to touch a computer, should you wish to, thanks to the fantastic Ignition Mobile app.
Be sure to register and claim your welcome bonus to begin your journey with a bang, no matter which category of the casino you choose to visit first. Rewards are there for the taking!
Last updated
September 2, 2022