Joo Casino Review
The Joo Casino is a reputable online casino with a large variety of games at your disposal, with the only real downside being that the casino is not home to any popular virtual table games. Everything else that the casino has seems close to impeccable, though.
Pros & Cons
Great game variety
Live chat customer support
Quick payments
Missions and tournaments available for extra rewards
Sportsbook & Live Casino
Lucrative bonuses
There aren't many table games
Not available in some major markets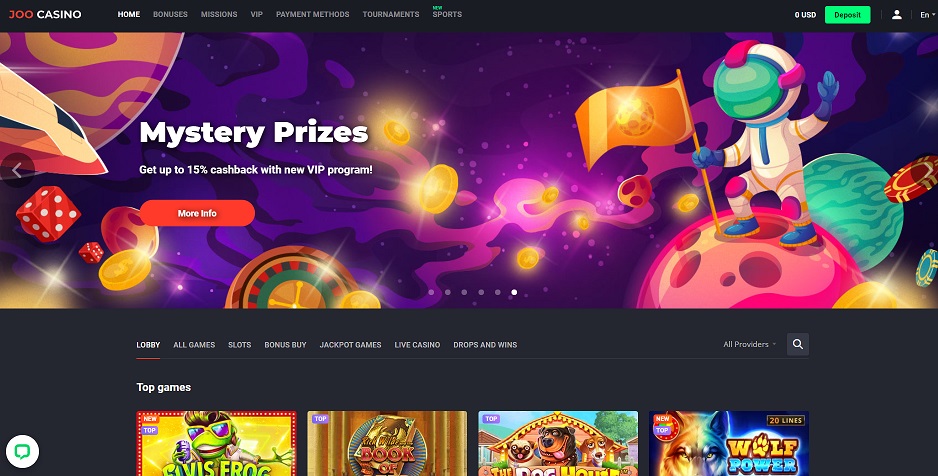 A fantastic sportsbook, top-class mobile-browsing features, and some of the best online slots in the industry are only topped by a jackpot section where you'll find the highest-paying casino games on the planet.
Discover what we loved about the Joo Casino, what we thought wasn't as good, and why we think that this casino is home to so many fantastic features with our full Joo Casino review!
Our Experience at the Joo Casino
Starting off at the Joo Casino shows that this casino means business when it comes to casino bonuses. You can enter a bonus code to create your account and add extra rewards from the first minute that you spend your time here.
Naturally, with such a fantastic feature available upon registration, the bar was raised quite steeply for our expectations in regards to this casino.
With a jackpot pool at the bottom to let us know which game is offering the highest payouts and a browser that is relatively easy to browse, the Joo Casino is up there with some of the best online casinos in the industry. Player-friendly and light to the eye, it's a great casino to visit if you're keen to earn bonus money in different ways.
A sports section with a very complete sportsbook (it feels better than Betsson's, which should say a lot about why we love it) tops off an overall extremely packed online casino that offers everything that you've been looking for when gambling online. We were thoroughly surprised with the Joo Casino, and we're sure that you'll be as well.
Missions and Tournaments Galore
We'll go into further details about these tournaments and missions later, but one thing's for sure: these features put this site a couple of levels above other high-quality online casinos.
The Joo Casino website makes it really easy for users to explore new ways in which to unlock extra rewards by completing challenges that boost your account with free spins and free money.
Tournaments don't fall behind. You'll be able to compete against other players and claim extra rewards, a feature that we thoroughly enjoyed no matter how common it has become in the modern iGaming world.
No Classic Table Games, But Many Slots to Make Up for It!
Let us address the elephant in the room first, and arguably one of the main reasons why some players may not dig this online casino: it's clearly focused on providing users with slot games, but it ignores other aspects that some of us really like about online casinos. One of these aspects is table games.
Sure, you may have a live dealer section packed with the best games in the live gaming world, but the absence of a virtual table game environment can be extremely detrimental for some users.
We really missed virtual table games, so we do warn you that this is a slot-centric casino so you won't be disappointed upon registration.
Mobile Betting with Joo
The Joo Casino works fantastically well on mobile devices, which is to be expected given the site's presence of a sportsbook. One of the main issues with many modern online casinos is the absence of proper mobile compatibility, but sites that aim to provide users with a sportsbook NEED to load well on mobile, which is why sites like this one easily rank as quality mobile casinos.
Thankfully, the sportsbook is not the only thing that works well on mobile devices. You'll also be able to play online slots and even live dealer games on the mobile device of your choice.
Joo Casino Games

9

/10
The types of games that you'll find at the Joo Casino are very clearly focused on slots and wheel-spinning games. This site's major specialty is not the presence of roulette or blackjack titles, but instead, it focuses on providing users with top-class slot games and jackpot games that you'll surely love.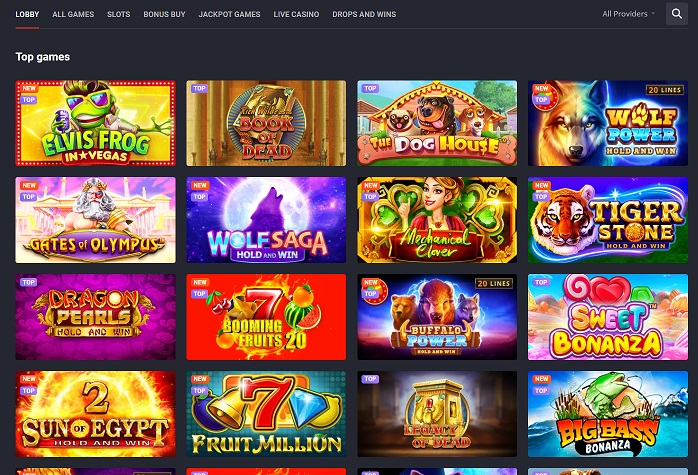 If you're into slots, you'll love this casino. However, we want you to take a look at the Bonus Buy games. There's a dedicated section for those titles at the Joo Casino and they're sure to provide you with all the fun you need to make the best of your iGaming journey.
Slots
All of the Joo Casino slots can be found on the site's main page, where all the other games are found. There isn't a special tab that you can click for it to display all slots other than the one found when you scroll a bit down on the site's main page.
There are many games to choose from and enjoy at the Joo Casino. It's a fantastic website that keeps you up to date with new slots in the industry, but also lets you play some of the older classics that we've all grown to love.
Bonus Buy Games
Bonus Buy Games are those slot games known for the special feature that allows you to "buy" in-game bonuses. For example, a game like the Punk Rocker slot lets you spend some extra cash to skip the luck that you'd otherwise need to claim one of those lucrative in-game bonuses, even though the cost of these features tends to be hefty.
In any case, there are various games with this feature in the Joo Casino. You can choose the one that you like the most and get down to business with it. Play slots with this ability but be sure not to overspend – they can be VERY addictive!
Jackpot Games
Naturally, there's a Joo Casino section where you can find all of the site's jackpot games, which are some of the most lucrative titles that you'll be able to play there. There are a ton of jackpot games to play and enjoy, ranging from classics like Mega Moolah (and variants with the same pot, like Isis and Juicy Joker) to fantastic games with multi-million jackpots like Sherlock Va Moriarty.
These games tend to have a lower RTP rate than regular slots, but they all give you the chance to earn a ton of cash in just a few rounds of playing.
The Joo Live Casino

8.7

/10
The Joo Casino presents every gambler with a complete live casino with the best Evo Gaming titles to make up for the lack of classic table games all around. As such, even though the casino doesn't offer any virtual table games (we really don't like this), you can indeed play the best card and roulette games if you visit the Live Casino at Joo.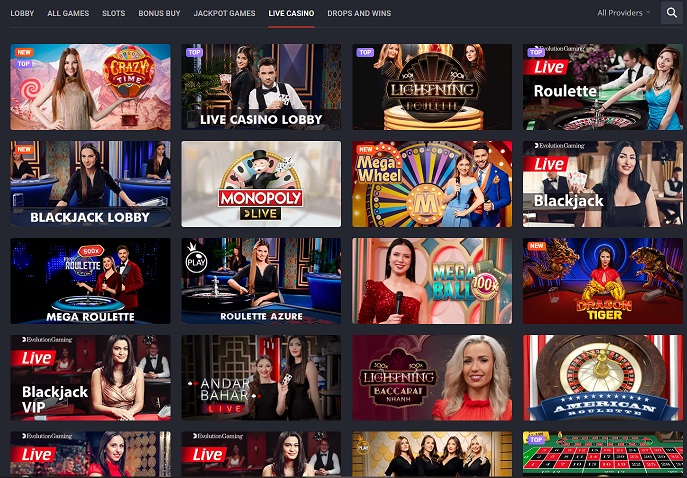 Evolution Gaming is mainly responsible for populating this casino's live dealer section, with many games here being among the best live dealer titles in the world, meaning that Joo is one of the best live casinos on the internet. It's up to you to select the ones that you like the most and play them now!
Joo Casino Sports
The Joo Casino sportsbook is populated with dozens of fantastic bets to make. Joo has created a dedicated sportsbook that rivals even that found in the fantastic Betsson casino. There are dozens of bets to place here, as the sportsbook covers all major fronts of the sports betting industry.
Bet on any popular sport or e-sport at the fantastic Joo sportsbook and discover why Joo is one of the best mobile sportsbooks in the industry by checking out the Joo Casino on a mobile browser. You won't regret anything afterward, even if no bonuses are in sight.
A Complete Sportsbook with a Fantastic Interface
We'll always be on board with trying new casinos with sportsbooks, but we didn't expect the Joo Casino spotsbook to be as complete as it actually is. Here, you will find everything that you need to bet on sports, as betting options are aplenty and the number of sports in which you can bet is far too large to even count them on our own.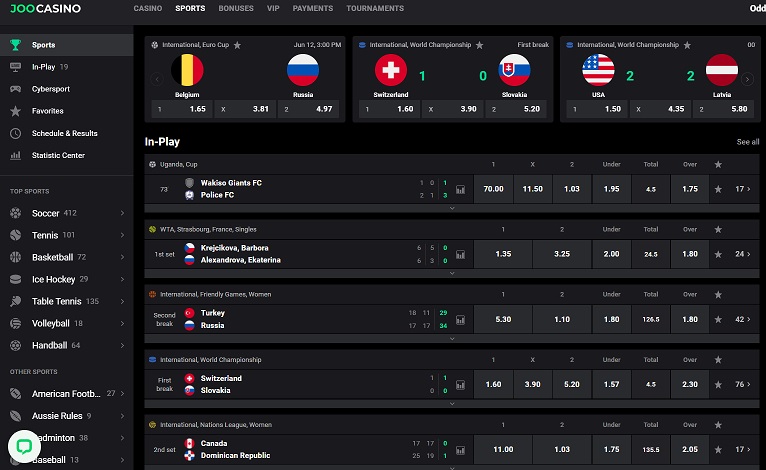 If you're a fan of sports betting, you're going to love the Joo Casino sportsbook – and the site works well on mobile as well!
Joo Casino Tournaments – Test Your Skills
Weekly rewards, missions, and points to be collected; you name it, the Joo Casino has it. The casino is built for players to have a complete gambling experience and test their skills against others. You will have the chance to move up on the leaderboards of the Joo Casino tournaments as you attempt to unlock fantastic prizes that'll boost your account with cash and rewards.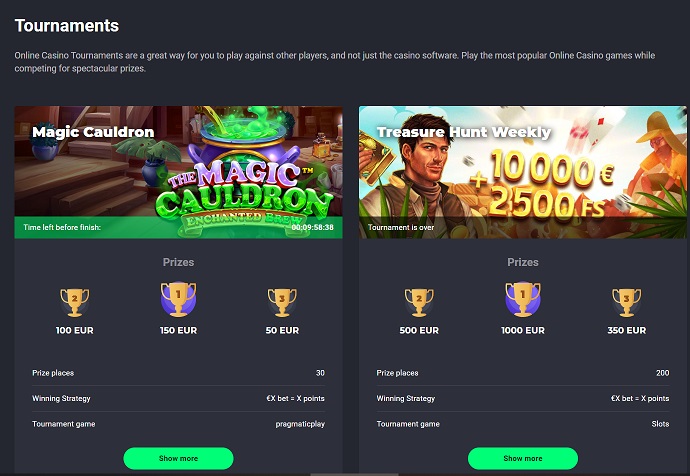 There are different types of tournaments to be experienced at the Joo Casino. Most are weekly, but rewards vary. For example, the Treasure Hunt gives you the chance to earn up to €1,000 every week, whilst the Magic Cauldron rewards players with a €150 prize instead.
There are tournaments for every type of player, so choose the one that suits you best!
Joo Casino Missions
We're currently seeing a large influx of new online casino promotions with the "Missions" premise, which basically encourages you to perform certain actions in exchange for rewards – much like a bonus without a time limit.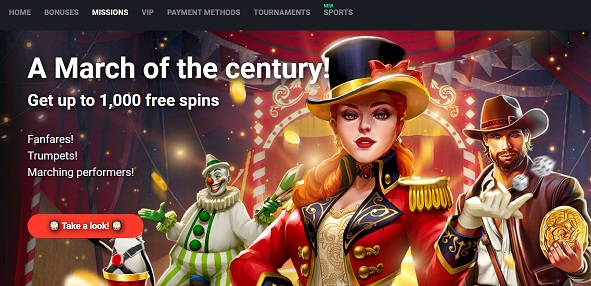 The Joo Casino presents the following missions for all players to enjoy:
Mission 1: bet at least 200 EUR and get 20 FS.
Mission 2: bet at least 300 EUR and get 40 FS.
Mission 3: bet at least 500 EUR and get 70 FS.
Mission 4: bet at least 750 EUR and get 100 FS.
Mission 5: bet at least 1,000 EUR and get 150 FS.
Mission 6: bet at least 2,000 EUR and get 250 FS.
Mission 7: bet at least 3,000 EUR and get 350 FS.
Joo Casino Bonuses
The Joo Casino is not all about missions and tournaments, either. This website also hosts a selection of bonuses that will surely fill your account with free bonus cash from the moment your journey begins. Among our favorite Joo Casino tournaments, we have:
The site's 4-part welcome bonus (up to €1000 + Free spins in rewards!)
Weekly Monday Reload
Weekly Wednesday Free Spins
Weekly Friday Cashback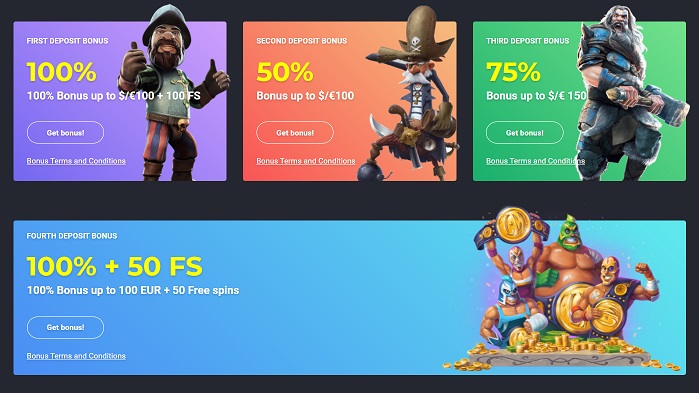 The Joo Loyalty Program

8.3

/10
The Joo Casino Loyalty program is not one to take for granted. It rivals some of our favorite VIP programs in the iGaming industry (including some of our favorites like the Wildz Casino loyalty program). Every level truly feels like you;'re earning massive rewards, and there are thousands of prizes to be claimed!

Seven VIP Levels, Thousands of Rewards
You will earn one point per €20 that you bet, and these points will help you progress through the Joo Casino levels and earn better rewards as time goes on.
You will also get better cashback percentages every week as you progress through the casino's levels. However, the Joo Casino limits the cashback amount to €5,000, with the King level (the last one) being the one that offers the best cashbacks is 15% of your losses.
Joo Casino Deposits and Withdrawals
Dozens of payment methods are available at the Joo Casino – including bitcoin! You'll be able to pay and withdraw using any of the world's most popular transaction methods, but you can also rely on cryptocurrency to do the trick for you if you feel the need to make quicker and more effective transactions.
Joo Casino Software
A handful of incredible providers populate this online casino with games. You'll notice that most of the games on the casino are made either by really well-known companies or by some of its subsidiaries.
The main game developers that populate this casino's game gallery are NetEnt, Betsoft, Ezugi, and BG Gaming.
Not as Easy to Find Your Favorite Games
The only caveat of having all of these developers populating this casino with fantastic games is that the games are not as easy to find as we would've liked. The game browser of the Joo Casino is not too easy to handle, which means that finding specific titles can be a bit of an issue.
Once you get used to how the browser works, you should be able to handle it just fine. The vast majority of games are slots, anyway, so you shouldn't have too much of an issue finding that you want to find.
Joo Casino Payouts

8

/10
Fast payouts, but potentially long pending times are the only issue with the Joo Casino and its whole payment scheme.
In fact, the Joo Casino takes a different approach to that which we expect to see from most sites: instead of taking up to 7 days to process a single transfer, they seem to make it remain pending until it's almost ready to be shipped to your account.
As such, all you really need to do is wait for the request to leave its pending status and you will be good to go.
Joo Casino for Mobile Devices – How Does It Fare?

8.5

/10
The Joo Casino is very clearly made to work on almost any device. Anything capable of running an internet browser should be more than capable of running Joo Casino games. You can also count on the Joo Casino sportsbook to work well on mobile devices, and most games should run without any sort of issues.
Just remember that some titles, like the live dealer games, require you to have a very stable mobile connection if you want to play them from your mobile device of choice.
Sports Betting on the Go
One of the most important features of an online casino with a sportsbook is for the casino to have good mobile compatibility. The reasoning behind this is quite simple: many gamblers prefer to place their bets on mobile devices instead of in front of a computer, which is why we tend to rate the quality of a sportsbook by judging how well it fares when you open it on mobile.
Thankfully, the Joo Casino sportsbook allows you to browse the sportsbook quite smoothly. Not only that, but the sportsbook's mobile version is well presented. You won't struggle to find your favorite games on the sportsbook, nor will your mobile screen feel clogged with a ton of unnecessary information.
Joo Casino Customer Support

8.5

/10
At the Joo Casino, you'll find good customer support with international availability. That's really needed, seeing as how this online casino is available in many countries across the globe and spans a variety of languages that you can choose from.
Customer support is available in most of the languages that you see at the bottom of the Joo Casino website. The English and Spanish customer support seem friendly and helpful enough, so we don't see any reason why they wouldn't be in other languages!
Joo Casino Licensing & Safety
The Joo Casino holds a Curacao Gambling license, which may not be the most reputable license in the world, but it's still a safe license held by some of the biggest online casinos on the planet. You can trust this casino to keep your personal information safe, and for transfers to occur without any major issues.
Our Conclusion – Is Joo Casino Worth Your Time and Money?
The Joo Casino is a fantastic website that allows gamblers to partake in many different iGaming activities regardless of the device on which they wish to play on. If you're a keen mobile gambler, then the Joo Casino has your back. If you'd rather use a computer to play, the site will run smoothly as well.
This online casino may not have a large variety of virtual table games, but the site's sportsbook, tournaments, and large live dealer casino make it worth your while and one of the best casinos in the world!
Frequently asked questions
You can get free spins at the Joo Casino by claiming any of the site's bonuses, or by simply going to the Joo Casino's missions and fulfilling some tasks to get some extra cash and spins to be spent however you like. There are many ways to get them, so choose the one that you like the most and head straight to it!
You can claim Joo Casino bonuses by visiting the "Promotions" section of the site, albeit the casino also provides you with cash and rewards by making deposits (many bonuses activate automatically). It's easy to claim bonuses at Joo, and there are dozens of bonuses to claim. You can even get random bonuses delivered via email!
The Joo Casino is registered at Cyprus and has a Curacao gambling license. That means that the site is fully legit and stands as one of the most reputable casinos that you can visit in the 2020s. However, the site doesn't hold a UKGC or MGA license, which are usually the ones that we recommend you trust the most. Curacao gives away the third-best online casino license in the world, though.
The Joo Casino accepts all sorts of payment methods, ranging from traditional banking methods to credit cards, e-wallets, and even bitcoin!
The Joo Casino has a loyalty program that makes it easy for gamblers to earn points as they spend more time at the casino, which subsequently allows their accounts to grow in size and collect better rewards as time goes on. The Joo Casino loyalty program is easy to understand and points are easy to collect. Rewards are not as lucrative as they are in other websites, but it's still worth checking out.
The Joo Casino is a fantastic mobile casino that provides users with all the tools that they need to have a rewarding mobile gaming experience. The Joo Casino loads quickly and allows gamblers to access almost any feature on mobile, which is particularly useful considering that it comes with a sportsbook.
The Joo Casino has one of the most complete and reputable sportsbooks in the online casino industry. As such, this is the website that you'll want to visit if you're a sports fan. We truly feel that it rivals (and even surpasses with some features) the Betsson Sportsbook, which does say a lot about this website's quality.
Missions are special tasks that you can complete at the Joo Casino to provide your account with extra rewards, such as bonuses or free spins. Missions can be completed whenever you like; unlike bonuses, these missions don't have timeframes that you must respect.
Yes, the Joo Casino is home to a handful of fantastic jackpot games that could inject your account with thousands of euros worth of free cash. It's up to you to decide how much cash you want to spend at the casino, but beware that jackpot games tend to have lower return rates, albeit much higher rewards!
Mystery Prices are part of the Joo Casino's loyalty rewards. They represent special but random prizes that you can claim in the casino without you having to overspend any money to get them. Claim the Joo Casino Mystery Prices by becoming a loyal member of the website!
Last updated
May 15, 2023