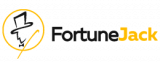 FortuneJack Casino: Miami Garage
Partaking in a loyalty program that is actually as fun as it is rewarding is not always part of a quality casino experience, but it's something that we truly value as players. With the FortuneJack Miami Garage, you will be able to start collecting points and earn new vehicles as the ranks increase.

We're here to tell you all about how the promotion works, so get ready to dive straight into the Miami action with the incredible FortuneJack Casino Miami Garage VIP program. Use our guide to learn how to make the best of your rewards!
What is the FortuneJack Casino: Miami Garage
The FortuneJack Casino Miami Garage is the name given to the FortuneJack VIP Scheme. The program offers reload bonuses and cashbacks, which will become better as your account increases its level while you play on the site.
How to Partake in the FortuneJack Miami Garage VIP Program?
Every player will participate in the FortuneJack Casino Miami Garage Program. Since the first rank requires 0 points to join, simply registering an account at the casino and verifying it is enough for you to start collecting SP and leveling up your account. Simply create an account and make a deposit to be part of the program.
Miami Garage Levelling Up and Rewards
The Miami Garage VIP scheme is divided into multiple rewards and prizes. To reach each rank, you will need to collect a different number of Status Points, which work just like experience points work in a videogame.
Let's take a look at the number of points required to achieve every rank that the program holds:
Scooter (Rank 1) – 0 to 50
Tesla (Rank 2) – 51 to 300
Lambo (Rank 3) – 301 to 1500
Yacht (Rank 4) – 1501 and Higher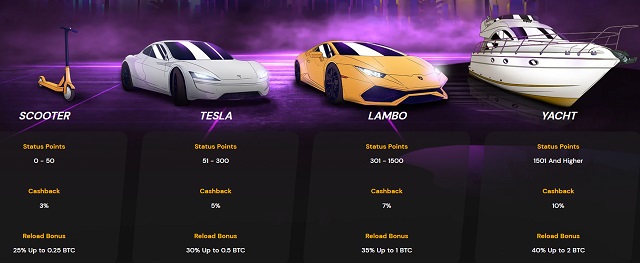 All Rewards Explained
Now that you know how each rank of the program works, let's take a closer look at how each of the ranks rewards players with a selection of prizes. There are two main types of rewards at FortuneJack, but this casino doesn't offer a loyalty scheme where you can trade the points for extra rewards.
As such, cashbacks and reloads are the main types of rewards that you'll earn.
Cashbacks
The FortuneJack Casino provides users with the chance to obtain some extremely lucrative cashback rewards based on how much cash they've been spending at the site. This list will allow you to see how much money you can get back based on your rank in the casino's VIP program:
Scooter (Rank 1) – 3%
Tesla (Rank 2) – 5%
Lambo (Rank 3) – 7%
Yacht (Rank 4) – 10%
You can also find other cashback bonuses in top-rated bitcoin casinos on other sites that we've reviewed, but the FortuneJack offers make this casino's rewards some that you definitely should try claiming if you're a fan of cashbacks.
Reloads
Reload bonuses get better as you progress through the ranks of the FortuneJack Miami Garage. The more luxurious cars you get, the better rewards you'll end up getting. High rewards translate into high spending, and here's how each rank of the program rewards you with reloads:
Scooter (Rank 1) - 25% Up to 0.25 BTC
Tesla (Rank 2) - 30% Up to 0.50 BTC
Lambo (Rank 3) - 35% Up to 1 BTC
Yacht (Rank 4) - 40% Up to 2 BTC
Reload bonuses are extremely popular in today's iGaming world. They provide users with an extra chance to get rewarded on their deposits besides the offers that come with welcome bonus programs. If you're keen to claim extra rewards when playing online, then you need to give the FortuneJack Casino ones a try.
The Point Calculator – Learn How to Level Up Quickly
The Point Calculator is one of the best features that the FortuneJack Casino comes with. You can select any game that the casino offers and then enter an amount of currency to spend on the game, and the calculator will tell you how many points you will collect based on the money that you bet.
This allows you to create a plan on how to spend your cash within the casino's program and climb the ranks in a much smarter way. Let's take a look at some calculations that we did with the application, so you can get a better idea of how point collection works:
Gambling 1 BTC in Starburst would give you 395 Status Points
Gambling $100 USD in Starburst would give you 1 Status Point
FortuneJack Casino Miami Garage Terms and Conditions
The FortuneJack Casino offers a large array of rewards, but it's important for players to keep an eye out on the most relevant terms and conditions in order to fully make the best of the offer. We're going to tell you the ones that you should look out for right here:
Points expire after one month. You need to reach the levels quickly and not let your points sit to make the best of the program
The stake weights for the offer are as follows: Slots 100%. Sportsbook 10%. Live Casino 5%. Dice 5%. Provably Fair Games 5%.
You need to lose 80% of your deposit in order to receive the cashbacks
Bonuses are subjected to a 40xb wagering requirement
Live a Luxurious iGaming Life at FortuneJack Casino
The fantastic FortuneJack Casino Miami Garage program is themed in a way that makes you crave for better ranks every time that you go up a level within the program. With cashbacks and reloads at the turn of every corner, you will be able to make the best of your time at the casino and get the best FortuneJack bonuses from the first minute you register on the site.
The FortuneJack website makes it possible for you to claim amazing rewards and get back the money that you lose thanks to the Miami Garage VIP program. Register at the casino and start playing with your cash to earn extra rewards as you move up the ranks! Visit FortuneJack and start playing now.
Last updated
April 26, 2022