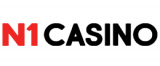 The N1 Casino accepts a plethora of payment methods and has all of its features focus on creating the most pleasant user experience possible. You will never struggle to find anything that you're looking for while wandering through the virtual halls of this fantastic casino. With so many online casinos out there, though, it can be difficult to determine just why the N1 Casino is one of the best in the world. Too many online casinos offer similar features, which makes it difficult to differentiate one from the rest. That doesn't mean that it's impossible, though, and we're here to show you just why this casino stands out from the rest. It's a pretty ambitious thing to do for the owners of a website to call it "N1". It's clear, because of the name of the site as well as because of its features, that the goal of the owners is to turn this site into one of the finest casinos in the world. Are they close to achieving their goal of being the number one casino, though?
Clean & Quick Game Browser
Whenever you access an online casino, one of the first things you probably do is browse the games that the casino has in store for you. In fact, it would be smart for you to browse these games before registering an account in the online casino of your choosing. When you first visit the N1 Casino, you're going to be pleasantly surprised. First of all, the game gallery turns out to be pretty easy to browse. The games are all presented equally to the player and you'll be able to select any category of your choice from the get-go. Some online casinos "force" you into checking out certain games by making their icons larger in the gallery. This turns your vision directly into it and prevents you from focusing on the rest of the titles available. At N1, the staff has made sure that this doesn't happen. They've prioritized giving you an overview of every single game on the gallery in an equal manner. Click your favorite category or check out the top games on the site – it's up to you to decide how you browse them.
The Multi-Play Feature – A Must-Try
Those of you who love to play more than one game at once need to visit the N1 Casino and check out the multi-play feature. The N1 Casino is just one of two online casinos in our top 15 list that makes this feature widely available to every player, which further reinforces its position as one of our favorite online casinos. The multi-play feature allows you to open various screens within the same tab on your browser, with each screen showing you a different game. That means that you can play up to four games at once within the same tab. You don't have to switch between tabs to play wheel games, slots, and card games – you can do that all within the same screen whenever you want. As soon as you open a new game, you will be presented with the option to add a new game on the lower-right corner of your screen. Click on the option and a small browser bar will open, where you'll be able to input the name of a new game. Write whichever name you want and it'll be added to your screen! Remember: you can play up to four games at once – including live dealer games.
Tournaments Galore at the N1 Casino
Many online casinos offer tournaments from time to time, but they're usually found in the "Promotions" or "Bonuses" sections of each site. However, the N1 Casino takes a different approach and offers players a constant flurry of online tournaments where they'll be able to win some absolutely amazing rewards. The tournaments at the N1 Casino are presented in the form of races, with weekly leaderboards, as well as tournament-specific leaderboards, always updating to let players keep track of their rank. Finishing at the top of the weekly leaderboard can net you up to €500 in free cash, which is not tied to any wagering requirements whatsoever. Most of the races last 7 days, so you have more than enough time to collect points and attempt to finish first. It's a very cool concept and far more elaborate than other of our favorite tournaments, such as the mBit Races.
Monday & Friday Bonuses Every Week
Every week is a bonus week at the N1 Casino. You can check out the "Promotions" section of the website if you're looking to recharge your account on a Monday or on a Friday. Gone are the days of you complaining about the beginning of the week! Now, you can claim some absolutely fantastic reload bonuses every Monday to keep your account balance as high as possible. Once the workweek is reaching its point of closure, you can also claim another reload bonus on Friday. This bonus will allow you to get even more cash and rewards as the week draws to a close. Use those rewards during the weekend and spend some quality time at your -probably- favorite online casino with some extra cash.
Over 20 Game Developers to Nurture Its Gallery
A large gallery of games, such as the one you can find at N1, is worth nothing unless it is nurtured by the best casino developers in the world. The N1 Casino has a collection of games provided by some of the most reputed companies on the internet, which ensure that all of their games are of the highest quality possible. That also means that the most popular iGaming titles are present at this majestic online casino. Starburst, Book of Dead, Book of Egypt, Bonanza, and many other fantastic casino games are all here to be found at the virtual halls of the N1 website.
Earn Even More Cash with Drops & Wins!
We all love a surprise or two, which made us love the "Drops & Wins" section of the gallery even more than other players. This section is filled with brilliant slot games that aren't only fun to play, but that they also give you the chance to receive random drop rewards throughout the day. Imagine that you're playing a random slot game to pass the time and you aren't winning or losing too much money when suddenly you get a random drop worth €100 credited to your account. These completely random events spice up your life at the N1 Casino and made us love this brilliant iGaming site even further!
Our Favorite Card and Dice Games – All in One Place
Some online casinos might offer players a variety of titles to play, but some of these titles simply don't adapt to their needs. We have struggled to find casinos with the best games before, and we know that you have struggled as well. Not every player likes to dive into the world of live dealer gaming; some people just want to visit an online casino and play digital games against virtual dealers. As such, it's important for those who think like us to find online casinos that offer quality card games. The developers that provide the N1 Casino with games create some of the finest games on the internet, which ensure total quality to all types of players. The best casino card games can be found at the digital tables at the N1 Casino.
Non-Demanding Website Makes N1 PC and Mobile Friendly
If you're like us and you like to spend some of your free time playing games on your mobile devices, then you're going to love the fact that the N1 Casino takes almost no resources to run games and make them work to the fullest of their extent. This is because most of these games are optimized for mobile phones, but there's one additional reason why the site runs so smoothly on mobile devices and low-end PCs. The N1 website itself seems to be designed to take almost no processing power of your device, which makes it very easy to run for your GPU. Even older phone models should not struggle at all to make the website work flawlessly. Enjoy N1 wherever you go, with whichever device you own!
The Adventure of a Lifetime Awaits at N1
Now that you know what makes this website one of the top-rated casinos on the internet, it's time for you to visit it for the first time and experience these wonders yourself. You'll be welcome to the casino with a 20 free spin bonus as soon as you create your first account on the site. Just keep in mind you cannot create multiple accounts to claim this bonus more than once, though! Regardless, you can use the spins to earn some free cash for yourself and withdraw it to your bank account after fulfilling its wagering conditions. Then, move on to claim the fantastic welcome bonus that this website offers, which is as explosive as dynamite – it can give you up to €300 in free cash! Few online casinos are as lucrative as the N1 Casino, so if you're after the best bonuses on the internet, you've come to the right place. Wait no longer and discover what's in store at this fantastic online casino. The adventure of a lifetime awaits – don't let the chance slip!
Last updated
May 18, 2021