MaChance Casino (No) Deposit Bonus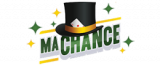 Free Cash No Deposit bonus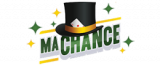 Free Spins No Deposit bonus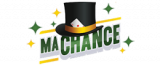 All About the Best MaChance Casino Bonuses
The MaChance Casino bonuses aren't aplenty, but they are rewarding – especially if you manage to walk away with a profit after playing with the bonus cash. We want you to be fully aware of how all of these bonuses work and we want you to know more about the MaChance Casino bonuses if you want to claim them.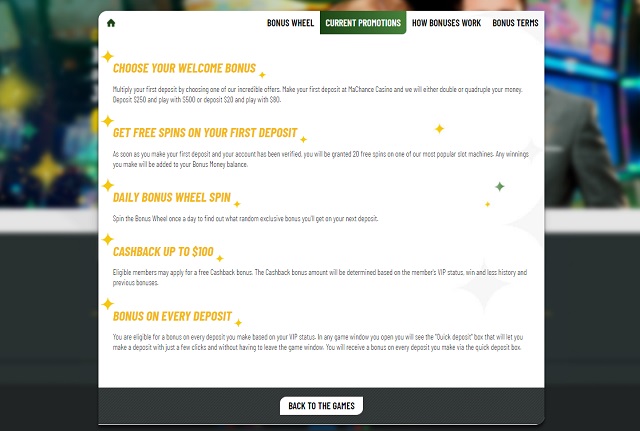 We'll be honest with you: some of the bonus rules imposed by the MaChance Casino may feel a bit too hefty at first glance, and we want you to fully know them before you decide whether to claim these rewards.
In any case, this page has all the information that you need to know about the MaChance Casino bonuses, the MaChance Bonus Wheel, and the MaChance bonus terms. Use it to the best of its extent and discover why this casino is one of the best online casinos to claim rewards on.
MaChance Casino Bonus – Quick Overview
1. MaChance Welcome Bonus – ACTIVE
The MaChance Casino allows you to choose your own welcome bonus, depending on what better suits your needs. As such, instead of a single welcome bonus, there are two:
You can deposit $250 and play with $500 (100% up to $500) or…
You can deposit $20 and play with $80 (300% match deposit up to $80)
You can choose whichever bonus you want, but you can only choose one – so choose wisely!
2. Daily Bonus Wheel – ACTIVE
Every day, the MaChance Casino gives you the chance to spin the bonus wheel and earn random prizes tied to wagering requirements and meant to be spent on the casino.
3. Up to €100 Cashback Bonus – ACTIVE
Depending on your VIP level, you will be able to receive up to 10% of your lost money back in the form of bonus cash (tied to wagering restrictions explained below).
4. Bonus on Every Deposit – ACTIVE
The site also allows you to claim one bonus on every deposit that you make. Random rewards are not often cool, but the MaChance Casino really makes them cool; it takes them to the next level with free spins and free bonus money galore!
MaChance Casino Bonuses Explained
The MaChance Casino bonuses are really easy to understand and, given the fact that there aren't too many of them, they're quite straightforward as well. This is all you need to know about them:
The site's welcome bonus allows you to choose two different rewards, and they both have the same wagering requirements and restrictions
The Cashback Bonus is linked to your VIP level, and it provides you with bonus cash depending on how much of it you deserve based on your MaChance VIP standings
The MaChance Bonus Wheel provides you with random bonuses every day as long as you stay active in the MaChance Casino
What is the MaChance Bonus Wheel?
The MaChance Bonus Wheel is a daily reward given to every active player of the MaChance Casino.
The MaChance Bonus Wheel is a special promotion that can only be claimed once per day, but it can provide your account with free spins and free bonus cash without you having to spend any money to get them.
How to Spend Your MaChance Casino Bonuses?
Need some tips on how to do the best that you can with the MaChance Casino bonuses, and how you can maximize your experience with the site's welcome bonus, cashback bonus, and Bonus Wheel rewards? Here are our tips for you:
Be sure to spin the Bonus Wheel once per day; you can get free spins or free bonus cash to further spend it on the casino in any way that suits you best
Spend the MaChance Casino bonus money on the best online slots of the site. There are over 1,000 games to choose from, so pick the ones with the highest RTP to maximize your experience
Remember to claim the bonus money upon registration and don't make any withdrawals whilst playing the best online slots of the site
General MaChance Casino Terms and Conditions
The MaChance Casino bonuses come with a couple of rather hefty terms and conditions that you'll be better off knowing before you go on to claim the site's top rewards. The offers are all subjected to the same terms and conditions, seeing as how there aren't too many bonuses, but there are two main rules that you need to know.
Wagering Requirements
The bonus wagering requirements of the MaChance bonuses are really high, standing at 90 times the amount of bonus money received. These conditions apply to almost every offer on the casino; including offers earned in the Bonus Wheel, the welcome bonus money and the bonus free spins, and even the cashback bonus that you can earn based on your VIP level.
These are high wagering requirements. Keep that in mind if you're going to claim any of these bonuses.
Bonus Money Usage
Even though the site does come with some rather hefty wagering requirements imposed upon most of the bonuses found on the casino, there's light at the end of the road: you will be able to claim all of your MaChance bonus cash and spend it without a clear timeframe.
Take your time, spend the money, and fulfill the requirements. It's easy to let go when playing at MaChance, so take the chance and do it. It could very well be the best gambling decision that you take.
Heavy Wager but Heavily Lucrative Bonuses at MaChance!
The MaChance Casino may have some rather strict and hefty rules, but the site's selection of games and the vast number of tournaments that it has in store for you are often deemed too good not to be taken full advantage of.
If you're okay with all of the terms and conditions that make these offers what they are, then we fully recommend you go and claim the MaChance Casino welcome bonus to start off your journey with a loud bang.
Oh, and don't forget that the Bonus Wheel is there every day. If you're not lucky today, you'll be lucky tomorrow. Visit MaChance and play now!
Last updated
March 27, 2023