Recoup Your Losses at Mount Gold Casino
The Mount Gold Casino comes with a staggering bonus, known as the Mount Gold Casino cashback bonus, this offer allows you to get back the money that you've lost during an entire week, for up to 10% of your losses.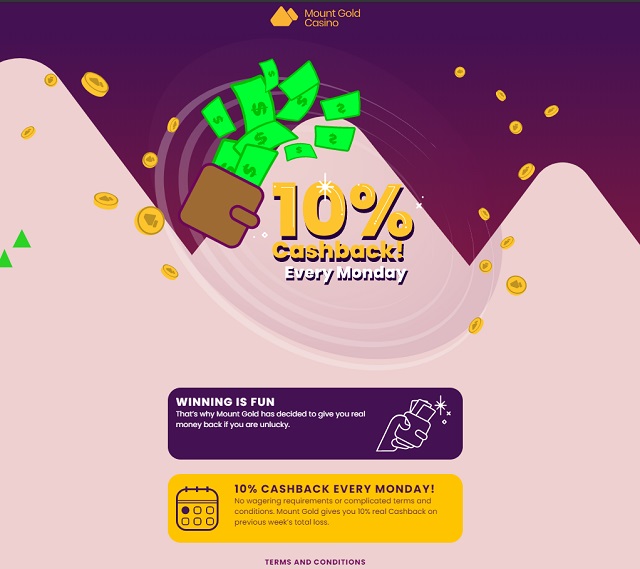 It's a bonus that replaces the Mount Gold Casino welcome bonus, and we know that some people love getting rewarded on their first deposit, but it's worth checking out nonetheless as this is the main one of the site's promotions.
In this article, we'll be reviewing whether or not the Mount Gold casino cashback bonus is an offer that will suit your needs, or if you may be better off avoiding it. We loved it, but will you? Learn all there is to know about it with our Mount Gold real cashback bonus review!
What is the Mount Gold Casino Cashback Bonus?
The Mount Gold Casino cashback bonus is the flagship bonus of the Mount Gold Casino, and the one bonus that you can expect to claim on the site apart from any ongoing tournament or timed promotion.
It's a bonus that lets you get 10% cashback on the money that you've lost at the Mount Gold Casino. That's 10% wager-free money back to your account. Sound good, right? It really is – and here's who can benefit from it:
People who play online slots will make the best of this promotion, as every single slot in the casino qualifies for the bonus – not just those low RTP games!
Those who love to play contest games, such as Deal or No Deal, the Wheel of Fortune, or even the Monopoly Live contest game, will also qualify to receive weekly cashbacks
People who visit the live casino to play table games, or play table games at the Mount Gold table game section, do not qualify for the cashback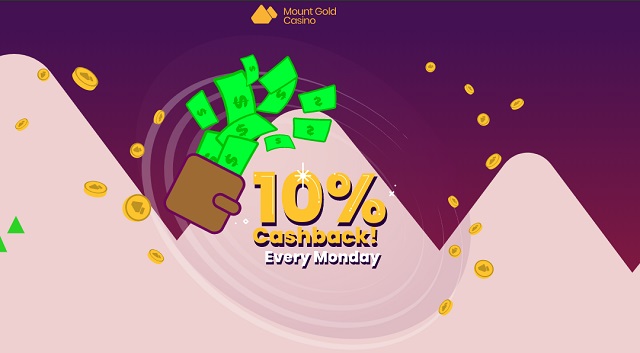 Why Doesn't the Mount Gold Casino Have a Welcome Bonus?
To be bluntly honest, the sole reason why the Mount Gold Casino doesn't have a welcome bonus is that it doesn't really need it. You'll rarely come across a casino that offers cashbacks of over 5% to non-high rollers, and this site offers it to all players. There's not much more to say in this regard.
As if that wasn't enough, you will be getting back money lost on casino games every week at Mount Gold Casino. Assuming that you went on a REALLY unlucky streak and lost the same amount of cash for 10 weeks in a row, you would be getting an entire week's worth of money during that period spent at the online casino.
It's crazy to think about when it's put into perspective, but that's how this offer works. You'll be getting back money that you've already wagered and lost on casino games at Mount Gold Casino. Oh, and you get to withdraw it as soon as you get it. No stupid wagering requirements. Is there a better cashback bonus out there? We doubt it – and so should you.
Besides, with this bonus, you won't be subjected to free spins that are locked to be spent in specific games. You can play almost any game that the online casino has to offer and win rewards.
Is This Promotion Better Than a Welcome Bonus?
Even though you won't be able to visit the Mount Gold Casino and claim thousands of euros worth of cash on your first deposit, this welcome bonus serves a different purpose that many players could consider an even better reward. The Mount Gold Casino bonus provides gamblers with real cashback money, not just bonus cash disguised as a cashback offer that is still subjected to wagering requirements.
Instead of being presented with a promotion that would still make players spend money and time at the casino, the Mount Gold Casino gives players their money back instead. In fact, this bonus is one of the aspects that we enjoyed the most when writing this Mount Gold Casino review.
You may not be able to claim free spins or use free spins to play for free at Mount Gold Casino, but there's no need for that when you can access your money and know that you'll get your lost cash back.
How to Use the Mount Gold Casino 10% Cashback Bonus
The Mount Gold Cashback bonus is not a problem to use, seeing as how you can spend it almost anywhere in the Mount Gold Casino. In fact, it's such a fantastic bonus that you can withdraw it as soon as you receive it if you want to.
However, we recommend you to spend it playing slots or the same contest games that we mentioned if you're going to keep the cash around the Mount Gold Casino. Why? Because you'll be able to get another cashback if you happen to lose over the course of the next week. It's a cashback cycle, and you get to exploit it if you fail to win!
The most important thing to know is that you can play anywhere in the casino and still qualify for the cashback. Whether you want to play at the live casino, standard table games, or slots, you will qualify to receive the weekly cashback bonus.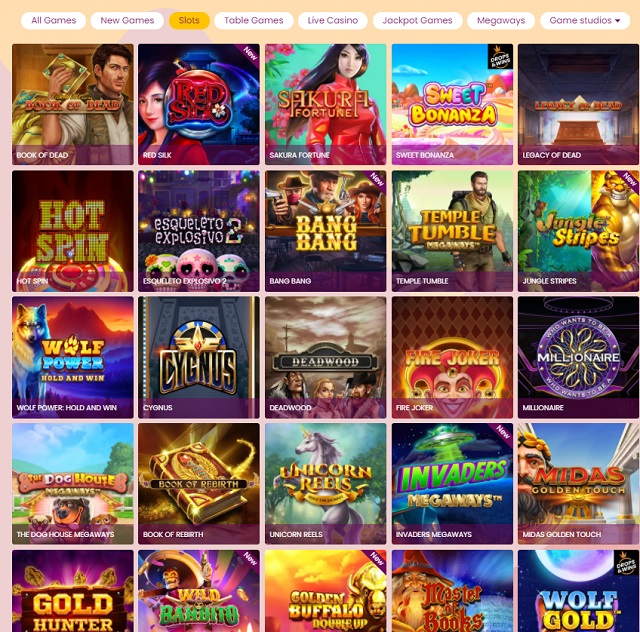 Mount Gold Casino 10% Cashback Terms and Conditions
The Mount Gold Casino real cashback bonus gets its name for a reason; there aren't many rules that you need to follow to get the cash. We're going to tell you about the most important ones, though, as there are only a couple. You can go to the Mount Gold Casino as soon as you understand them both.
No Wagering Requirement!
Wondering how this promotion managed to get so popular and why so many casino fans seem to be talking about it? Wonder no longer. This bonus comes with no wagering requirements. That means that you will be getting 10% of your money back; no questions asked, at the amazing Mount Gold Casino.
That's the main reason why this promotion is so popular, as you technically use it as a way to avoid losing more money than you would over the course of a week. It's a fantastic promo, albeit it would be even better if you didn't have to resort to it.
Qualifying Games
The only thing that would make this promotion a perfect cashback bonus would be if you could get a cashback on everything that you do on the casino. To be fair, you almost can, but some of the games that the Mount Gold Casino hosts are not available to be played if you want to get some of your money back.
The offer is, nonetheless, a world-class promotion to be tried out. The only games that you can play and get the Mount Gold cashback bonus, or welcome bonus if you may, are the following: All Slots, "Crazy Time", "Dream Catcher", "Monopoly Live", "Mega Ball" and "Deal or No Deal.
Try playing slots with the highest RTP if you want to avoid major losses – you may end up not even needing the site's cashback bonus to walk away with a major profit.
10% Wager-Free Cashback Within Your Reach at Mount Gold!
Wager-free bonuses are always eye-catching, but a promotion that manages to give back the money that you've lost is what you need to take advantage of.
The Mount Gold casino may not have a welcome bonus in place, but let's ask ourselves this question: do you really think it needs it with such a world-class cashback bonus to replace it? We certainly didn't think so while writing this Mount Gold Casino review.
Go on and pay a visit to the fantastic Mount Gold Casino and claim one of the best cashback bonuses on the internet if you qualify for it. We do hope you don't even need to claim it come to the end of the week, though!