The Best Jackpot Slots to Play Right Now
Jackpot games are extremely fun variations of traditional slots, where you can win millions of dollars if you're one of the lucky ones. Currently, in 2021, there are many online casino jackpots that you can play and attempt to get the best rewards that they have to offer.
| | | | | |
| --- | --- | --- | --- | --- |
| Game Name | Developer | Biggest Jackpot | RTP | Best Casino to Play |
| Mega Moolah | Microgaming | €19,430,723 | 88.12% | BitStarz |
| Mega Fortune | NetEnt | €17,800,000 | 96.60% | LeoVegas |
| Wheel of Wishes | Microgaming | €17,529,047 | 93.34% | Betsson |
| Hall of Gods | NetEnt | €7,820,888 | 95.30% | Mr Green |
| Major Millions | Microgaming | €1,081,263 | 96.88% | Videoslots |
As much luck as you might need, the best online casino jackpot games are designed to get you some fantastic rewards in a short amount of time. They differ from regular online slots mostly on the fact that they have high volatility and provide users with better rewards.
1. Mega Moolah
Developer: Microgaming
Biggest Jackpot: €19,430,723.60
Game RTP: 88.12%
Volatility: Medium
There's a reason why Mega Moolah is the most popular jackpot game in the world. In most cases, Mega Moolah should have the most lucrative rewards of any jackpot game, as the accumulated sum of cash that you can earn tends to be extremely high. We have seen Mega Moolah jackpots peak at over €10 million, which could turn a lucky winner into a millionaire in a matter of minutes.
Mega Moolah comes with four progressive jackpots, with the fourth one being the one that rewards you with all of the aforementioned cash. When it comes to the amount of money that you can make with the other jackpots, we regret to inform you that it isn't as high.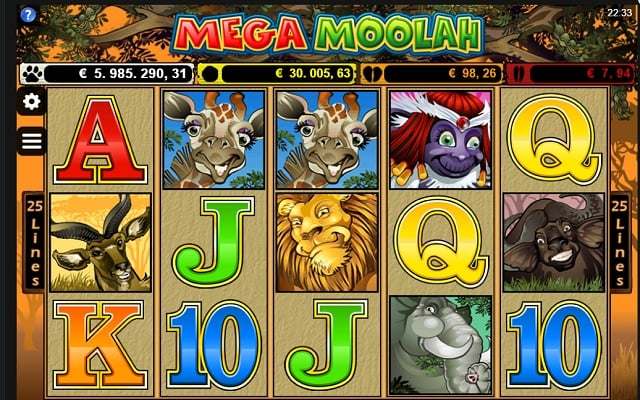 Worry not! There are still in-game jackpots that aren't progressive, which can still earn you a lot of money in coins. The regular in-game jackpot of Mega Moolah is comprised of 220,000 coins, meaning that you could multiply your winnings by hundreds of times with a single press of a button. Mega Moolah is extremely fun to play when it comes to the quality of the game itself.
Top-quality graphics and fantastic in-game bonuses are accompanied by extremely fun gameplay, which are sure to keep every player with the chance to earn a lot of money in the game. The best online casinos on The Casino Wizard allow you to enjoy Mega Moolah. If you wish to play this game with bitcoins, check out the best bitcoin casinos or check out our guide to Mega Moolah bitcoin games.
2. Mega Fortune
Developer: NetEnt
Biggest Jackpot: €17,800,000.00
Game RTP: 96.60%
Volatility: Low
This super fun slot is sure to make you feel rich even if you happen not to win any rewards. It is fully themed around a life of riches, giving you glimpses of what might be to come if you are to win the top prize of the game. It comes with adjustable max bets (which will let you earn more on the progressive rewards and more points toward the jackpots) as well as an autoplay feature.
Much like any other progressive jackpot game, this one comes with a few jackpots that you'll need to earn if you wish to get the best rewards that the game has to offer. The largest prize is the third jackpot, which can see you earn upwards of €2,000,000.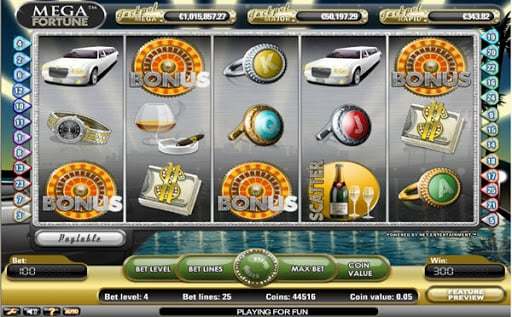 You can also earn the smaller jackpots and get good sums of cash. There is a total of three jackpots in the game, as well as wild symbols that can turn your spins into highly lucrative rewards. Mega Fortune also comes with free spins as well as in-game cash bonuses; both of these with no wagering requirements whatsoever.
If you're keen to collect rewards on your way to earning one of the largest jackpots on Earth, then Mega Fortune is the one for you. The final jackpot is not as large as the one you can get with Mega Moolah, but that also means that it's far more likely for players to earn the Mega Fortune third jackpot than Mega Moolah's fourth.
3. Wheel of Wishes (and other WOWPot slots)
Developer: Microgaming
Biggest Jackpot: €17,529,047.11
Game RTP: 93.34%
Volatility: Low
The most surprising thing about Wheel of Wishes is not its fantastic jackpot of over €2,000,000, but rather it's high RTP of 93.81%. You would expect a lucrative jackpot slot such as this one to come with a better house edge, but nope! This highly volatile slot game comes packed with a fantastic RTP that ensures players can walk away with some winnings even if they don't manage to hit any jackpot earnings.
The game also comes with in-game bonuses that can be triggered by landing a few scatter symbols in a row. If you happen to land a couple of these symbols together, you can earn a bonus equaling the amount of your spin multiplied by 500. That's one of the best rewards you can get out of any online casino slot, let alone a progressive jackpot game where the total is even bigger.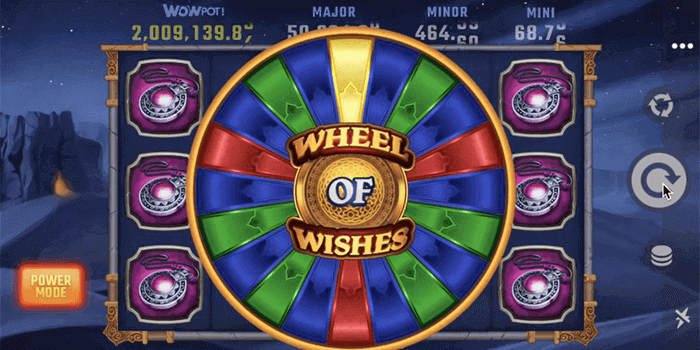 There are four total jackpots inside Wheel of Wishes, with the first one being a mere €10, and the last one beginning at €2,000,000 plus a percentage of all the money that other players have lost whilst trying to get it. Power Spins are the most prominent feature of Wheel of Wishes.
These spins are meant to multiply your winnings and increase the profits that you can earn within the game. It's difficult to get the wilds to land (probably more difficult than in other games that we've played), but that only means rewards are also better. As a slot per se, there are better options out there. As a jackpot game, it's definitely between the best online jackpot games that you can play in 2020.
Keep in mind that the Wheel of Wishes jackpot is the Microgaming WOWPot, a jackpot that can be won in any game that has the WOWPort tag, including all-time great Sisters of Oz.
4. Hall of Gods
Developer: NetEnt
Biggest Jackpot: €7,820,888.00
Game RTP: 95.30%
Volatility: Medium
Themed like the legendary Viking gods, Hall of Gods is one of the most popular slots games on the planet and a fantastic game to play if you're keen to go on a hunt for some jackpot rewards. It's a great game with a house edge of less than 5%, and an RTP that stands at 95.70%. You can get rewarded for your time even if you don't hit any of the lucrative jackpots!
We've seen the Mega Jackpot of Hall of Gods, which is the largest jackpot that the game has to offer, credit players with over €5,000,000 in rewards. Hall of Gods currently stands as one of the most profitable online jackpot games of all time, as well as one of the most played online casino games of 2020. It's true what they say – the gambler always knows best than the rest!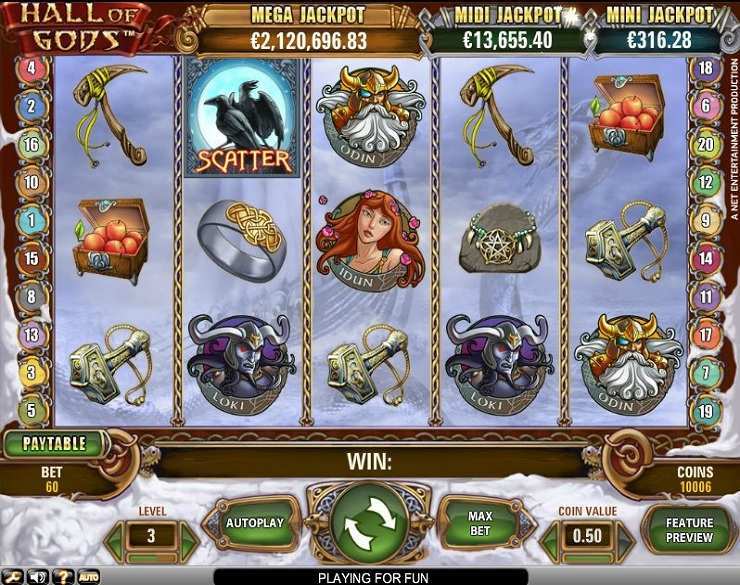 The game comes packed with rewards multipliers plus an amazing in-game free spin feature that could let you earn up to 40 free spins, all of which can translate to huge rewards if you're lucky with the results of the spins themselves. Even if you aren't though, you can earn a lot of free cash by simply landing the scatter symbols that give you the wager-free spins.
The progressive jackpot of the game is accumulated throughout all online casinos that offer Hall of Gods, but the smaller jackpots are local, which means that they are tied to the online casino of your choosing. It's a fantastic game with a very large RTP for a progressive jackpot slot.
5. Major Millions
Developer: Microgaming
Biggest Jackpot: €1,081,263.59
Game RTP: 96.88%
Volatility: Low
If you're looking to play in the best real money casinos and win fantastic amounts of money in rewards, we have to advise you to give Major Millions a shot. This amazing game comes packed with millions of euros in rewards that can be earned by lucky players. It's a progressive jackpot game where 5 reels are present to let you get amazing rewards in a short span of time.
This game is not as lucrative as Mega Moolah, but it's still extremely fun to play and it's one of the best online casino slots in the world. If you're keen to obtain amazing rewards with a different twist than the one offered by Mega Moolah, Major Millions is a good choice.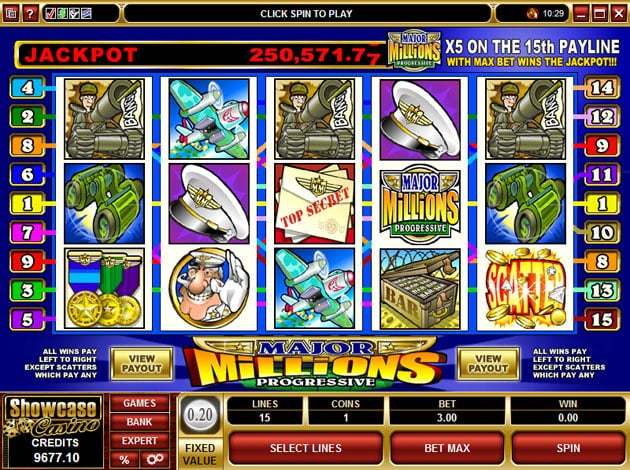 One of the things that makes Major Millions so popular is actually shared between this game and Mega Moolah itself. Both of these games have a seeded jackpot of €1,000,000, which means that the least you can earn if you hit the jackpot is a full million euros. However, much like its top competitor slot, Major Millions also accumulates the money bet by players from all over the world and turns the jackpot into an even bigger amount of money.
The game has a full military design, appealing mostly to American audiences, but the design has been very popular among gamblers from all over the world because it's quite unique, and even more so when you consider that this is a progressive jackpot game. Check out the binoculars, the tank, the secret envelope, and spin lines with them to earn amazing rewards!
Best Casinos to Play Online Slots
Now that you know which are the best online slots, and seeing how Microgaming and NetEnt host the most popular progressive jackpot games in the online gaming industry, we've made a list of The Casino Wizard's highest-rated Microgaming and NetEnt casinos to help you decide where to start your journey towards life-changing rewards!
Which is the Most Lucrative Jackpot Game?
We know that many of you focus solely on how much a jackpot is worth when you first decide to check out an online casino jackpot. Most of the games that you'll find here come with rewards that surpass the million euros each, but which of these comes packed with the best jackpot?
The answer is, as it has been for some time, Mega Moolah.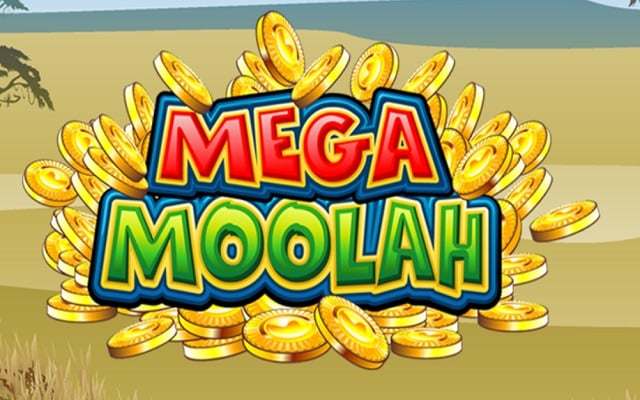 The Mega Moolah slot is unique, as it offers players the chance to earn large sums of money that no other game even comes close to. That also means that Mega Moolah is arguable the most difficult jackpot to win, as you need to overcome three other jackpots if you wish to earn the final one (which is the most lucrative of the bunch). In any case, Mega Moolah also comes in various types of games.
The traditional Mega Moolah can be played to earn the biggest jackpot, or you could choose to play one of the game's variants in order to avoid getting bored playing the same game. You have the Mega Vault Millionaire Mega Moolah, for example, or you could also try out the Atlantean Treasures Mega Moolah. These games are variations of Mega Moolah, but they work much like the original one. In fact, the jackpots are shared, which means that the huge €10,000,000+ jackpot that you can earn with Mega Moolah is the same for all of these games.
Which Game Developer Has the Best Online Slots?
Although, in general terms, one could argue that NetEnt and Play'N Go games could be better than those developed by Microgaming, there isn't a comparison to be made when we're talking about jackpot slots. Microgaming is the undisputed jackpot king, as the company is responsible for having developed the best jackpot slot of all time in Mega Moolah and another world-class progressive jackpot in the popular WOWPot.
Still, it's wise to try out games made by other companies. NetEnt is also responsible for creating really popular games with high-paying rewards including the games mentioned on this list, whilst studios with great jackpots also include:
Blueprint Gaming (Jackpot King progressive jackpot series)
Pragmatic Play (PowerJackpot)
Play'N Go (Progressive Jackpot Slots)
RealTime Gaming (RTG Progressive Jackpots)
Dive Straight Into the Action Right Now!
Now that you've seen where you can win huge sums of money from the comfort of your home, it's time for you to fasten your seatbelts and visit any of the fantastic casinos that host these games right now. Thankfully, many of the best casinos available here, on The Casino Wizard, have these games available to be played by everyone who visits the sites.
We advise you to check out Betsson, as this is one of the biggest online casinos in the world and you'll have the chance to play most of these fantastic jackpot games whilst you enjoy other shenanigans unfold on the site. If you're into bitcoin or cryptocurrency gambling, we suggest you pay a visit to the mBit casino or the BitStarz casino - they are home to some of the best BTC jackpot slots.
Both of these sites come packed with fantastic jackpot games and make it easy for you to transfer your money between your wallet and your casino account. It doesn't matter what you're looking to play or how you want to play, be sure to dive straight to the action right now!
Last updated
October 2, 2023
Frequently asked questions
Progressive jackpot slots collect money from players all over the world and add it to a pot, which is then won by a lucky user every once in a while.
British soldier Jon Heywood is the most famous jackpot slot winner after winning $20,000,000 with a $0.30 spin on the Mega Moolah jackpot .
The best online casinos to play jackpot slots are Microgaming and NetEnt casinos like BitStarz, LeoVegas, and Betsson.
You will be contacted by the casino to have your jackpot winnings paid out. These transactions are more complex than a standard win, so withdrawals work differently.
No, jackpot wins are paid out in real money. If you play a jackpot slot with a bonus, make sure that your winnings aren't being limited by the casino.
It depends on the slot game. Major jackpots like Mega Moolah are often one from once to up to four times per year.
Jackpot slots are fair, but they generally come with a lower RTP because the true appeal of the game is to chase the major jackpot win.