Loyal Casino (No) Deposit Bonus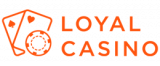 The Loyal Casino bonuses are fantastic and very unique, which allows players to make the best of their stay in the casino whilst enjoying promotions that can't be found anywhere else. The authenticity and uniqueness of these promotions doesn't translate in the bonuses being difficult to claim by any means.
Each bonus is set to work in a selection of games pre-picked by the casino, but the bonuses per se are claimed by simply making deposits or following simple instructions that the casino has left for players to follow. As such, Loyal Casino bonuses require nothing but a couple of steps to be claimed once your account has been created.
Keep in mind that every single bonus that the site offers is meant to be claimed only once per household or IP address. There are no exceptions to this rule. If you haven't registered on the Loyal Casino but someone else has done it in your household, you won't be eligible to claim any promotion that they have already claimed before you.
Loyal Casino Bonuses – Quick Overview
1. Welcome Bonus – ACTIVE
The Loyal Casino is home to a fantastic welcome bonus that provides your new casino account with up to €200 and 200 free spins to enjoy the best games on the site – completely for free after your first deposit!
2. Live Tournaments & Events – ACTIVE
The Loyal Casino always partners up with iGaming providers to offer you unique rewards and exclusive bonuses to enjoy, often presented in the form of tournaments that are live for months.
3. The €100,000 Summer Event – ACTIVE
Arguably one of the best events in the industry, the Loyal Casino presents players with the €100,000 Summer Event, which gives you the chance to earn thousands of euros while playing on the site!
4. Drops & Wins - ACTIVE
The fantastic Drops & Wins tournament by Pragmatic Play is available to be enjoyed at the Loyal Casino. Get random rewards at slot games, at any point in the day, and win!
Explained – All Loyal Casino Bonuses
One thing that we truly love about the Loyal Casino is that there are many promotions to be found on the site. You have plenty of options available to select whichever bonus you like the most, and given that many of these bonuses are meant to be claimed specifically in certain games, you can also choose whichever bonus rewards you for playing your favorite titles.
We're going to give you an overview of the bonuses that you can expect to find on the Loyal Casino when you visit the site. However, keep in mind that these bonuses often vary, as the Loyal Casino strives to give players a true sense of authenticity whenever they visit the casino. Loyal Casino bonuses are among the most lucrative ones you can claim, though, so disappointment is not something to expect.
Free Spins
From the moment you first register an account on the Loyal Casino, you will be presented with the chance to earn free spins. Even though Loyal is not a site to offer no deposit bonuses, you can claim free spins on your first visit to the site by making a small deposit in your account.
How many free spins you get will depend on where you're from, but in most cases, a small deposit will be enough to grant you at least 100 free spins to spend on the best games that the site has in store for you.
Most of the free spins that you get in the Loyal Casino are meant to be used in specific games, and the bonus money generated with them should be spent on the best online slots that the site has to offer, as they contribute towards the fulfillment of wagering requirements better than any other game on the site.
Free Bonus Money
Free bonus money can be obtained by earning free spins or by simply claiming the best welcome bonuses that online casinos has to offer. In the Loyal Casino, you will be able to claim fantastic sign up bonuses that can boost your account balance through the roof. Hundreds of euros in free rewards await those who make a deposit in the Loyal Casino.
The site allows you to obtain free bonus money in different ways, though. You may also claim your bonus cash by accumulating VIP points and then trading them for fantastic money rewards that you can then spend on the virtual halls of the Loyal Casino. Options are endless on the site, and you'll get to spend your money in any way that you want.
That's what makes the Loyal Casino one of the best online casinos that you can choose to play at – the free money rewards are too good to let go!
Cash Drops
You may receive random cash drops of free rewards while browsing the virtual halls of the Loyal Casino and playing slots. These rewards are completely random and exclusive casino bonuses to the Loyal Casino, which can be claimed by depositing some cash on the casino and playing the games that each offer makes available to players.
Cash drops are fun, but they are very random – you might spend a lot of time and money and you may not get one, or you may play once in a random slot game and receive it!
Token Bonuses
Token bonuses are very commonly found in the Loyal Casino, as long as one of its game providers is offering to give them away in their games. These partnerships are becoming far more popular in online casinos in recent years, and we can expect to find many more token bonuses in the future.
The Loyal Casino has already proven that they offer these bonuses whenever they're available, and every player that has an account on the site also has the right to enjoy these fantastic promotions.
Loyal Casino General Features – Where To Spend Your Bonuses?
The Loyal Casino allows players to spend bonuses pretty freely, although some games are limited from being played with bonus cash. In any case, the site comes packed with plenty of things to do and multiple ways in which you can play the games. The multi-game play feature is one of the best things about this site that focuses on providing users with a fair gaming environment and quality bonuses.
The Loyal Casino comes packed with plenty of things to do, and if one thing's for certain is that bonuses are aplenty and you're very free to spend the money however you want. A couple of things do stand out from this casino, though.
Multi-Game Play Feature
The Loyal Casino allows you to enjoy your bonuses like no other casino in the world. The multi-game feature allows you to play multiple games in one screen, as you can open multiple other screens and play games without having to switch between tabs. This exclusive feature gives players an incentive to try out the Loyal Casino and truly takes bonuses to a whole other level.
We know what you're thinking, and the answer is yes, you can play with the bonus cash in multiple games at a time without having to leave the screen at which you're at. This feature alone allows you to fulfill the wagering requirements of the bonuses much quicker than in any other site.
As if that wasn't enough, the Loyal Casino also has some of the most lenient wagering requirements for its bonuses than most of the online casinos that we've come across so far. Check out the Bonus Terms and Conditions section in this page and find out about them!
Quality Over Quantity – Why Loyal is One of the Best Online Casinos
One of the things that makes the Loyal Casino such a fantastic place to visit isn't the quantity of games that you'll find. In fact, there's a limited number of games when compared to other sites such as Videoslots or even Jackpot City. What truly makes the Loyal Casino excel is the quality of the games that the site has to offer.
Loyal Casino is provided by some of the industry's best online casino game developers, which makes the games on the site some of the best that you'll find on the internet.
The Loyal Casino live dealer games are among the best that you can play online. They are developed by Evo Gaming, one of the world's leading live casino game developers. Every single game on the site is custom made to serve the users of Loyal.
Furthermore, the ability that the site gives you to collect loyalty points and become a member of the loyalty program allows you to claim fantastic rewards without having to spend too much money or time on the site. The longer you stay with Loyal, the better the rewards will be. The casino honors its name and truly stays loyal to its players!
General Loyal Casino Bonus Terms And Conditions
The Loyal Casino protects its bonuses behind a set of lenient requirements, but the only thing that we'd call a bit restrictive is the number of countries that are banned from participating in the site. Other than that, the general rules which protect the bonuses on the site allow players to enjoy these bonuses without having to fear that they won't comply with any of the rules.
With that said, there are still many rules that you need to read if you want to get a strong grasp of the bonuses that the site offers. We don't want you to waste much time doing it, so we've listed the most important Loyal Casino terms and conditions here for your convenience.
Bonus Timeframe
The bonuses at the Loyal Casino can only be claimed one at a time. As such, you may not claim one bonus if you have your welcome bonus active. Claiming two bonuses at once will result in the removal of bonus funds from your account and you won't be eligible to claim them again.
However, the Loyal Casino does grant its players with a decent amount of time for them to comply with all bonus rules and conditions. You have 30 days to comply with all wagering requirements of the bonus that you're playing with. This also applies to the welcome bonuses of the site (both the free money bonus and the free money generated with the free spins).
Bonus Wagering Requirements
One of the best things about the Loyal Casino bonuses is that the wagering requirements are as low as you're going to find them. They may only have one type of welcome bonus available at a time, but it's only subjected to a wagering requirement of 15 times the amount of bonus money received.
For example, should you make a deposit of €250 and get an extra €250 in free reward money, your account would end up with €500 but you would only need to wager €250 a total of 15 times to withdraw the money to your account.
The casino also states that wagers on Roulette, Punto Banco, and Baccarat do not count or contribute towards the wagering requirements of any bonus on the site. Thankfully, the casino notifies you if you're playing a game that you shouldn't be playing with bonus money when you open it, to ensure that you know what you're doing.
Deposit and Withdrawal Rules
You may only make withdrawals from the Loyal Casino once you've complied with all of the rules that a bonus offer is subjected to. As such, making a prior withdrawal request would result in the full removal of all bonus funds from your account. Be sure to comply with the requirements before withdrawing any money.
You may only qualify for the reception of a deposit bonus in the Loyal Casino if you make deposits using any method on the site with the exception of Skrill and Neteller. Deposits made with e-wallets do not qualify for the reception of any bonuses in the Loyal Casino.
The site also reserves the right of removing all bonus funds from your account if they suspect you've been doing anything that breaks the rules of the casino. Play by the book and you should have no issues, though!
Qualifying Process for Bonuses
If you already have an account on the Loyal Casino, chances are that you won't qualify for certain promotions if they were activated after your account was created. This is especially true for any deposit bonus, namely the welcome bonus per se.
Players from the following countries are not eligible to claim any bonuses from the Loyal Casino: Afghanistan, Algeria, Angola, Austria, Australia, Bahrain, Belgium, Bulgaria, China, Cuba, Cyprus, Czech Republic, Denmark, Eritrea, Estonia, Ethiopia, Finland, Faroe Islands, France, Georgia, Greece, Hong Kong, Indonesia, Jordan, Iran, Iraq, Ireland, Italy, Kuwait, Latvia, Libya, Lithuania, Macedonia, Malaysia, Malta, Mauritania, Mauritius, Morocco, Norfolk Island, N. Korea, Oman, Pakistan, Poland, Portugal, Qatar, Romania, Rwanda, Saudi Arabia, Sudan, Somalia, South Sudan, Spain, Sweden, Switzerland, Syria, Turkey, Tunisia, UAE, United Kingdom, and the United States.
Last updated
August 25, 2023