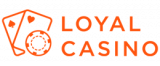 If you're looking to win some free cash without having to follow a bunch of complicated or intricate steps, then we recommend you to check out the current Loyal Casino daily drops that are going on right now.

The site has been offering daily drops for a while, but the last time they did it, there were only 8 winners that could be chosen daily. Now, the Loyal Casino has increased the number of winners and doubled the prize pool to a staggering €500.000!
Everyone has the chance to win, as long as you play one or more of the selected games with your own money. Bonus cash cannot be used to participate in this promotion, but you can earn a whole lot of money if you're lucky enough to be selected to win one of the drops!
How Does the Promotion Work? Cash Drops Explained
This amazing promotion has a total Prize Pool of €500.000, but those are not meant to be won at once – don't get too excited! There will be a select number of winners each day, which will be picked from the pool of users that play any of the games available for the promotion. If you've played at any casino that offered daily drops, then you probably know how this promo works. It's basically a normal daily drop promo where you'll be able to claim rewards randomly. You simply need to play any game and hope for the drop to happen. Be aware, though, that all games have different RTPs, so you might be better off playing some games than others. We'll go into more details on this topic later, to ensure that you'll be getting some cash even if you don't win any drops. In any case, should you happen to win a drop, you will get a total of €500 for free. You can earn all of that cash on a daily basis, as the site rewards players for their consistency. Luck plays a huge part, of course, but loyal players will be as rewarded as they usually are when they roam the virtual halls of the Loyal Casino.
Loyal Casino Prize Pool Winners
Given that there's a pool of money from which the Loyal Casino gives its rewards, this also means that there's a limited number of winners per day. A total of 14 players WILL win rewards each day, and each of these players will get €500 – no more, and no less. The drops happen at any given time of the day, so you can participate in the promotion regardless of the time zone at which you're at. If you happen to be one of the 14 lucky winners, you'll still be able to participate in the promotion the next day. There's no limit as to how many times you can participate, but the money that the site gives away IS limited. Be sure to head to the Loyal Casino as soon as you finish reading this article to ensure that the promo is still available!
Which are the Best Casino Games to Win Massive Rewards?
The Loyal Casino has selected 10 games that you can play to win daily drops. However, we've taken their list one step further and selected the best 5 games that you can play to earn free money whilst also taking into consideration the amount of cash that you can make along the way. That means that we've prioritized games with good RTP rates and low house edge to help you get even better rewards. Remember that the drops are random, but the money that you get whilst playing in an attempt to get them is not random at all. One of the things we love the most about this daily drop promotion is that the European variation of this game is one of the options that you get to play, so we've naturally included it on our list of the top 5 picks. Be sure to play any of these games to earn rewards, even if you happen to miss out on the daily €500!
Golden Jokers Wild
Golden Jokers is a slot game that mixes up modernity with classic game design and aims to bring you an experience that helps you reminisce of the good old days of gambling. There are many wild symbols on the game, but you will spend the most time counting the fruits in hopes of getting ten of them in a row. Should you happen to link a few fruits in the same paylines, you'll be able to multiply your rewards like crazy. You can get rewards worth 3,000 times the amount of your original wager, which means a €1 spin could become a €3,000 prize with just a little bit of luck. The game is also based on the modern slot feature of expanding symbols, which has become extremely popular in recent years within the gambling industry. The presence of the traditional Joker character that so many people have learned to love is also appreciated to keep the traditional essence of the game intact.
Super Massive Respin
5 reels, 3 rows, 10 paylines. This game takes the traditional slot approach and gives you everything you need to enjoy a fantastic casino experience with a decent RTP of 96.74% and a whole bunch of bonus features to enjoy. We're recommending you to play this game whilst looking to get the daily drops because it also comes with an in-game bonus. The total reward is worth 5,000 coins, which is extremely large for a game with such a high RTP. The game has a bunch of traditional casino symbols as well, including the classic cherries and BAR icons. It truly aims to give players a classic casino experience but one that can be enjoyed by new players as well as old ones. If you like to keep things simple while wagering, then check out this fantastic game.
European Roulette Pro
European Roulette Pro is a must-play if you're a fan of online games, or even if you simply want to make some free cash and that's it. As most games, the RTP of this one is quite high. You'll get a house edge of only 2.30% if you decide to play this game, which means that your bets have as low a risk as it can be in any online casino. The game comes with special bets as well as an auto-play feature, which is certainly a fantastic one to have if you're one of those who would rather have the game move quickly. It's a fast-paced title that you might want to take a but slowly if you're after the daily drops, but one that will help you get a good sum of cash credited to your account if you're a hardcore roulette player. The game is also developed y Play N' Go, which means that quality is a given. The game runs quite smoothly and the graphics are fantastic. The interface makes it very easy for you to get an overview of the entire table and decide, with confidence, which bets you want to play.
Mega Hot 40
Mega Hot 40 is another great title for those looking to remember how good were the days of classic fruit slots. The game is super easy to get into, and this is the one we recommend to any reader that might be new to the online casino industry. The game does combine the old with the new, however, as it comes with 5 lines instead of 3, as it is usual in most online casino slots. This makes your experience far more enjoyable, though, as you will be able to play a fantastic casino game that brings the best out of both worlds. The decent RTP of this title also makes it a good option to play whilst looking to get the cash drops.
The Terms and Conditions of the Promotion
There aren't too many terms and conditions that oversee this offer, but you still need to be pretty clear of them if you wish to claim the €500 swiftly and easily. We've made a small list of the most important ones to help you get a better idea of what to expect:
The €500 will be credited as bonus cash to your account, but the money itself is a straight-up cash reward. You won't need to wager anything if you don't want to do it
You must win the in-game reward bonus to receive the €500
There can only be 14 winners per day. Once the number is reached, you'll have to wait until the next day to claim any bonus prize from this offer
There are no limitations when it comes to the betting amount or sum. You can wager as little as each game allows or as much as you want per game – all levels are eligible to claim the daily cash drops
The Loyal Casino Offers Seem Too Good to Be True – But They Are!
The Loyal Casino has always been known as a place that rewards players for their time and effort spent on the site. Thankfully, that doesn't seem due to change in the near future, which means that there's still plenty of time for you to visit it and enjoy some of the best promotions on the internet. Naturally, the Prize Pool being offered by Loyal is insane, and players are right to be excited about it. It's free cash that you get to claim without spending too much of your own money, after all. However, we'd like you to check out the Loyal Casino welcome bonus as well, as the rewards offered to get you started on the site are not right to be overlooked. Once you've played with the welcome bonus to the fullest of its extent and enjoyed the best rewards that the site has to offer for every newcomer, you might want to check out their other promos. Get started with their Prize Pool, though, as you're likely to make some cash on your own – even if you're unlucky and you don't win a single penny with the promotion. There's not time to waste! Head right now to the Loyal Casino and enjoy the best casino bonuses on the internet!
Last updated
May 24, 2022